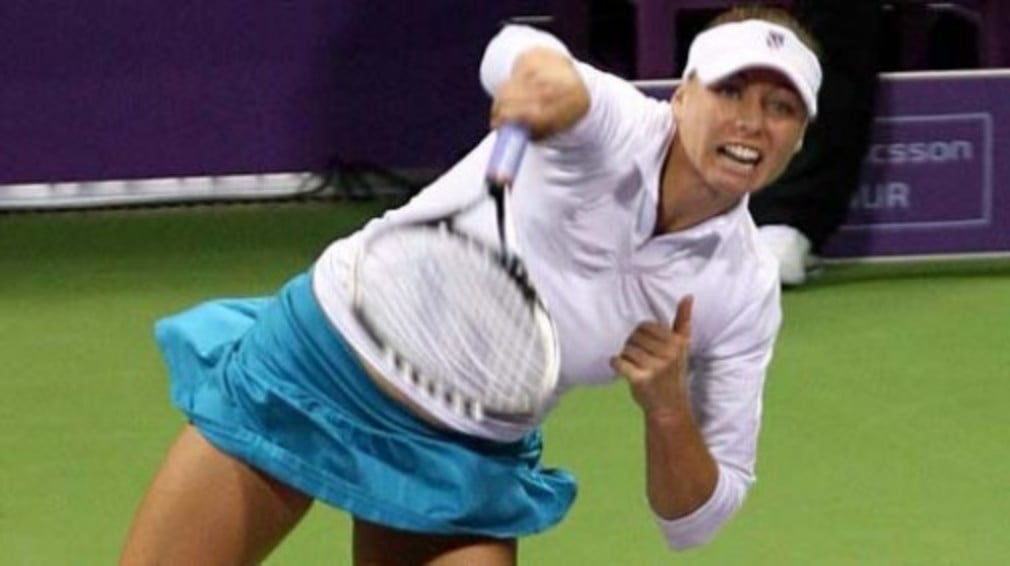 Zvonareva upsets Jankovic to top White Group
Originally published on 26/02/10 11:19
Vera Zvonareva's run in Doha made the jump from surprising to impressive after a hard-fought 2-6 6-3 6-4 victory against world No.1 Jelena Jankovic.
Both players were already assured semi-final berths having each beaten Ana Ivanovic and Svetlana Kuznetsova in the White Group, but victory for the Russian ensured that Jankovic would face Venus Williams in the semis.
In fact, the semi-final draw for the Sony Ericsson WTA Championships was decided in the space of one match. News broke that Serena Williams had withdrawn due to injury, putting Elena Dementieva into the final four, while Jankovic and Zvonareva were out on court.
The semi-final draw was decided in the space of one match…
Conditions were increasingly tricky with a small gale blowing down the court, seriously hampering both players' serves. Not that any of that seemed to bother Jankovic. The Serbian broke four times in succession as she cruised through the first set, and was a break up in the second before losing her concentration.
Leading 2-1 and serving, Jankovic took too long discussing a potential challenge with her support team, and when she finally decided to call on HawkEye the umpire denied her request. A short argument later, Zvonareva took full advantage of the Serb's loss of focus to break back.
The momentum shift turned the match on its head as Jankovic was broken again, Zvonareva pressuring the world No.1 by taking the ball early at every opportunity. The Serb stopped the rot at 5-3 but could not prevent the Russian levelling the match.
Jankovic looked more composed at the start of the third and broke to lead 3-1. But Zvonareva, the lowest-ranked player to qualify for the Championships by right, dealt with the breezy conditions well, breaking straight back and then once more to lead 5-3 before closing out the match 6-4.
Talking afterwards about Williams and Ivanovic's withdrawals, Jankovic noted that she to is nursing injuries, including a back problem that requires painkillers.
"This is the last tournament of the year," she said. "I also have problems, but I'm willing to try my best."