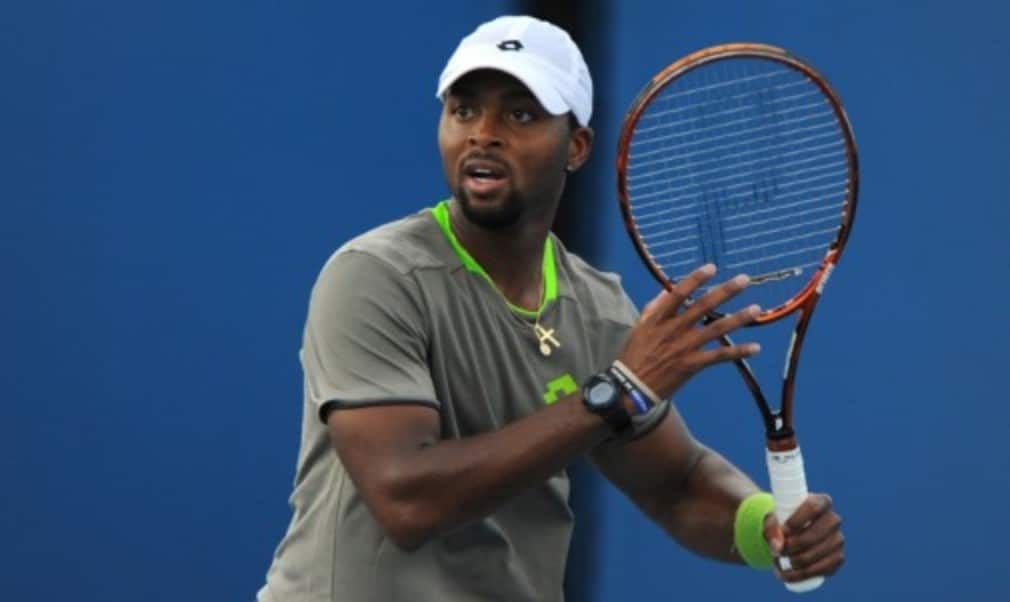 Young and youth claim capital gains at Citi Open
Originally published on 02/08/14
A quarter of the field in the 48-strong draw for this year's Citi Open, the second stop on the US Open Series road trip, hailed from the host nation. The same holds true in the semi-finals as Donald Young, the last American standing, contests the third ATP semi-final of his career and second in Washington DC.
Young will face Milos Raonic for a place in Sunday's final – something of a novelty for the Canadian, who used to look up to the world No.73 in their junior days. "Everybody was labelling the next big thing, the next No.1," said Raonic, the younger of the two by little more than a year. "He can play really well, he's really talented, and he's very dangerous. He knows how to win – he's been doing that since he was 10, 12 years old."
The trajectory of Young's career will remain one of the great talking points in American tennis long after it is over. Even at the tender age of 25, his is already a tale of the peril of hype – built up to be the standard-bearer of American tennis, succeeding the likes of Sampras, Agassi and Roddick from the moment he turned pro at the age of 14, he announced his plan to win all four Grand Slams. Twice. Little wonder young Raonic looked on in awe.
Andy Roddick was the reigning US Open champion when Young first ventured into the big leagues in 2004. Two years earlier, Pete Sampras had won his 14th and final major in New York. Andre Agassi had won three of the last five Australian Open titles. In fact, the US had laid claim to at least one men's singles Grand Slam champion every year since 1989. SInce Roddick's victory, nothing more.
Young signed Nike and HEAD contracts in 2005 and made his US Open debut a year later, but while the wildcards kept on coming his progress stalled, and in the glare of the spotlight the narrative shifted: what was once boundless talent was suddenly potential unfulfilled. There have been modest highs, such as his final appearance in Bangkok in 2011, but a harrowing run of 17 consecutive losses in 2013 threatened to shatter his confidence once and for all.
Not for the first time, Young has battled back. Safely camped in the world's top 100 since the Australian Open he has committed himself to maintaining a positive mental attitude since turning 25. The results have started to come, not least in Washington.
"It's still a work in progress," Young admits. "I slip back every now and again. I've tried being negative and it doesn't work. The top players in the world, you look at them and that's what they do – they're fighting, focused all the time. Even if they lose you know they're not throwing it away."
Resilience was the theme of Young's match against Anderson, who was a set to the good when the second reached a tiebreak. Young rallied to level, broke early in the decider and never looked back.
"I'm just believing a little more," he explained. "I'm staying in the matches, not tapping out when something goes against me. I keep fighting until I can turn those matches my way."
Raonic certainly won't be taking Young lightly. "He's quick around the court, neutralises well, and defends well. That combination can make you question yourself throughout the match.
"He's had a lot of opportunities," Raonic added, admitting he still follows his opponent's results. "He's made the most of some, some he hasn't."
Will his one-time role model ever win an ATP title? "I don't know," the Canadian answered. "Only time will tell."
Having survived the traditional serving barrage from both US No.1 John Isner and ATP ace leader Ivo Karlovic, Raonic proved to be one big gun too many for Steve Johnson, the college-groomed world 24-year-old who has quietly manoeuvred himself to No.68 in the rankings in 2014.
The USC alum is one of a clutch of American players closing in on the world's top 50 as the US Open approaches, something Johnson believes is working in their favour in their efforts to bridge the divide between themselves and Isner, the nation's lone representative within striking distance of the top 10.
"I think we're all close," said Johnson when asked what it would take for himself, Young, Jack Sock – also dispatched by Raonic in a tough second-round encounter – or Sam Querrey to make the jump. "We all have a different skill set, and we can push each other to do well. At the beginning of the year there were six or seven of us at 100, now there's four of us at 60-80. We're pushing one another to go higher."
Isner's week did not go according to plan. Back on home turf, the No.5 seed found his second-round tie with Johnson bumped from the premier spots on stadium court by the television executives. Shunted to an outside court, the top-ranking American duly lost and immediately dubbed the decision "bullshit" in the ATP's new media mixed zone. He was one of nine Americans to exit by the second round; Tim Smyczek made it as far as the third.
Isner had turned down the 10pm slot on stadium court, a spot filled on Monday night by 16-year-old ATP Tour debutant Francis Tiafoe, who impressed in defeat against Russia's Evgeny Donskoy. Tiafoe was raw – which 16-year-old isn't? – but not overawed by the occasion, and later spoke fondly of his experience.
"Tonight was probably the most fun I've ever had playing tennis," said the Maryland native, who visited the tournament as a kid. "Every point you win, everybody's going crazy. It was really special playing tonight and I hope I'm going to play here again for many years to come." Remember the name.
The Citi Open also gave US youngster Jared Donaldson his first taste of ATP Tour action – the 17-year-old earned his spot through qualifying – while Wimbledon junior finalist Stefan Kozlov featured in the doubles. He and Donaldson took on the Bryan brothers, hunting for their 99th title in tandem, in an entertaining match on Wednesday night. Having being blown away in the second set, Kozlov quipped: "I'm just really happy I got to play them before they retire."
The Bryans won't be lifting title 99 in Washington, however. Johnson teamed up with Querrey – bumped in the second round of the singles by Kei NIshikori – to see off the veterans in a match tiebreak in the quarterfinals.
Nevertheless, Johnson was quick to pay tribute to the 15-time Grand Slam champions: "Those guys have been rock solid for a decade. What they've done for American tennis doesn't get the spotlight that I think they deserve. They've been so successful – they're always there at the end of Grand Slams, they're always winning ties for us in Davis Cup matches. It's pretty special what they've done."
Johnson and Querrey march on in the doubles, but on Saturday all eyes will be on Young as he bids to reach his first ATP 500 final, the biggest match of his career. Asked what he might tell his younger self, knowing what he knows now, the Chicago native was brutally honest.
"Keep working, keep listening – don't just rely on your skill and talent. Other guys behind you are working and getting better when you're the guy to chase. Never think you know it all and get better every day."
There's a statement of intent to live by.