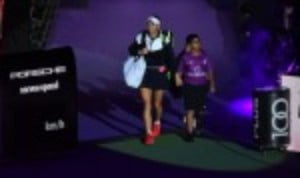 Wozniacki turns on the style
Originally published on 25/10/17 00:00
The Dane, who has aspirations of reaching top spot after Singapore, thrashed the current world No.1 for the concession of just two games.
It was a near perfect display from Wozniacki and she could hardly of wished for a better start to the tournament. She served magnificently throughout and her backhand inflicted significant damage.
Halep was unusually loose from the baseline and she lost the majority of prolonged exchanges from the baseline. The Romanian tried to be more proactive in the second set, but the improvement was minimal.
"I'm very pleased, I think I played very well today," said the Dane with a grin. "I stayed aggressive but I was not expecting to be leading by that much in the first set so I was beginning to think, 'what's happening, am I really playing that well?' I tired to stay positive, take the ball early and go for my shots.
"It's a great court for me because if you hit it flat, it goes through the court, but if you hit with a little bit of spin, the ball slows down a lot. This gives me the chance to get in position and go for my shots."
It was Halep's first defeat as world No.1, and afterwards she said: "I think it was one of my bad days. I made too many mistakes and she didn't miss. In the second set, I thought I came back a little at 4-2. It was a good game, but it was too late."
Caroline Garcia maintained her hopes of reaching the last four by producing a remarkable comeback against Elina Svitolina.
The Frenchwoman trailed 5-3 in the decider, but she stayed upbeat and reeled off four games in succession to secure a 6-7(7) 6-3 7-5 success. Garcia did not appear fazed as her opponent served for the match and she came out firing when her prospects looked bleak.
Her superior firepower proved to be the telling difference.