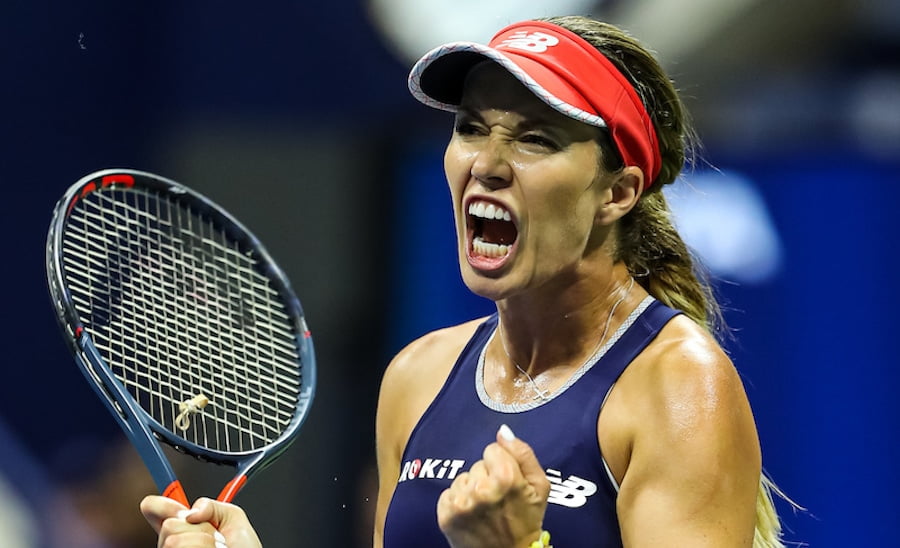 "Would you ever call Rafa Nadal too emotional?" Exclusive interview with Danielle Collins as she talks about sexism in tennis
Danielle Collins is surprised whenever anyone comments on her fiery on-court approach. As the 25-year-old American explains to Paul Newman, she sees it as an example of tennis sexism
Danielle Collins does not hold back on the tennis court. The 25-year-old American, who made her big breakthrough with her run to the semi-finals of the Australian Open in January, is a ferocious competitor who can be very vocal on court and says she likes to make tennis matches "a war". However, do not try suggesting to her that she can be too emotional or feisty.
"I heard one female commentator say that a female player was too emotional," Collins says, a look of scorn spreading across her face. "Would you ever call Rafa Nadal too emotional? Then I get called 'feisty' all the time. That's not a term of endearment by any means. I embrace it because I don't care, but I think 'feisty' is a very sexist term. Imagine calling Nadal feisty. How silly does that sound?"
Danielle Collins, as you can see, is different. Unlike many of the world's leading players, she was not a child prodigy who was immersed in tennis from an early age. Coming from a family she describes as "lower middle-class", Collins learned the game on public courts in her home city of St Petersburg in Florida rather than at a fancy academy.
She then spent four years at the University of Virginia, where she put just as much emphasis on her media studies as she did on her tennis. By the end of her time there she had won two National Collegiate Athletic Association titles, the ultimate prize in US university tennis.
After turning professional at the age of 22, Danielle Collins made rapid progress. World No 299 at the end of 2016, she was up to No 167 within 12 months and at No 36 by the end of 2018. At this year's Australian Open she beat three higher-ranked players in Angelique Kerber, Julia Goerges and Caroline Garcia before losing to Petra Kvitova in the semi-finals.
Collins thinks that playing college tennis – "which is very vocal" – has contributed to her fiery attitude on court but at the same time fails to see "why it's even that big a subject".
She explained: "So many times after my matches I watch what happened and I listen to the commentator complaining about me saying 'C'mon!' But we're playing a sport. It's competition. What do they want me to do? Bow down and do a curtsy?
"I find it so intriguing how it's been kind of controversial in some ways, because we're playing a sport. It's competition. You make it a war. Think about a soccer match or an [American] football match. Would you ever hear somebody say: 'Oh, that person's too competitive or too aggressive or too vocal?' It would never happen, because it's a sport. For whatever reason there are a lot of sensitive people in the tennis world. Maybe it's a bit country club-esque."
Danielle Collins believes sexism is a major issue in tennis and thinks the media have a major role to play in combating it. "I remember when I was little and the Williams sisters were coming up," she said. "People were so rattled by how hard they would compete. But they were competing, they were fighting, they were working hard. What is wrong with that? Then the media would always gravitate towards the person that's more well-liked, or a sweet and quiet woman who doesn't really say much.
"I don't want my little cousins and nieces to be turning on the TV and hearing about how a female player is being too emotional or feisty. Let's get over it."
Collins, who is from a family of strong women, appointed a female coach earlier this year. Her choice might have surprised some people. While nobody would doubt Betsy Nagelsen McCormack's tennis credentials, the 62-year-old American and former Australian Open doubles champion had not been actively involved in top-flight tennis for a number of years. However, as a fellow native of St Petersburg she has known Collins for many years.
"Even though she played a while ago she understands what it's like playing Grand Slams," Collins said. "She understands the pressures of travelling and the day-to-day lifestyle.
"With her being a woman I think she also understands me on a deeper level too. Nothing against male coaches, but especially if they didn't play professional tennis they're not able to empathise or understand what's going through your brain because they just haven't been in that situation before. That doesn't mean they can't be good coaches, but it's just not the same.
"I really like working with Betsy. She's been such a great mentor. Aside from being a great coach she's a wonderful person and human being and does so many amazing things. I call her 'the Pope'. She's like the Pope. She doesn't have a mean bone in her body."
Collins is glad that she chose to go to university rather than dive headlong into professional tennis as a teenager. "I don't think I was ready to turn pro when I was younger, just from a maturity standpoint," she said. "I also wanted to get an education.
"I wouldn't have been happy if I had turned pro at 17 or 18. There are a lot of players who when they were little their parents made them into these child prodigies. It's not their choice. That's just the way they were brought up.
"I'm glad that everything has been on my terms. It hasn't been on my parents' terms. I've gotten to make the choices on my own, what I want to do with my life. I think most kids that turn pro when they're under 18, I don't think that's necessarily their choice. It's their parents' choice."
She added: "Very few players make it to the top. If you've got a lot of money or if your federation helps you, go for it. But if, like me, you don't come from a wealthy family, taking that gamble is not the right decision in my opinion."
Danielle Collins thinks that not having everything put on a plate for her from an early age has made her "a little bit more humble". She explained: "I don't have that kind of arrogance, that feeling that I've always been very good. I think a lot of players, because they've always been really good at tennis and they knew from a young age that they were going to be something special, they think that because they're a tennis player that makes them maybe different from other people in the world. And it really doesn't. Because you take that away and they're just a normal person as well.
"I'm really happy that I didn't fall into that trap because you can have a lot of success playing tennis and you can make a lot of money, but at the end of the day I think you want to try to be the best that you can be outside the tennis court."
That determination to lead a rounded life has not diminished since Collins turned professional. For example, she loves art and for a birthday treat at the end of last year spent four days at the Art Basel show in Miami.
She also has her own jewellery brand. She is involved in all aspects of her jewellery business, but it is the creative side that particularly interests her.
"When you're on tour it's hard to be able to have something [away from tennis] that you really enjoy but I've found that with jewellery," she said. "I will see something and think: 'Oh, I want to make that into a necklace.' Or I'll just have little parts of my brain that go off and then I'll draw or sketch something out and perhaps send it to a jeweller and then they'll make it."
Just as in plenty of other aspects of her life, Collins has achieved success through her own efforts. "I'm the one that has had to scrap for everything that I have," she said. "It's not been easy at times."
Keep up to date with all the action at our tennis news section. Win amazing tennis prizes by entering our competitions. Learn more about your favourite players including Roger Federer, Rafa Nadal and Novak Djokovic. Check out the latest kit in our tennis gear reviews. Receive regular updates with our legendary newsletter or read in depth features with stunning photography in tennishead magazine. Can't visit the tournaments you love? Check out our guide on how to watch tennis on TV. Don't miss a thing with our Live Scores service. Follow tennishead on social media at Facebook, Twitter, Instagram & YouTube