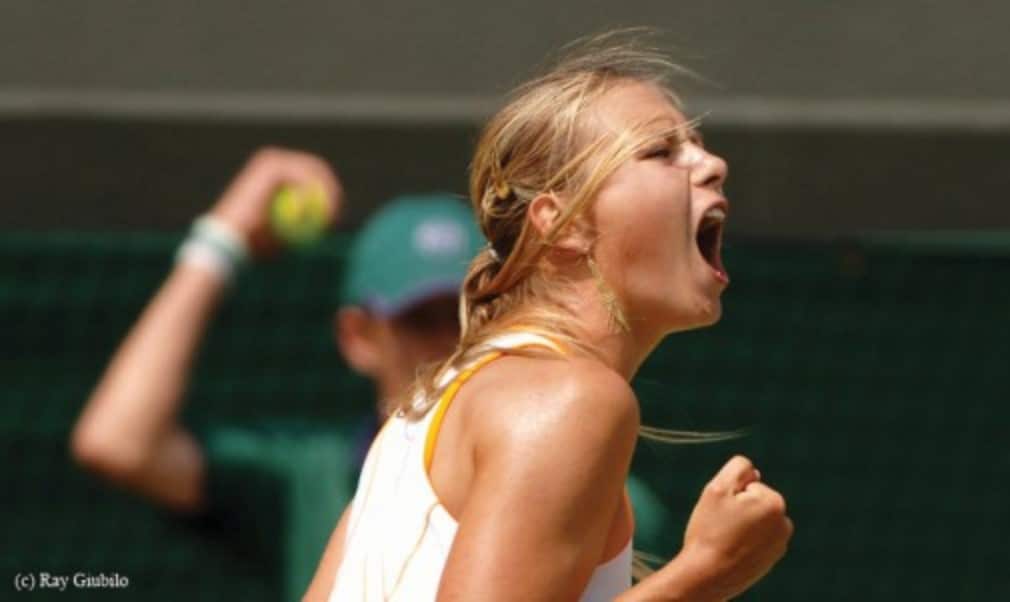 Wimbledon moments: Magic Maria
Originally published on 05/07/14
One year after reaching the fourth round on her Wimbledon debut, Sharapova had warmed up for the 2004 Championships in perfect style by winning the DFS Classic on the grass at Birmingham. Sharapova was seeded No.13 at Wimbledon and sailed through the first four rounds without dropping a set. Anne Keothavong was beaten 6-4 6-0 in the second round, while Daniela Hantuchova, who had been world No.5 the previous year, was crushed 6-3 6-1. Japan's Ai Sugiyama and Lindsay Davenport, the 1999 champion, both won their first sets against Sharapova before losing in the quarter-finals and semis respectively.
The final looked likely to be a much greater challenge. Sharapova faced Serena Williams, who was going for her third successive Wimbledon title. The American had hardly been troubled on the other side of the draw apart from a tight semi-final against Amelie Mauresmo. Sharapova had also spent the previous evening struggling to recover from a sore throat. "I was in tears because I didn't think I would be ready to play a Wimbledon final and win," she said. You would never have guessed that from the opening exchanges.
Sharapova showed no signs of nerves or illness as she took the opening game without dropping a point. Any thoughts that Williams would overpower the Russian, as she had on the hard courts of Miami earlier that year, were soon dispelled as Sharapova matched the defending champion blow for blow. Nevertheless, few would have predicted that from 1-1 in the opening set Williams would not win another game until the start of the second. Three unforced errors handed Sharapova the first break and from that moment onwards she drove home her advantage, pulling Williams around Centre Court with the power of her groundstrokes. "She's kind of like me," Williams said later. "She doesn't back off, she keeps giving it her all."
A backhand cross-court winner sealed the second break for Sharapova and she wrapped up the set in 30 minutes when Williams netted a forehand on the fourth set point. The American was never going to down without a fight, however, and it looked as though the tide might be turning in her favour when she broke to take a 4-2 lead in the second set. Sharapova nevertheless continued to play aggressively and was soon pumping her fist after levelling at 4-4.
Even Williams was applauding in the ninth game as a sublime forehand lob looped over her head and dropped inside the baseline. When Williams slipped on break point it handed Sharapova the chance to serve for her first Grand Slam title. It was an opportunity she was not going to pass up and a netted forehand from Williams sealed the young Russian's 6-1 6-4 victory.
Sharapova sank to her knees before dashing through the crowd with a beaming smile to embrace her father, Yuri. She also tried in vain to phone her mother, Yelena, who was in Florida. "The phone keeps switching off, I don't know what's wrong with it," she said with a smile. "I turned it on and it keeps turning off. Come on, technology!" Asked whether she could believe she was holding the trophy, Sharapova replied: "No, it's unreal. I never, never in my life expected this to happen so fast. It's always been my dream to come here and to win. It was never in my mind I would do it this year."
Sharapova's triumph was described by the Washington Post as "the most stunning upset in memory". Ten years on, the only surprise is that Sharapova has never won Wimbledon again. Her next best effort came in 2011, when she lost in the final to Petra Kvitova.