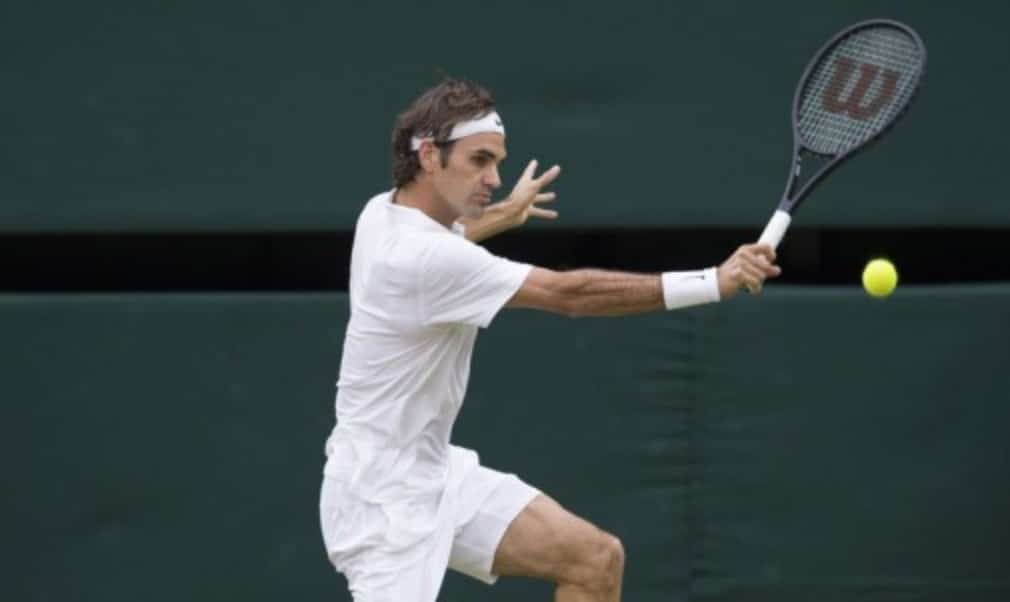 Wimbledon moments: Federer's special first
Originally published on 02/07/14
Just over a decade on from his straight sets win over unseeded Aussie Mark Philippoussis, the Swiss now has a record-breaking 17 Grand Slam trophies in his cabinet, along with a host of other titles. He has also continued to dazzle crowds at SW19 with his sublime play, but in 2003 it was his fighting spirit that helped him win his maiden Slam.
After failing to make it past the opening round in his first two Wimbledon appearances, Federer announced himself on the big stage in 2001 when he beat defending champion Pete Sampras in the fourth round. Yet after losing to home favourite Tim Henman in the quarter-finals, Federer was then dumped out in the first round by qualifier Mario Ancic the following year.
Even at the age of 21 there were already questions being asked as to whether the Swiss would live up to the hype surrounding him. In 2003 he went into Wimbledon on the back of his first win on the grass courts in Halle and continued the momentum with early victories over Hyung-Taik Lee,Stefan Koubek and Mardy Fish in London. However, his tournament was then very nearly over before it really got going.
Up against Feliciano Lopez in the fourth round, Federer injured his back in the warm-up and feared he would not be able to continue. John McEnroe remembers "it looked like there was a chance he was not going to finish" as Federer had to receive intensive treatment on the injury.
The Swiss later recalled: "I thought, my God, what's this? I couldn't move anymore. Everything had seized up. I thought about giving up, but then I hoped for a miracle or that the next black cloud would bring rain again." Fortunately for Federer he did not need rain as he was up against a player who, back then, was much more at home on clay than grass and Lopez was unable to make the most of the situation.
"Lopez had plenty of opportunities to beat me in three sets or drag out the match," said Federer, who was helped by pain-killers and a rise in the temperate that loosened his back muscles. "It also helped that we were playing on a grass court and that Lopez was constantly looking to win the quick point."
In the end, Federer battled through 7-6(5), 6-4, 6-4 and declared: "I'm very lucky to be still in the tournament. I'm exhausted but I'm still alive. I was in big pain – I was struggling to serve, to return, even to sit down. I called the trainer and he gave me some painkillers but I thought if this continues, it's not worth playing. Somehow I stayed in but at that point I didn't think I would ever hold the trophy."
After a good night's sleep, Federer showed no signs of struggling with the injury as he beat Sjeng Schalken, who himself was nursing a foot injury, in straight sets in the quarter-finals. The 21-year-old then pulled out his best performance of the tournament to blow away the bookies' favourite Andy Roddick 7-6(5) 6-3 6-3 and become the first Swiss player to reach a Grand Slam final. Even Roddick was stunned by the display, saying: "I don't know if I've been beaten that convincingly when I felt like I went into the match thinking, 'OK, I'm playing well."
Federer was just as impressive in the final as he put in a brilliant display to beat Philippoussis 7-6(5) 6-2 7-6(3) and lift the famous trophy for the first time. It would be the first of five consecutive Wimbledon titles for Federer as he went on to dominate on the grass courts of SW19. "The '03 victory came just at the right time," said Federer. "It gave me all the confidence I needed to become world No.1 a few months later.
"I proved it to everybody and it was a big relief because there was pressure from all sides, especially from myself, to do better in Slams. There is no guarantee of anything, but I knew I had the game and I have always believed in myself. I kept my level up here in the semi-finals and the final and to lift the trophy is an absolute dream."