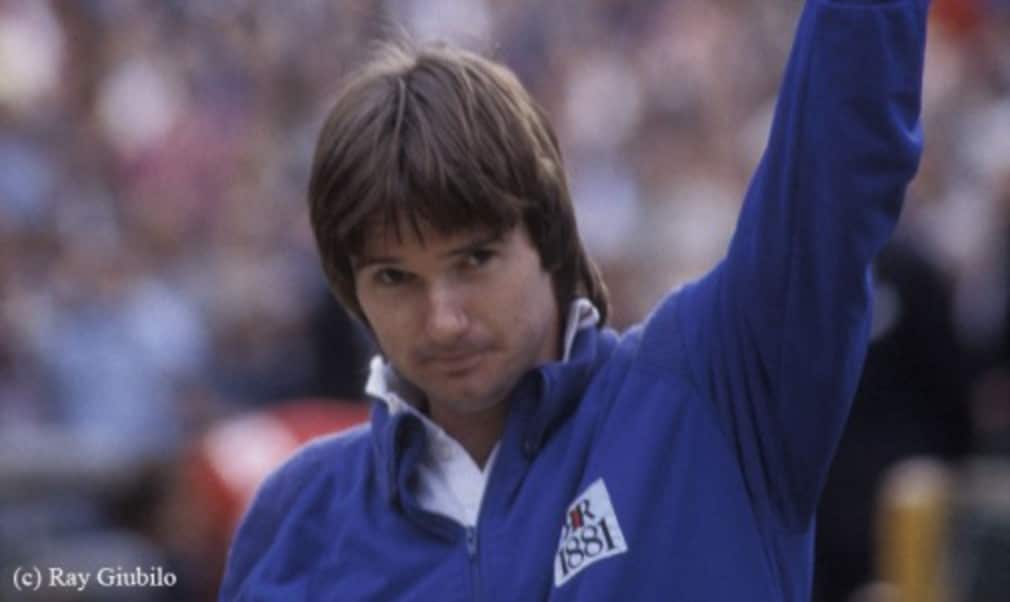 Wimbledon moments: Connors' superb comeback
Originally published on 29/06/14
Trailing 1-6 1-6 1-4, the 34-year-old American looked to be down and out against Sweden's Mikael Pernfors. One newspaper even printed in its early edition that Connors had lost the match. Certainly for the first two-and-a-half sets it looked as though Pernfors was on course to beating the American at the third time of asking.
When the pair had met in Memphis earlier that year and also in Cincinnati in 1986 it was Connors who came out on top. However, by the time Wimbledon rolled round in the summer of 1987 he hadn't won a tournament in three years and looked to be on the decline. He was made to work hard for his place in the fourth round as he battled past wildcard Brit Steve Shaw and also Kelly Evernden in four sets.
Pernfors, meanwhile, was taken to five sets in his opening match before pulling off a fantastic comeback to beat 10th seed Tim Mayotte in the third round. The Swede lost the first two sets 6-2 6-4 but reeled off the next three to set up a tantalising clash with Connors. Yet the contest looked to be almost over before it started as Pernfors outslugged his more experienced opponent from the baseline to race into a 6-1 6-1 4-1 lead. With the light fading and Connors nursing a leg injury it looked only a matter of time before the match was over.
'It was a pretty good spanking to that point,'' said Connors. ''But at 4-1, I started to strike the ball cleaner. I was getting a little closer to the net.''
The comeback started as Connors held serve, broke Pernfors for the first time and then held again to make it 4-4. The momentum looked to have swung as the American reeled off 14 consecutive points on his way to taking the set 7-5.
"He's known for doing things like that," said Pernfors. "He manages to raise his game. But at that point, I can't start worrying about what he does. I have to concentrate on my game."
Pernfors kept his concentration to break Connors early in the fourth set and establish a 3-0 lead. But Connors continued to fight back, breaking twice in succession to win the set 6-4 and set up a decider. "That's when the willpower came in," said Connor. ''At two-sets all, it's a matter of who's stronger mentally. Pernfors is a fighter, I didn't want to give him a chance.''
Connors had already worked the crowd into a frenzy with his fist-clenching and he gave them even more to cheer as he opened up a 4-1 lead in the fifth set. But Pernfors broke the next game and must have been encouraged by the sight of his opponent receiving treatment for cramp between games. Asked later whether he ever thought of quitting, Connors said: "Absolutely not. I was always going to finish the match – if I had to crawl." Thankfully for the American it did not come to that as he broke back immediately before sealing victory with a cross-court backhand winner.
After pumping his arms skyward in celebration, Connor said: "My ego was hurt. I had to do something. So I decided to fight even harder. I don't think I'm surprised that I won. I can still play. I'm not out there for any other reason except that I can play tennis. But I feel the best thing that I did out there was grind and fight."
"Jimmy is such a great hustler that you know if he has the opportunity to come back he will take it," said Pernfors. ''And that's what he did.''
Connors went on to beat big-serving Slobodan Zivojinovic in the quarter-finals before losing to eventual champion Pat Cash in the last four. Pernfors, meanwhile, had another claim to fame in 1990 as he was at the other end when John McEnroe was disqualified at the Australian Open.