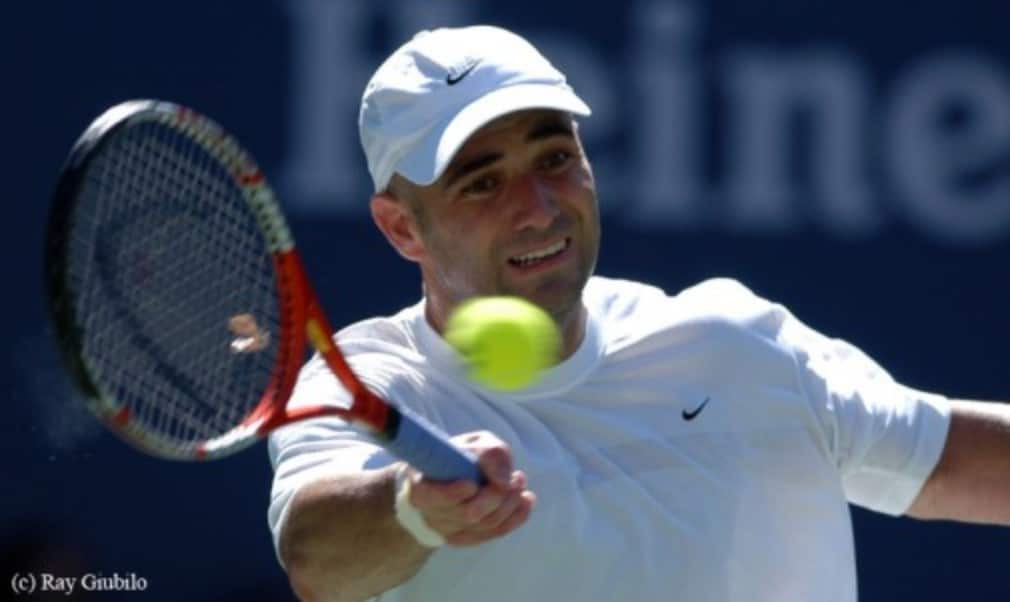 Wimbledon moments: Agassi delights in victory
Originally published on 25/06/14
"It represents an evolution in my own life. Holding the [men's singles] trophy in 1992 was one of my best feelings on a tennis court."
For few people has winning Wimbledon meant as much as it did for Andre Agassi in 1992. One of the sport's most complex characters, a rebellious Agassi had boycotted the tournament for four years because he did not want to change his colourful clothing and go all-white. When he finally returned to SW19 in 1991- in a pristine, all-white kit – he looked to be on course for the semi-finals as he led David Wheaton 2-6 6-0 6-3 4-1 and with three break points to go 5-1 ahead. But an injury to Agassi allowed Wheaton back into the contest and the unseeded American eventually prevailed in five sets.
A year later, a 22-year-old Agassi had struggled through the first quarter of the season but improved in the lead-up to Wimbledon, winning in Atlanta and making the semi-finals of the French Open. Still, he later wrote in his autobiography: "The talent assembled in London in 1992 is stunning. I'm the 12th seed and the way I've been playing I should be seeded lower."
After battling through his first-round match with Andrei Chesnokov, Agassi won his next three contests in straight sets to set up a quarter-final with Boris Becker. The German had reached six of the last seven Wimbledon finals but it was Agassi who came out on top over two days 4-6 6-2 6-2 4-6 6-3. "I have not seen anybody on grass playing that kind of tennis," Becker said afterwards.
Agassi then beat John McEnroe in his last singles appearance at the tournament to book a place in the final against big-serving Goran Ivanisevic. The American had lost all three of his previous Grand Slam finals and had also been beaten in straight sets in both of his meetings with Ivanisevic. Ironically, though, that was the way he liked it. "It was such a relief to me to finally, finally play somebody in the finals of a Grand Slam who is supposed to beat me. That feeling alone helped me not to interfere with myself," he said.
Ivanisevic, who had served 36 aces on his way to beating Pete Sampras in the semis, took the opening set on a tie-break before Agassi hit back to take the next two with a single break in each set. But Agassi's game dropped in the fourth set and Ivanisevic took advantage to win it 6-1. The first nine games of the decider produced no breaks of serve, but the pressure then got to the Croatian as he double faulted twice at 5-4 down. Although he fought back to 30-30, Agassi hit a mid-court passing shot to bring up championship point and then sealed the win when Ivanisevic netted a volley. As the ponytailed Agassi fell to his knees and sobbed, Ivanisevic climbed over the net to embrace and congratulate him.
Even though Agassi would never go on to win Wimbledon again, there is little doubt how much lifting the trophy meant to him. "It shouldn't matter this much. It shouldn't feel this good…I've finally earned a brief respite from the critics, especially the internal ones," he later said.