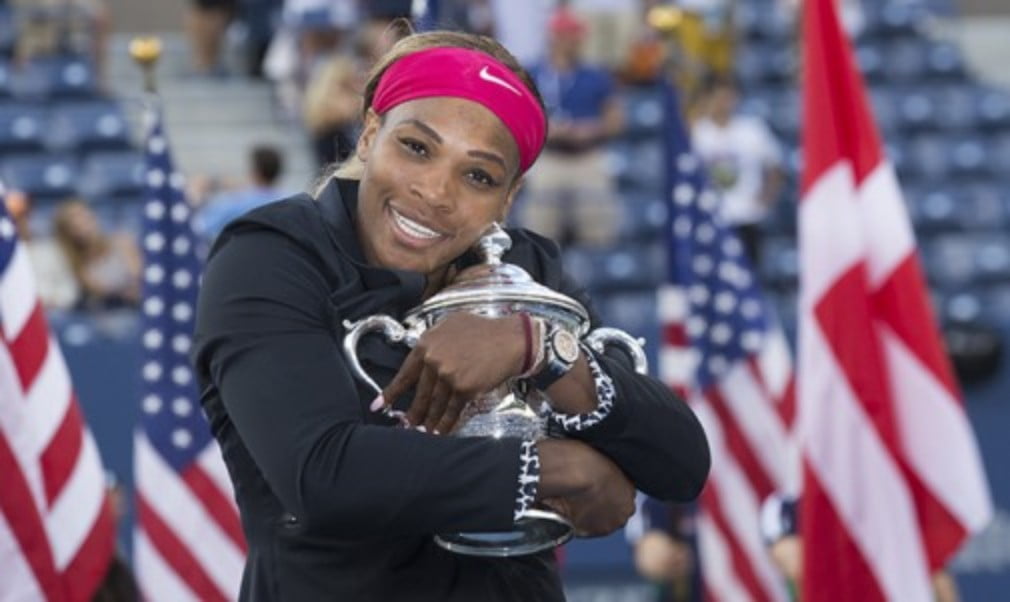 Williams makes history with sixth US Open crown
Originally published on 08/09/14
Williams joins Evert and Navratilova on 18 with sixth US Open win
Serena Williams became just the second woman to complete a US Open hat-trick with a dominant 6-3 6-3 victory over Caroline Wozniacki.
The world No.1's sixth triumph at Flushing Meadows was her 18th Grand Slam singles title, drawing her level with Martina Navratilova and Chris Evert in the all-time champions' rankings.
After a nervy start to the match, Williams proved too sharp and too powerful for her off-court friend, a beaten finalist in New York for the second time in her career.
The pair traded a flurry of breaks in the opening exchanges before Williams held for a 5-2 lead, breaking once more at the start of the second set.
Wozniacki dug deep to begin holding and stay in touch with Williams but the 32-year-old offered her no way back into the match. In the second set Williams made 70% of first serves and ended the contest with a final break, collapsing to the court in celebration before an emotional address to the crowd during the trophy ceremony.
"It was a pleasure to win my first grand slam here," Williams said. "I couldn't think of a better place to win my 18th."
It was a consummate performance from Williams, who maintained her record of dropping no more than three games in any set throughout the tournament. She won the title without dropping a set for the third time in her career – and this at the end of a season in which she had previously failed to go beyond the fourth round at the majors.
Asked to explain her emotions at the end of the match, Williams admitted: "It was definitely the number 18. I have been trying to reach it for so long, since last year. Well, since the beginning of the year. I didn't really think would I get there. I just felt so good.
"I just could never have imagined that I would be mentioned with Chris Evert or with Martina Navratilova – I was just a kid with a dream and a racket."
Bryan brothers collect 100th title together in New York
Bob and Mike Bryan claimed a record-tying fifth US Open men's doubles title and ensured that for the 10th year in succession they could lay claim to a Grand Slam after winning their 100th trophy in tandem with a 6-3 6-4 victory over Spain's Marcel Granollers and Marc Lopez.
The 36-year-old twins admitted to suffering a serious bout of nerves heading into the match with so much history on the line, let alone a 16th Grand Slam title together, and their first since Wimbledon 2013.
"I was having flashbacks to my whole career towards the end of that match," Bob Bryan said. "It was wild. I was thinking juniors, college."
The only thing missing was their trademark chest-bump after the win. Mike arrived too soon for Bob, who ended up catching and lifting his brother in a move he described as "a 'Dirty Dancing' swan dive".
The world No.1 duo said they had no plans to retire yet, with the 2016 Olympics in Rio their next goal and life beyond that still undecided. "No exit strategy," Mike Bryan said.
Stat of the day
$4 million – Serena Williams' record payday after winning both the US Open and US Open Series. The world No.1 was also presented with an 18-carat Tiffany bracelet by Evert and Navratilova to mark her membership of their rather exclusive club.
Quote of the day
"She's funny, she's nice, she's supportive. She's just really, really sweet. You know, she's a sweet person. I think I can kind of take my wall down a little bit with her and I can be who I am. It's nice when you can do that with someone. Yeah, it makes it really nice."
Serena Williams explains what makes her friendship with Caroline Wozniacki so strong before the finalists celebrated together in New York.