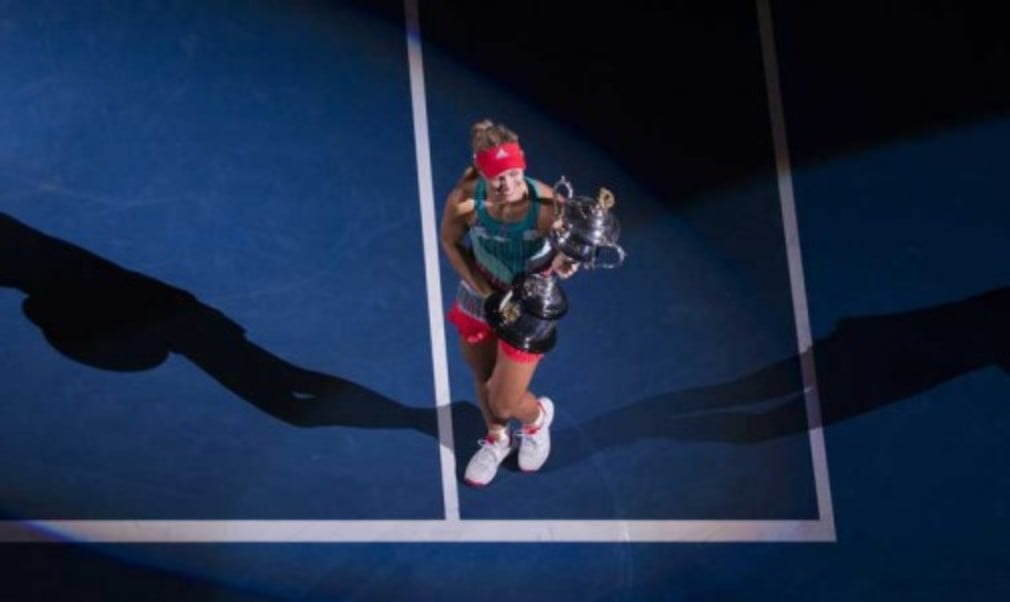 Will Angelique Kerber win another Grand Slam?
Originally published on 13/04/16 00:00
Last season was Kerber's most successful on tour as the German picked up four WTA Premier titles on four different surfaces (Charleston, Stuttgart, Birmingham, Stanford). A finalist in Brisbane and her maiden Grand Slam already in her trophy cabinet for 2016, is this the start of big things for the 28-year-old?
Here's three reasons why she will will another major…

Ability
Angelique Kerber's Australian Open win in January was no fluke. She showed the world just how good she is during that fortnight by consistently producing her best tennis to beat Serena Williams, Victoria Azarenka and rising British star Johanna Konta.
Kerber has one of the best forehands on the WTA tour, possesses a very effective and versatile backhand and is brilliant at finding angles to throw her opponents off balance. Her lefty serve arguably still needs work but, if she is accurate, it has a positive effect on her all-round game.
Determination
Kerber is an exceptionally tough player to beat when she is playing well. Like Agnieszka Radwanska, the German typically makes opponents play extra shots during rallies until she draws an error or opens space on the court to hit a winner.
Matches involving Kerber often last a long time as a result. In 2015 she played 27 three-set matches – the second most on tour. She started her victorious run in Melbourne by saving match points during a gruelling three-set encounter with Misaki Doi and finished it by beating Serena in a high-quality final that also went the distance.

Experience
One advantage of winning your first Grand Slam when you're 28, as Kerber was, is that you probably know exactly how you won and what you need to do to replicate that success. If you win when you're young and fearless, as Ana Ivanovic did at the 2008 French Open, you have not had time to become really nervous about playing on the biggest occasions, and may never find it as easy again.
Kerber won 47 of her 71 matches in 2014 and 53 of her 75 matches in 2015, which suggests she is getting more consistent as she gets older, and is finding ways to win matches she may have previously lost – both good indicators that she is capable of another Slam.
And two reasons why she won't…

Big-match temperament
The inability to produce her best tennis when she needs it most is arguably one of the biggest reasons why Kerber hasn't had a more successful career. She has lost in either the third or fourth round of Grand Slams12 times in her career and had only won four WTA singles titles before 2015.
Her four WTA Premier titles in 2015 and her subsequent Australian Open triumph demonstrate a definite improvement in this area, but question marks still remain. If Kerber faces Serena, Azarenka or Garbine Muguruza (who she has a 3-4 head-to-head record against) in the latter stages of another Grand Slam this year, would she really be expected to win?
Too much competition
Most of the players in the top 25 of the WTA rankings are theoretically capable of winning a Grand Slam, and the top 10 are very close to one another in terms of ability, so any draw at a major tournament will be littered with potential banana skins lying in wait to derail Kerber's bid for glory.
The resurgence of Azarenka is particularly worrying for Kerber, as the Belarusian's Sunshine Double raises the possibility of her dominating the rest of the year.