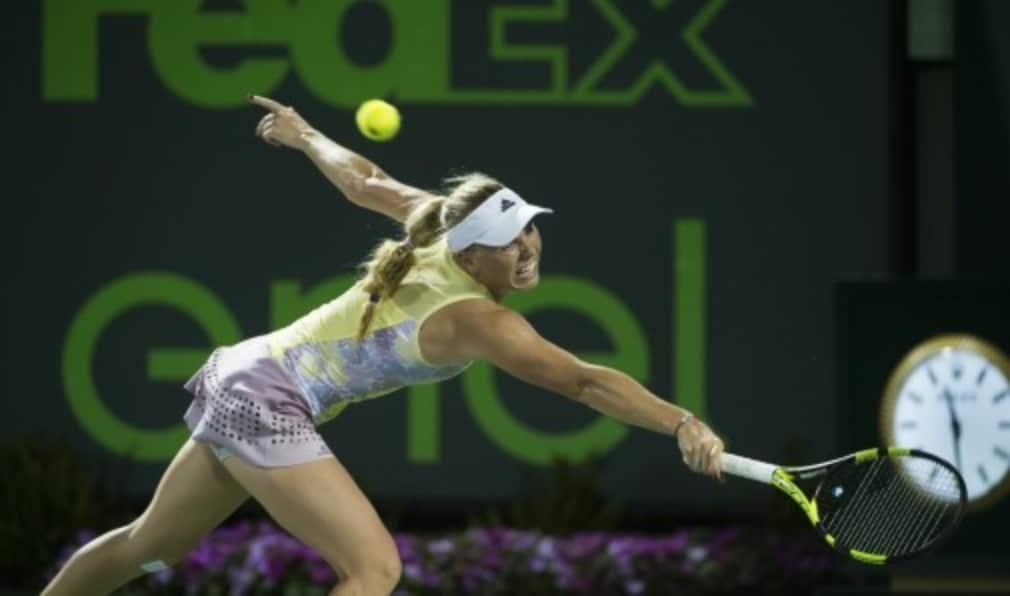 What now for Wozniacki?
Originally published on 20/04/16 00:00
Caroline Wozniacki's season has gone from bad to worse as she faces a battle to be fit in time for Roland Garros after injuring her right ankle earlier this month. The former world No.1 initially pulled out of Denmark's Fed Cup duties in Egypt and this week's Istanbul Cup, but the Dane has now confirmed she will not play the WTA Premier events in Madrid and Rome.
Wozniacki seemed destined for a sensational tennis career when she ended consecutive seasons in 2010 and 2011 as the world No.1. However, she has not been able to sustain that success, and recent struggles with form and fitness have cast doubt on her ability to hit the same heights again. She has won 23 WTA titles and amassed more than $20 million in prize money during her career, but now ranked No.24, Wozniacki is 8-7 in 2016 and five of her defeats this season have come to players ranked outside the world's top 50.
Can she rescale the rankings and climb back into the world's elite?
Consistency
Once she has recovered from the ankle injury that will force her to miss most of the clay-court season, Wozniacki needs to re-discover the sort of form that has brought her success in the past. If she can, she will be confident of stringing wins together and climbing the rankings as she has previously shown herself to be one of the most consistent players on the WTA tour. Wozniacki possesses a high-level of tennis ability, but it is not as high as many players who have reached world No.1, so it was chiefly her consistency and her ability to grind out victories when she was playing below-par matches that enabled her to win 12 titles and 125 matches over the two seasons she finished as world No.1. If she re-discovers that consistency, perhaps with the help of new coach David Kotyza, she will soon be back in world's elite.
Fitness
When Wozniacki is not injured, she is arguably the fittest player on tour – as her impressive time of 3:26:33 at the 2014 New York Marathon aptly demonstrated. If tennis matches were decided purely on a player's ability to hit winners, the Dane would not win many matches, but she is able to beat even the most talented strokemakers in the game by out-running and out-defending them and forcing them to make errors. This ability almost carried Wozniacki to the biggest win of her career in the semi-final against Serena Williams at the WTA Finals in Singapore in 2014. She took the first set with virtually flawless tennis (just two unforced errors to Serena's 14) but eventually lost a superb match 2-6 6-3 7-6(6).
Playing Style
Wozniacki is far stronger in defence than attack, and in recent years such a style has not been a recipe for success. Before Angelique Kerber won the 2016 Australian Open, the previous 19 women's Grand Slam titles were won by players with aggressive game styles. Of course, the Dane does not have to win a Grand Slam to return to the top 5, but there are definitely more talented aggressive players standing in her way than there were in 2010. Even more worryingly, nine of the current top 10, even more defensive players like Kerber and Simona Halep , are more aggressive on court than Wozniacki and the tenth, Agnieszka Radwanska, possesses far more variety.
Mentality
Wozniacki is still only 25, and she will be capable of beating any player outside the top 10 for at least a few more years. However, her ability to beat the very best players has always been questioned, and will continue to be scrutinised until she proves that she can do it consistently. She fights until the very last ball of any match, which demonstrates her determination, but it is not clear whether she believes she can beat the best. After she lost to Serena in that fateful WTA Finals encounter in 2014, Wozniacki said: "It was just small things (that decided the match), but, again, that is why champions are champions. All of them step it up when it matters." Was the Dane implying that she does not possess champion qualities?