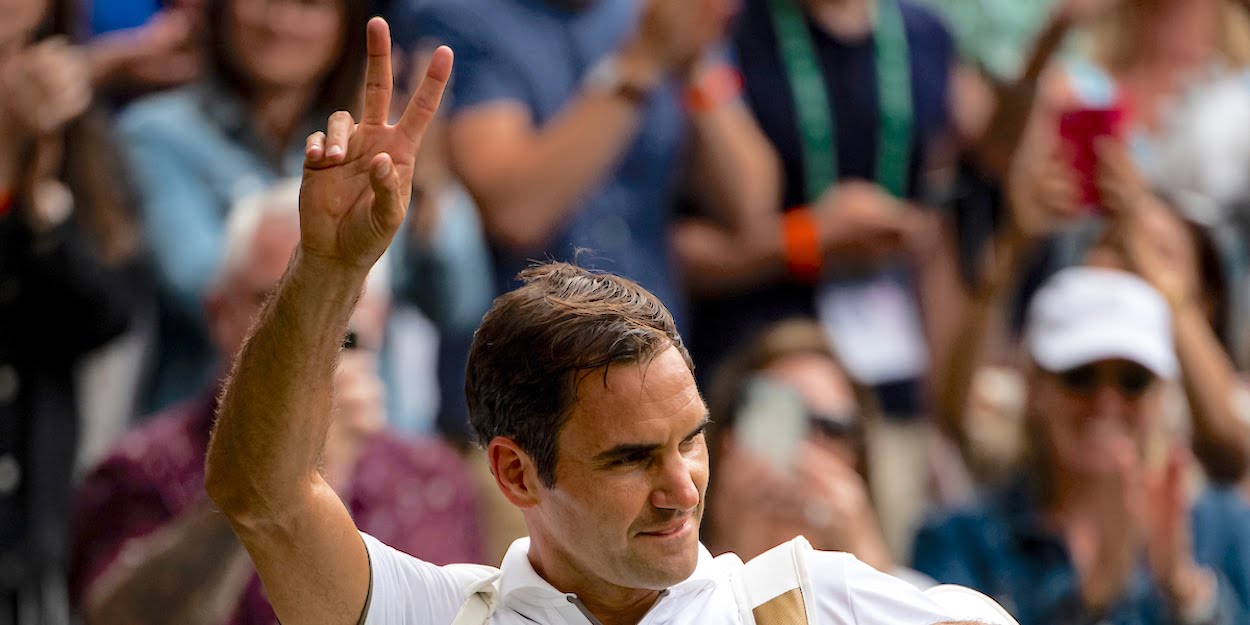 "We are going through difficult times but we will emerge stronger" Roger Federer confirms 2021 grass court plans
Wimbledon fans who feared that the cancellation of this summer's Championships might mean that Roger Federer would never play again at the All England Club have been given reason to hope that the Swiss might play there next summer.
There had been widespread speculation that 2020 would be Federer's last year on the tour, particularly as he had been keen to make one more appearance at the Olympics. However, with the coronavirus epidemic forcing the Games to move to 2021 and with Wimbledon now joining the list of this summer's cancelled tournaments, it seems that the former world No 1 is contemplating prolonging his career for at least one more year.
**Sorry to interrupt but did you know you can order a FREE COPY of tennishead magazine (worth $15) to be sent direct to your home? Hurry up and click here to order the world's best tennis magazine for free as stocks will run out soon!**
With the whole of this summer's grass-court season cancelled, the organisers of the Halle Open in Germany, where Federer normally plays in the build-up to Wimbledon, issued a statement in which he said: "We are going through difficult times but we will emerge stronger. I already look forward to returning to Halle next year."
If Federer competes at Halle next summer, it would be reasonable to assume that he will also play at Wimbledon, by which time he will be just a month short of his 40th birthday.
Following knee surgery in February, Federer had planned to miss this year's clay-court campaign and return in time for the grass-court season. Even if the French Open goes ahead with its new start date of 20 September, Federer is not expected to play at Roland Garros because he is committed to playing in the Laver Cup in Boston at the same time.
Andy Murray is also thinking ahead to next summer. The two-times champion of the All England Club, who has not played since the Davis Cup Finals in November, said on his Facebook page in the wake of Wimbledon's cancellation that he was "looking forward to getting back out on the grass next year already".
However, there could be doubts as to whether other stalwarts of recent years will have made their last appearances at Wimbledon, particularly amongst the leading women. Serena Williams is only a month younger than Federer, while her sister Venus will be 41 next summer, Svetlana Kuznetsova will be 36 and Angelique Kerber will be 33. Kim Clijsters, whose second comeback has been abruptly stopped in its tracks, will be 38.
Wimbledon, which has only been cancelled previously because of world wars, had been due to start on June 29. The US Open is scheduled to begin on August 31 and organisers say they are still working towards that date but are preparing for "all contingencies". The men's and women's tours and all International Tennis Federation tournaments have been suspended until July 13.
There is growing speculation that international tennis might not return until the start of next year. "I think we're going to have to draw a line under the 2020 tennis season," Amelie Mauresmo said on Twitter, adding that "no vaccine" for coronavirus meant "no tennis".