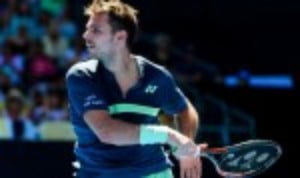 Wawrinka urges patience
Originally published on 19/01/18 00:00
The 2014 champion, a major fitness doubt prior to the start of the tournament, looked less than comfortable as he suffered a heavy second round defeat to Tennys Sandgren on Thursday evening.
It was the Swiss' first taste of competitive action since undergoing a knee operation last summer – and it showed. He remains someway short of where he wants to be, but maintains faith in his recovery process.
"I think the last 12 days gave me more than I could have dreamed of when I came here," said the 32-year-old. "I really came without thinking I would be able to play the first match, so that's a big step for me.
"If I look really back, I only had surgery five months and three days ago. To be this far already, it's more than my team and I could have expected. For sure, it was extremely tough to feel that way on the court, to lose that way, even if my opponent played well."
Wawrinka is adamant that his rehabilitation programme is working well, however he believes a sense of perspective is required when judging his performances and results.
"I'm sure if I look at what has happened over the last 12 days, then I can build a lot of confidence – because every day I was improving. Even today my knee was feeling way better than two days ago. If I look the big picture, I know it's really positive."
The Swiss No.2 will return to action at the Marseille Open next month, but in the meantime, his focus is purely on working hard on the court. "My plan is to leave here and go back to practice," he added.
"Fitness first, then both together with tennis. I know I have a lot of work to do, but I need to be really patient.
"It's going to be tough, but I'm ready for it."