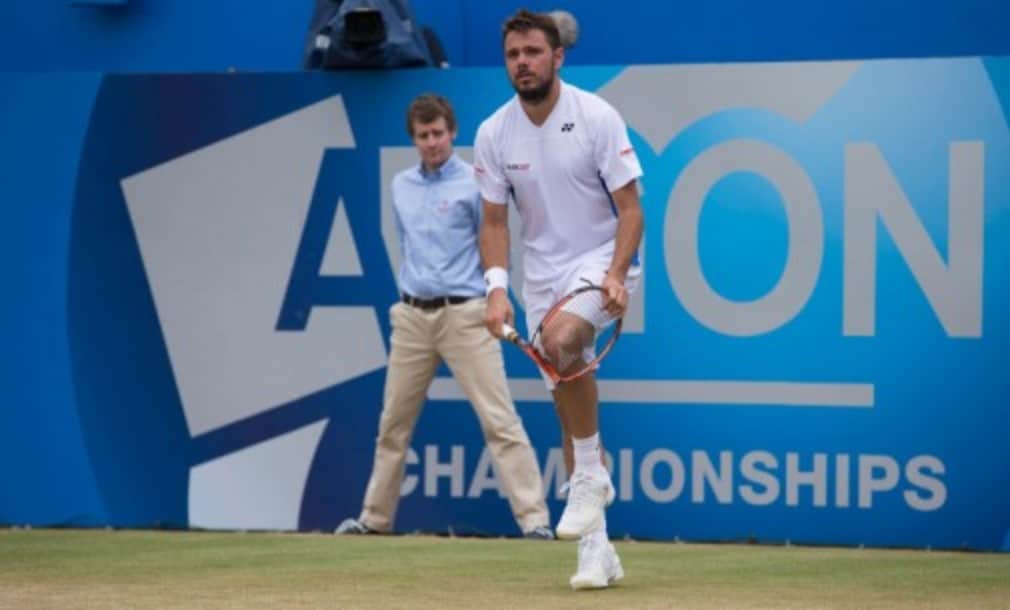 Wawrinka not worried by Wimbledon seeding
Originally published on 17/06/14
Unlike the three other Grand Slams, seeding at Wimbledon takes into account players' previous performances on grass courts. That means Wawrinka, who has lost in the opening round at SW19 for the past two years, will slip down a few places from his world No.3 ranking. But the Swiss, who reached the semi-finals of the Aegon Championships at Queen's last week, says it is not a problem where he is seeded.
"It's been like that for many years, Wimbledon do what they want," he commented. "To change the seeding, we don't have a choice. So for me it's fine. I know that with my past two years on grass I didn't have any results, so for sure my ranking will drop a little bit for the seedings. I'm going to be five or six, I think even maybe six.
"At the end of the day, it doesn't change much. You have to play well. You have to start well at the tournament if you want to go far, it's that's simple."
Wawrinka has had plenty of time to practise on grass this year following his shock early exit at the French Open. The 29-year-old took a wild card at Queen's and beat Marcos Baghdatis, Sam Querrey and Marinko Matosevic before losing to eventual champion Dimitrov.
"It was a positive week, I was playing well," he said. "I had a lot of time on the grass, so it's been really good for the preparation for Wimbledon. I can still improve, for sure. I have time to get ready for Wimbledon, I need to do more hours on the practice court, more exercise with Magnus [Norman, coach]
"I'm sure I'm going to be ready for Wimbledon and I'm sure if I can start the tournament well I will have some chance to do really well. I think it's been a good schedule to come here [Queen's] and play matches for a week on the grass."
As well as playing against Dimitrov in the semi-finals of the singles, Wawrinka played alongside the Bulgarian at the start of the week in the doubles. The pair were beaten in the second round by Daniel Nestor and Nenad Zimonjic and Wawrinka is predicting a bright future for Dimitrov.
"Even if he's starting to change a little bit, his game is similar to Roger [Federer]," he said. "He has a one handed backhand, big forehand especially and doesn't miss that much. He can serve well and can mix with his slice and volley well. I'm sure he can achieve big things in tennis.
"The problem also is now we still have Novak [Djokovic] and Rafa [Nadal] winning everything, but in a few years you have to see how the ranking will change, who's going to be there, if [Milos] Raonic will be there, Dimitrov will be there, [Kei] Nishikori also. It's going to be interesting to see who's going to take the lead. I think it's a really good generation and they are going to be there for many years. I'm just going to watch and see."