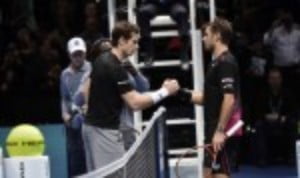 Wawrinka books semi-final berth at Murray's expense
Originally published on 20/11/15
The world No.4 set an all-Swiss semi-final with Roger Federer, a rematch of last year's high-octane clash at the O2 Arena, following a 7-6(4) 6-4 victory on Friday.
Unlike the conclusion of the other singles group, there were no complicated scenarios regarding sets won and lost; quite simply the winner qualified for the semi-finals, while the loser would be heading home.
Or perhaps more accurately in the case of Murray, the loser would be heading to Belgium – the world No.2 will now turn his attentions to preparing for next weekend's Davis Cup final in Ghent.
After a highly competitive first set, in which the pair traded a single break of serve, Murray looked to be on course to take the opener when he opened up a 4-2 lead in the tiebreak.
However, Wawrinka roared back, winning five points in a row to clinch the tiebreak before tightening his grip on the match with an early break in the second. After forging ahead by a double break, he served for the match at 5-2 and despite a late wobble, held on to join Federer, Novak Djokovic and Rafael Nadal in the semi-finals.
"There were a few points at the end of the first set where I didn't play well enough, that's the reality," Murray told Sky Sports. "I made far too many errors on important points in the tiebreak. At 4-3 I missed two second serve returns on my backhand and then a couple of cheap errors on the 4-2 point and again at 5-4 so I've only got myself to blame."
Earlier on Friday, Nadal finished the group stages unbeaten after a 6-7(2) 6-3 6-4 victory over David Ferrer. With Nadal already safely into the semi-finals and Ferrer's chances of progressing already gone, the match was essentially a dead rubber, but the two Spaniards played out the longest match of the tournament so far, with Nadal emerging victorious after two hours and 37 minutes.
Barclays ATP World Tour Finals
Results
Day Six (Friday, November 20)
Singles Group Ilie Nastase
R Nadal bt D Ferrer 6-7(2) 6-3 6-4
S Wawrinka bt A Murray 7-6(4) 6-4
Doubles Group Fleming/McEnroe
I Dodig & M Melo bt M Matkowski & N Zimonjic 3-6 7-5 10-6
J Rojer & H Tecau bt P Herbert & N Mahut 6-4 7-5
Order of Play
Day Seven (Saturday, November 21)
12:00 R Bopanna & F Mergea v I Dodig & M Melo
14:00 R Nadal v N Djokovic
18:00 B Bryan & M Bryan v J Rojer & H Tecau
20:00 R Federer v S Wawrinka