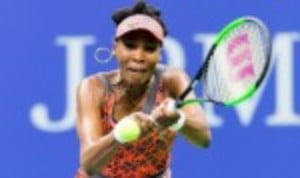 Venus writes next chapter
Originally published on 05/09/17 00:00
In what was arguably the best match of the tournament so far, both players demonstrated their quality in a heavy-hitting scrap. The US Open is unique among the slams in playing deciding set tiebreaks, and in this highly-charged atmosphere, it simply added to the drama.
Williams bagged the first set despite going 1-3 down. She won five games in a row with a nice ratio of winners to unforced-errors as Kvitova failed to build on early promise.
In the second set, Kvitova achieved an early break in the second game and although Williams had two break-points in the following game, she failed to convert them. After an 11-minute delay while the roof was closed, Kvitova raced into a 4-1 lead and she managed to protect her hard advantage to prolong the match.
The deciding set had the same intensity of the first two and the capacity crowd was fully engaged in the contest. Kvitova broke in the third game and although Venus had three-break points in the following game, she was unable to hit back.
The match which had started with short points – in the first five games only four points were longer than four strokes – had turned into a baseline war.
In the sixth game of the third set, Williams finally got the break back after Kvitova committed an untimely double-fault. The set then went with serve and a tiebreak provided a fitting conclusion.
While the crowd was very pro-Williams, they were also appreciative of the effort shown by the gutsy Czech.
Williams got the mini-break she desired in the third point and raced into a 6-1 lead. Despite double-faulting on her first match-point, the veteran American was not to be denied.
Williams, in her 19th US Open, booked her place in the 23rd major semi-final of her career – her fourth in the last six majors she has contested.
Every time the two champions have met, it has gone to three sets with Kvitova winning the last four meetings – albeit the most recent was in Beijing three years ago. This time, though, it was Williams who got the victory.
"It is so wonderful to see her back and playing amazing," said Williams about her opponent. "I hope we have more matches like that and I am wishing her more titles and more winners."
And to the fans on Arthur Ashe, she said: "I felt everyone of you guys behind me. That felt good and I didn't want to let you guys down."
If she advances no further in this tournament, Williams will become world No.2 when the rankings are released next week. But with a semi-final coming up against fellow American Sloane Stephens, one suspects the Venus story still has a bit further to run.
This story is brought to you by Wilson, the global leader in performance tennis