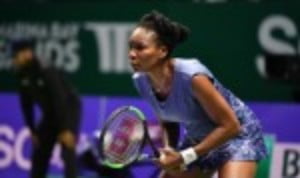 Venus to meet Wozniacki
Originally published on 28/10/17 00:00
The American overcame Caroline Garcia while the Dane got the better of Karolina Pliskova. The two finalists have met seven times before, and Williams is yet to suffer defeat.
Wozniacki maintained her excellent form as she defeated Pliskova 7-6(9) 6-3 to reach the championship match of the season-finale for the first time in seven years.
The Dane edged a tumultuous opener, and it provided her with encouragement for the second set. Her opponent, in contrast, never quite recovered from losing a gruelling first set – and her hopes of finishing the year as the world No.1 were soon over.
Pliskova's semi-final loss means Simona Halep, who has won just one title this season, will finish the year in top spot.
"I'm just happy I got that first set under my belt," admitted Wozniacki who did well to resist a spirited fight back from her opponent. "It was really important for both of us."
"We've kind of being alternating this year. She [Pliskova} won the first won, I won the second, she won the third one, and so on. She is such a great player, she plays aggressive and serves big. You have to be ready for every shot and play aggressively yourself."
As the Dane embarked on her recovery ahead of tomorrow's final, Williams and Garcia were slugging it out on Centre Court attempting to earn the right to compete for the title.
The 37-year-old, as she has done so often this week, responded well to adversity and emerged a 6-7(3) 6-2 6-3 victor after another punishing duel.
Williams now has second opportunity to win the WTA Finals for a second time, and she will like her chances of securing a 39th victory of a fine season on Sunday.
"One more match to go," said the American after ending Garcia's fine run. "I'm going to be playing against one of the best players in the tournament, another Caroline, but I'm excited. She is a great friend and I'm happy for one of us to win tomorrow.
"It's hard to produce your best tennis at the end of the year because you've given so much, but this tournament is one of the most important. It's the top eight players, so nothing is easy. To be standing in the winner's circle, almost, is amazing."