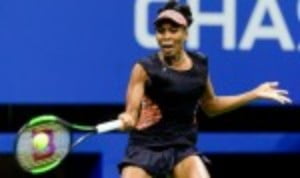 Venus still chasing success
Originally published on 08/09/17 00:00
In a match which came alive in the third set, when both players started playing their best tennis at the same time, youth triumphed over experience.
In the first set, Williams made 17 unforced-errors while her youthful opponent played steadily, smacking six winners and committing just five mistakes.
In the second set, the scoreline was reversed with Williams finding her rhythm and levelling the match without conceding a game.
The third set was closely contested. Stephens was superb in defence and was the stronger player in the closing stages. Williams was broken at 4-4, and Stephens served out the match.
"She played well. I mean, there was nothing I could do about those shots," said Williams post-match. "I played aggressively, and, you know, played the best points I could, and then she played a little better. Sometimes you get the luck and sometimes you don't."
The first two sets took 54 minutes in total but the final set lasted 73 minutes
Williams had a chance to win her 50th career singles title and her third US Open title, following back to back wins in 2000 and 2001.
"It was definitely a contrast of play" she said of today's contest. "You know, I continued to play aggressive and continued to play the kind of match that it takes to win but just made too many errors there at the end."
Williams had won 10 of the 13 sets she'd played en route to the last four and her quarter-final scrap with Petra Kvitova took 2 hours and 34 minutes to complete.
"Quite obviously I'd love to win these all the time," added Williams." It's such a wonderful feeling, because you put in so much work to be able to succeed at these moments."
At 37 years of age, the veteran says she will continue to play and after her last eight win, she said: "I think sport is, you know, a little microcosm of life, and it shows the human spirit, just being out there on the court, fighting against all odds. If you're down, you keep going.
"For me, it's about putting myself in positions all the time to get the titles, and that's exactly what I did. That's all I could do. So the point of being here is to put yourself in position to win."
This story is brought to you by Wilson, the global leader in performance tennis