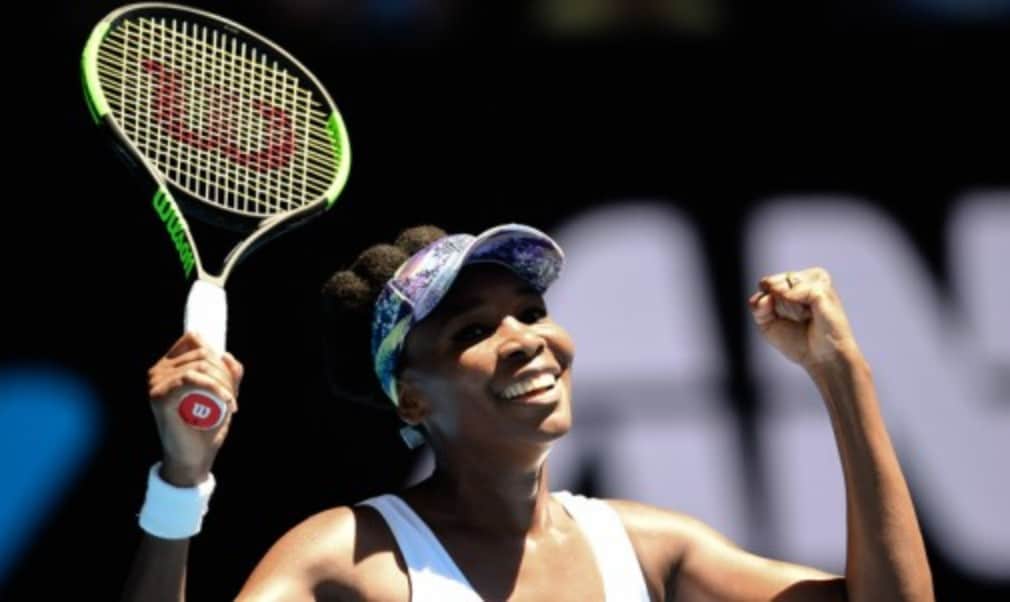 Venus reaches quarter-finals
Originally published on 22/01/17 00:00
On Sunday both came through their fourth round matches in straight sets. Williams defeated German qualifier Mona Barthel 6-3 7-5, while Pavlyuchenkova beat fellow Russian Svetlana Kuznetsova 6-3 6-3.
Williams has not dropped a set en route to the quarter-finals and is showing no signs of the elbow injury that forced her to withdraw from Auckland earlier this month. "I feel good," said the No.13 seed. "I'm going to be focused on winning one round at a time and focus on doing what it takes to be there."
The 36-year-old is the oldest woman in the draw, and has reached the last 16 for the fourth successive Slam. She also reached the fourth round in three of four majors in 2015.
"At this point of the tournament, you want to feel good and you want to feel like you're doing everything perfectly," said the seven-time Grand Slam singles champion, who lost in the first round in Melbourne last year. "But really, at the end of the day, it's about walking to the net, shaking hands as the winner. However that happens, two sets or three sets, that's how I want to walk to the end, as a winner."
It will be a sixth career meeting between Williams and Pavlyuchenkova. The American holds a 3-2 advantage, but their last meeting was in Montreal in 2014 and much has changed since then for both players.
Pavlyuchenkova has been ranked in the Top 30 for the last four years, no mean feat, but showed much promise as a junior. The 25-year-old Russian won three Grand Slam junior titles – in Australia in 2006 and 2007 and the US Open in 2006. Aged 18, she broke into the Top 50 in November 2009.
In July 2011 she achieved a career high ranking of No.13 as well as being the world No.21 doubles player. Last season saw something of a renaissance for the hard-hitting Muscovite, when she reached the quarter-finals of Wimbledon. Since then she has been on an upward trajectory. Her current ranking of No.27 reflects the fact she reached six WTA quarter-finals in Brisbane, St Petersburg, Acapulco, Montreal, Linz and Moscow. At the beginning of 2017 she reached the quarter-finals of the Apia International in Sydney.
"I think just tennis-wise, I think I'm playing better tennis now than I was before, even though I know everyone was telling me, Oh yeah, you're capable of doing this and that. But it's just words," she said. "Of course I had potential, but I just feel like now I believe in myself more."
The 25-year-old is 11 years younger than her quarter-final opponent. "I'm not so young, but not really old at the same time. So, like, I'm now perfectly in the middle. It feels good. I feel much fitter, as well. And again, I repeat like I'm enjoying a bit more, like I take it a bit differently now.
"I definitely feel like I've been long enough on the tour, but at the same time I can't compare myself to Venus and Serena… I remember I was a little girl the racket was bigger than me, and they were ready to play in finals of a Grand Slam."
"So, of course, I can't compare myself to them, but at the same time I kind of also feel experienced. We have had some matches with Venus before, as well. I played her before, so I know how it feels to play against her."
Pavlyuchenkova has achieved a Grand Slam of quarter finals in her career – reaching the last eight of all the Slams, Roland Garros and the US Open in 2011, Wimbledon last season, and now Melbourne. But this time she's keen to go further.
"I want to do my first semi-finals of a Grand Slam or maybe a final," she said, "I would love to. That's why I have been working so hard for this moment now."