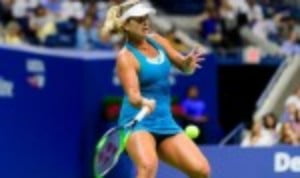 Vandeweghe's proud of her efforts
Originally published on 08/09/17 00:00
The 25-year-old fought valiantly but came unstuck against a rampant Madison Keys, who will take on Sloane Stephens in Saturday's final.
The defeat marked an end of a wonderful campaign for Vandeweghe. She may have shocked the world No.1, Karolina Pliskova, at the quarter-finals stage but her latest opponent was outstanding from the first ball.
"Madison played an unbelievable match," admitted Vandeweghe. "I didn't really have much to do with anything out there. It was an amazing experience to be in the semi-finals, to be here playing for my country and to know that I worked this hard to get here."
Reflecting on her US Open adventure, she added: "I'm most proud of how hard I fought through every round. Even today, as much as it was on Madison's racket, I think to get to this point, to have this opportunity, was all about heart and desire. That's what I can be really proud of through these last two weeks."
Her US Open is not over quite yet, though, and she is still involved in the mixed-doubles with partner Horia Tecau. They play Jamie Murray and Martina Hingis for a place in the final, and Vandeweghe said: "I still have got some winning to do at the mixed-doubles end. Hopefully I'll be really happy at the end of this Slam."
Since Wimbledon, when Vandeweghe teamed up with coach Pat Cash, she has pushed her game forward. "There's going to be more Grand Slams. Hopefully I set myself up for more opportunities," she said.
"I think this whole summer and most of this year – I mean, the year's not over. I have made a lot of strides into what I want to be as far as interim goals of this year. It's a step closer to where I want to be, but it's definitely not, by any means, the end. I think this year has a lot of positives to it, for sure."
This story is brought to you by Asics