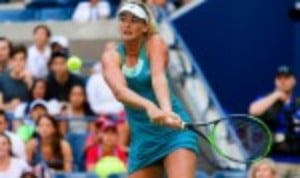 Vandeweghe's on the march
Originally published on 04/09/17 00:00
The American took the first set in 43 minutes and the two players battled in a tiebreak to decide the destination of the second set, which the No.20 seed won by seven points to two. Although Safarova had her chances in the match – five break-points in total – she managed to convert only one of them.
"I knew at the sticky points of the second set, when it was getting tight, that I had to show her that I was going to hustle down a few more extra balls," said Vandeweghe.
"I was going to be present inside the court for her short balls and not let her dictate – but she did a good job holding serve at 5-4 and at 6-5. She was hitting her spots very well. She did that a lot throughout her whole match."
Vandeweghe is having one of the best seasons of her career; she reached a career high ranking of No.19 in May.
"I think it starts with the offseason work," she said. "I went into the off-season first time without an injury, and I was able to have a full off-season there."
Vandeweghe played the Hopman Cup with Jack Sock at the start of the season and they finished runners up. Although it's an exhibition event, the American says she gained confidence from it as well as from playing Fed Cup for her country. In February she helped USA into the world group with a 4-0 win against Germany in Hawaii, following a victory against the Czech Republic.
"Having a big victory against the Czech Republic helped boost me confidence-wise," she said.
Making her ninth main draw appearance at the US Open, the 25-year-old meets top seed, Karolina Pliskova, next.
This story is brought to you by Asics