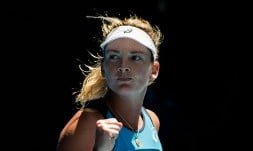 Vandeweghe sets Venus clash
Originally published on 24/01/17 00:00
The world No.35 backed up her fourth round upset of top seed Angelique Kerber with another surprise result, blazing past No.7 seed Garbine Muguruza 6-4 6-0. She will now face seven-time Grand Slam champion Williams, who reached the last four in Melbourne for the first time since 2003 with a 6-4 7-6(3) victory over Anastasia Pavlyuchenkova.
"It's a dream to play someone you grew up watching," said Vandeweghe, who recalled asking Williams for her autograph when she was younger. "To play an unbelievable player, future Hall of Famer, Venus, to be on the court with her, I've only experienced it one time before.
"But to do it at this stage of a Grand Slam is kind of crazy. I can't really put it into words. When I was younger, it was unknown if I even wanted to play tennis, because I was playing basketball as well, but you see it happening, but you more see yourself there. You don't see who the opponent is on the other side when you get there."
Williams won their only previous encounter on the clay in Rome last year, but Vandeweghe is quick to admit that the slower surface does not suit her game.
"I grew up on fast courts," she said. "In California, we grow up on quick courts. We grow up playing in the parks a lot for the junior tournaments. I definitely did not see a clay court for the first time until I got invited to play Junior Fed Cup in Italy. That was the first time I ever saw a clay court or stepped on it.
"I think I definitely have a more true outlook on the court when it's a little bit faster. I mean, as long as it's a hard court and not a clay court, I'm pretty happy about it. I know what's going to happen. No screwy bounces or anything like that. I think fast courts definitely help me, but it helps the opponent, too, to rush a player and everything like that."
Head-to-heads will count for nothing for Vandeweghe – she had lost both of her previous matches against Kerber, and Muguruza had won their only previous encounter on hard courts, but the Spaniard had no answer to the American, who won 88% of points on her first serve.
"I think she played unbelievable," Muguruza admitted. "Three times we played in the past, she didn't show this level. She barely missed."
For Williams, a first major title since 2008 is now just two matches away. The former world No.1 has never won the title in Melbourne – her best result came in 2003 when she lost to sister Serena in the final.
"Why shouldn't I?" Williams said when asked if she believed she could go all the way. "Should I look across the net and believe the person across the net deserves it more? This mentality is not how champions are made. I'd like to be a champion, in particular this year. The mentality I walk on court with is: I deserve this."