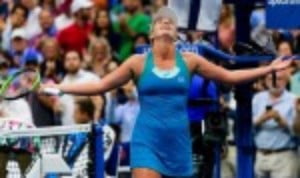 Vandeweghe defeats Pliskova
Originally published on 06/09/17 00:00
Today under the roof of the Arthur Ashe stadium, Vandeweghe, who was born in New York, had the support of the crowd to add to her heavy-hitting and it helped secure her a place in the last four for the first time.
In securing victory she hit 24 winners and committed 32 unforced-errors.
"When I won this event as a junior at 16, I always dreamed about being here on the real stage, moving through the draw," the 25-year-old said after her landmark victory. "My game has come together this year. It's a process. I did expect it to happen overnight when I was 16, but it is a process and now here I am and I couldn't wish for anything better."
After her win, she headed straight to her team, which included former player and 1987 Wimbledon Champion, Pat Cash.
"Even though we're out here individually, it's really a team sport," she said. "They work just as hard as I do. I ran over there to thank them for all their hard work.
"I think the biggest thing is channeling my intensity and tenacity out onto the court and putting it into a singular focus. I think that's probably one of the biggest things he's [Cash] implemented into my regime."
How does he do that? "I don't really know. Maybe it's like some Jedi mind trick" she joked. "I don't know how he's doing it."
With playing partner Horia Tecau, Vandeweghe is in another semi-final in Flushing Meadows having progressed to the last four of the mixed-doubles.
"I think definitely the New York crowd has stepped up for me. It has really given my tennis a big positive push this week," she said.
This story is brought to you by Asics