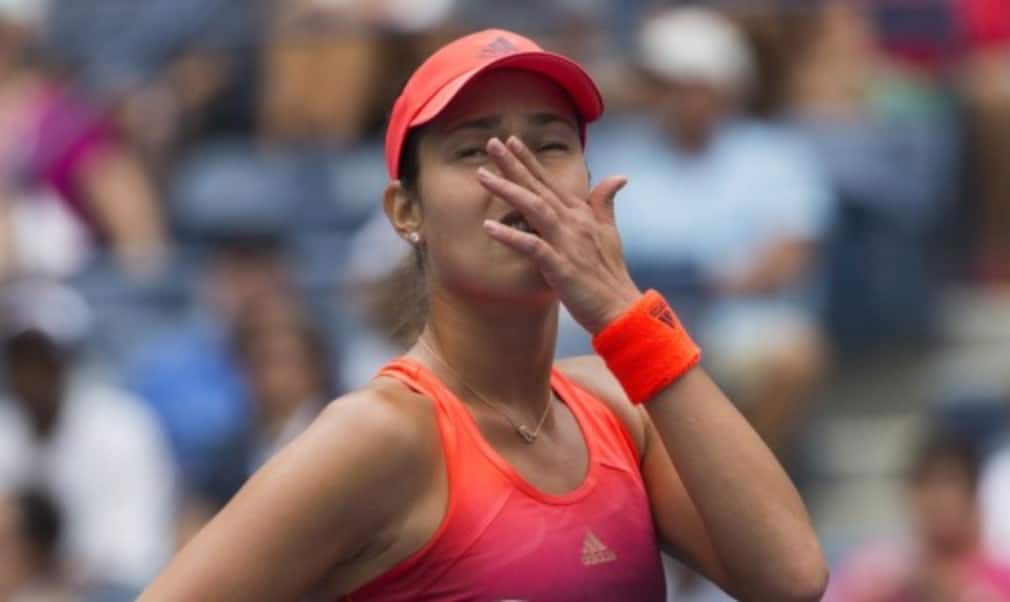 US Open: Seeds scattered on dramatic Day One
Originally published on 01/09/15
Oh, Kei – another first round K.O.
Kei Nishikori has won six US Open matches since 2013 – all of them last year. The 2014 finalist and No.4 seed, one of season's standout hard-court performers alongside Djokovic, Murray and Federer, exited in the first round for the second time in three years. Benoit Paire was on hand to repeat Dan Evans' 2013 feat, battling to a 6-4 3-6 4-6 7-6(6) 6-4 victory that Nishikori should never have let slip from his grasp.
"I had match point and I kind of lost a little bit my forehand," Nishikori said (he actually blew two match points). "I mean, tiebreak can go both ways so maybe I lost a little bit concentration, but he was hitting good serves, too.
"First couple games in the fifth set I lost my concentration and he returned well, too," he added. "I mean, credit for him, too, playing good tennis with these conditions."
It was hot, it was humid, and it was overcast – no surprise for Flushing Meadows. But it was Armstrong, a strange place to find both last year's finalist and champion Marin Cilic, who cruised through his opener against qualifier Guido Pella 6-3 7-6(3) 7-6(3).
But with only five slots on the Arthur Ashe schedule, the nod went to No.1 Novak Djokovic and popcorn ties between Ana Ivanovic and Dominika Cibulkova at the top of the bill, and Rafael Nadal's 6-3 6-2 4-6 6-4 win over Borna Coric for the curtain-fall – both of which lived up the billing in their own way. Throw in the Serena show and Venus, and you had a heady start for ESPN's coverage of this year's US Open – a reminder that tennis is show business in New York.
But what an opportunity missed for Nishikori. Last year's marathon run to the final was meant to be the making of the 24-year-old, but a lapse in concentration this costly proves just how far he still has to go to catch the names above him in the ATP rankings, or to etch his own on a Grand Slam trophy.
Carpe diem? Not today…
If the top quarter of the women's draw put the US in US Open – Serena Williams began as one of 10 Americans in the 32-player segment – the second quarter now defines Open. Maria Sharapova's withdrawal on Sunday presented a golden opportunity for someone to glide under the radar and into the semi-finals over the next 10 days, and the response was… panic, apparently.
First there was Ivanovic, the quarter's newly-installed top seed at No.7. Her plight was hardly helped by a draw that pinned her in with Cibulkova, the fearless pocket rocket coming back off an injury layoff, but everything appeared under control as the Serbian opened up a 2-0 lead without dropping a point.
How wrong we were. Cibulkova mounted an all-out assault that forced Ivanovic exactly where she did not want to be – on the back foot. The first set disappeared 6-3 with the former world No.1 stunned as she slipped 3-1 down in the second.
Ivanovic mounted a fightback, rattling off five games in succession to level the match, but Cibulkova was not to be denied, stepping up the aggression to expose Ivanovic's tame defence and run out to a 6-3 win.
It'll come as no comfort to Ivanovic that she was not the only seed to spurn her chance. No.30 seed and 2004 champion Svetlana Kuznetsova bowed out to Kristina Mladenovic 6-3 7-5, Jelena Jankovic, the 2008 finalist and No.21 seed, lost to French wild card Oceanne Dodin, and No.10 seed Carla Suarez Navarro, who arrived with a wretched 0-6 record since Edgbaston, duly departed 6-1 7-6(5) to Denisa Allertova.
Of the eight seeds sown in the quarter last Thursday, three remain – Ekaterina Makarova, Elina Svitolina and Eugenie Bouchard. Heather Watson? She was also in that section – past tense. The British No.1 was left to rue cramps and her racing mind against Lauren Davis, admitting thoughts of her previous runs at Flushing Meadows clouded her focus and threw her off the gameplan in a 7-6(3) 7-6(0) defeat.
One last time, with feeling
You don't have to be the biggest or the best to be beloved in sport. Proof positive: while Arthur Ashe and Louis Armstrong began the day with the upsets of two top-10 seeds in front of patches of blue seats, a full house watched American Mardy Fish beat qualifier Marco Cecchinato on Grandstand.
The people's champion and the people's court are both making last appearances at the US Open this year. To see Fish, playing his first major in three years with a protected ranking, launch himself into forehands and stalking forward to the net once more was a joy, at least from the sidelines.
For Fish, the reality is darker, though not as dark as his toughest moments at this tournament. His 2012 third-round victory over Gilles Simon finished at 1am New York time. It was to be his last appearance at a major until now. Suffering from palpitations exacerbated by stress and the thought of the impact the late finish would have on his next match, he withdrew from his fourth-round showdown with Roger Federer.
Sleepless nights followed, with Fish waking up with his heart racing, terrified, thinking he was about to die. Doctors discovered a cardiac arrhythmia that required surgery, and while the treatment was a success the ghost of the experience remained, with Fish unable to sleep without wondering if the next attack was on its way, and if it might be his last.
Fish was later diagnosed with anxiety disorder. "Your mind takes over and usually goes into the future, and sort of predicts what you think is going to happen," Fish explained. "Usually it's bad stuff. I had a couple of traumatic experiences to help that along and to sort of snowball."
Day-to-day tasks proved tough. Aeroplane travel was unbearable. Fish's career, on the upswing at the time, was in limbo, all but ended in the cruellest fashion.
This, then is the retirement run, Mardy's chance to make sure those 2012 memories of his favourite tournament are not his last. That's not to say he is cured – "I have come a really long way; it's still a constant battle, but my life is back again and I can do normal things again" – but he can now exit on his own terms, and with t least one last win in New York to his name.
Fish defeated Cecchinato 6-7(5) 6-3 6-1 6-3, roared on by a loving crowd on that lamentably doomed Grandstand Court. You sense, though, he defeated something more than just the man across the net.
Down and out in New York
Fish's final bow was far from the only mention of the dreaded R word on Monday. In all there were seven retirements on Monday, with the woefully hobbled Vitalia Diatchenko's 37-point surrender to Serena Williams in the first night match at this year's US Open grabbing the headlines. Flat-footed on serve and hopelessly immobile as she protected an Achilles injury, the Russian retired trailing 6-0 2-0, prompting questions of whether or not she should even have been out there in the Twittersphere.
"I wanted to do my best in this match; everybody was watching," Diatchenko told the New York Times. "I was really sad about the match today."
Moments after Diatchenko packed her bag, Gael Monfils decided enough was enough after a heavy fall against Iliya Marchenko, calling it quits while trailing 2-6 6-4 5-0. Alexandr Dolgopolov, Yen Hsun-Lu, Pablo Andujar, Florian Mayer and Radek Stepanek – the last two playing on protected rankings – all packed up early, too.
Vasek Pospisil might well have joined them, but soldiered on in the face of debilitating cramps that at one point floored him in the fourth set. Up two sets to one but trailing Andreas Haider-Maurer 3-0 30-0 when the cramps hit, he took the umpire's offer of a chance to get medical attention in exchange for a game penalty in a desperate bid to fire himself back up in the fifth.
Despite the Canadian's best efforts, Haider-Maurer continued to run him to a standstill, racing to a 6-4 3-6 6-7(0) 6-0 6-1 win and a showdown with Novak Djokovic in the second round.