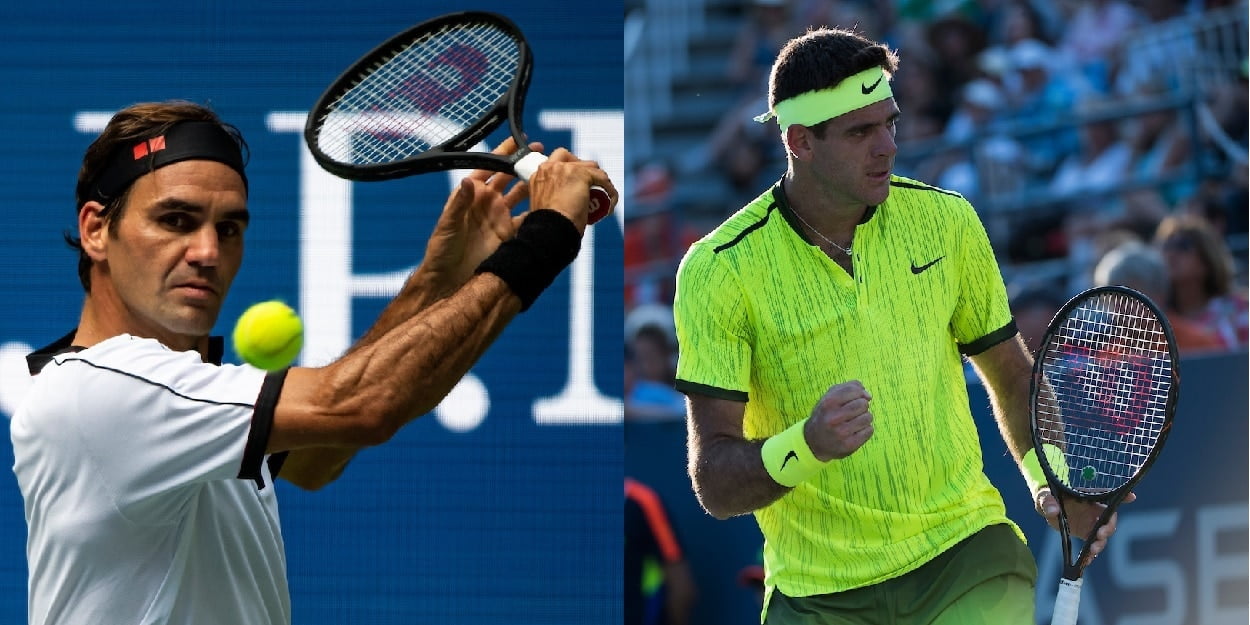 US Open Livestream Preview: Federer v del Potro, 2009 final
In lieu of any live tennis to watch at the moment, the US Open have begun sharing classic, full-length matches on their Facebook and YouTube channels. This Saturday at 9pm (BST) they are premiering the 2009 final between Roger Federer and Juan Martin del Potro. Here we take a look at the build up to that match and see exactly what was at stake.
In 2008 Roger Federer lost his fourth straight Roland Garros final to Rafael Nadal and then, when seeking to pick up his sixth consecutive Wimbledon title, the young Spaniard came out on top once more in that final. Federer won that year in New York but 2009 began with yet another heart-wrenching loss in the final round of a major, as Nadal won another five-setter, causing the Swiss to break down in tears whilst giving his runner-up speech. He had been playing for his 14th career Grand Slam title, which would have tied Pete Sampras' record.  Federer's aura of dominance appeared to be fading fast and the long-time second-best player in the world, Nadal, was now a convincing world no. 1.
**Sorry to interrupt but did you know you can order a FREE COPY of tennishead magazine (worth $15) to be sent direct to your home? Hurry up and click here to order the world's best tennis magazine for free as stocks will run out soon!**
The early part of the season was a struggle for Federer. His first title did not come until May, when he won in Madrid, but, notably, he beat Nadal in the final. In Paris, Nadal suffered a shock defeat to Robin Soderling and, after a couple of scares, Federer was able to capitalise and win his first French Open, completing the career Grand Slam and tying Sampras' overall record. This much needed confidence boost fed through to Wimbledon where Federer won for a sixth time, beating Andy Roddick 16-14 in the fifth set of the final. The win gave Federer the record for the most Grand Slam titles in the history of the men's game. His good form continued through to Cincinnati, where he beat Djokovic in the final, giving him four titles for the season heading into the US Open.
Del Potro meanwhile, was still at the very start of a promising career, aged just 20 years old. His first career title had come in July 2008 and he picked up another three that year. In 2009 he had won in Auckland and Washington and had made progress at the slams, reaching the quarter-finals in Australia and the semi-finals in France. Both of those runs, however, had come to an end at the hand of Federer. In Australia, the Swiss came through a very comfortable winner 6-3 6-0 6-0 but the gap was tightened enormously at the French Open with Federer squeezing past the young Argentine 3-6 7-6(2) 2-6 6-1 6-4.
In New York, Federer entered as a strong favourite. He was once again the world no. 1 and he was the five-time defending champion, having won the event from 2004-2008. He reached the final with the loss of just two sets over the preceding six rounds, and that was in spite of facing some top competition in the form of Hewitt, Robredo, Soderling, and Djokovic. Del Potro was equally as impressive, also losing just the two sets, and his place in the final came at the expense of Nadal with an imperious 6-2 6-2 6-2 semi-final win.
Heading into the final, the head-to-head record between Federer, 28, and del Potro, 20, was 6-0 in the elder man's favour. This included three wins in 2009, but their most recent encounter, at Roland Garros, had gone to five sets. Del Potro would be playing in his first Grand Slam final whilst Federer, the all-time record holder, would be playing in his twenty-first, and he had never lost any of them to an opponent other than Nadal.
Would Federer win a 16th Grand Slam title and a 6th consecutive US Open, or would del Potro upset the odds, avoid going down 7-0 in the pair's head-to-head, and win an improbable first major title? Join us on Saturday from 9pm (BST) to relive all the action from this classic encounter.