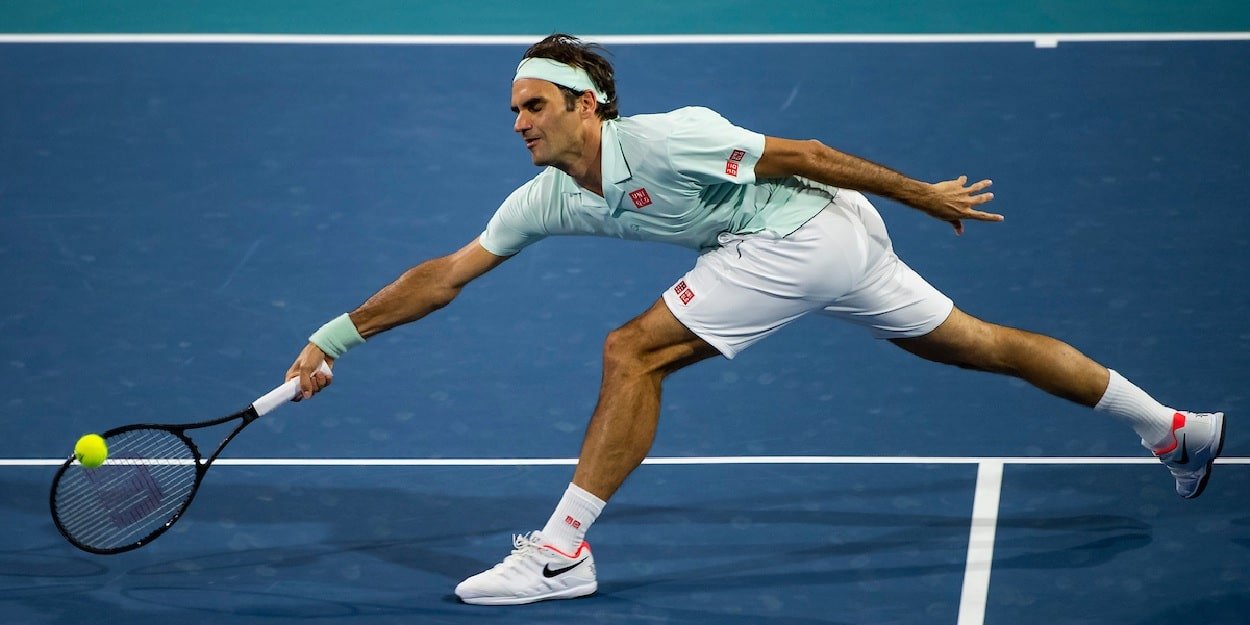 US Open Livestream Preview: Federer v Agassi, 2004 quarter-final
In lieu of any live tennis to watch at the moment, the US Open have begun sharing classic, full-length matches on their Facebook and YouTube channels. This Saturday at 9pm (BST) they are premiering the 2004 quarter-final between Roger Federer and Andre Agassi. Here we take a look at the build up to that match and see exactly what was at stake.
2004 began with the two all-time greats at opposing ends of the careers but both in fine form, with Federer ranked the world no. 2 and Agassi at no. 4. The previous year they had each won a Grand Slam tournament; Federer picking up his first at Wimbledon and Agassi winning his eighth in Australia. The pair faced off twice at the year-end championships (in the round-robin and in the final) with the young Swiss coming out on top on both occasions for his first wins against the veteran American.
**Sorry to interrupt but we wanted to inform you that the latest 164 page, print issue of tennishead magazine is now FREE for everyone to order (It normally costs $25/£12). There is a small shipping cost but we'll deliver anywhere in the world. Or you can order a copy for yourself and a free copy for a friend.**
For Federer, 2004 was a wildly successful year. He began it by winning his first Australian Open title, and then won in Dubai, Indian Wells, Hamburg and Halle before picking up a second consecutive Wimbledon title, and third Grand Slam title overall, beating Andy Roddick in the final. He then added the Swiss Open and the Roger's Cup to his haul before heading into the US Open, giving him eight titles for the year from eight finals played. He also reached world no. 1 for the first time in February, supplanting Andy Roddick. It was a position he would go on to hold for a record 237 weeks before dropping it to Rafael Nadal in August 2008.
Meanwhile, Agassi struggled to maintain consistent form. He fell in the semi-finals in Australia, losing in five sets to Marat Safin, and his first title of the year did not come until Cincinnati, where he beat Lleyton Hewitt in the final. This was a much needed boost just a few short weeks prior to the Open.
In New York, Federer, recently turned 23, entered as the top seed and Agassi, now aged 34, was seeded sixth. Federer had enjoyed by far the better year overall but had run into a period ill-form over the past month, suffering a shock defeat in the first round in Cincinnati and then losing in the second round at the Olympics. He began confidently enough, beating Costa in straight sets, before downing Baghdatis in four, and then another straight-forward victory over Santoro in round three. In four previous main draw appearances, Federer had never made it beyond the fourth round at Flushing Meadows, but Andrei Pavel handed him a walkover to put the Swiss through to his first US Open quarter-final. In the adjacent section of the draw, Agassi began with a three-set win over his countryman Ginepri and followed that up with further relatively simple wins over Mayer, Novak and Sargsian. Agassi had reached his eleventh US Open quarter-final (his first was back in 1988) and the blockbuster match-up was set.
The head-to-head stood 3-3, with Federer having won their three most recent encounters. Agassi, however, was the home favourite and lead 2-0 in US Open titles. Could the American battle through and give himself a shot at a ninth major title, or would the tennis' bright young thing put his midsummer blip firmly to one side and reaffirm his status as the world's best player? Join us from 9pm(BST) on Saturday 9th May to relive all the action from this thrilling quarter-final match.