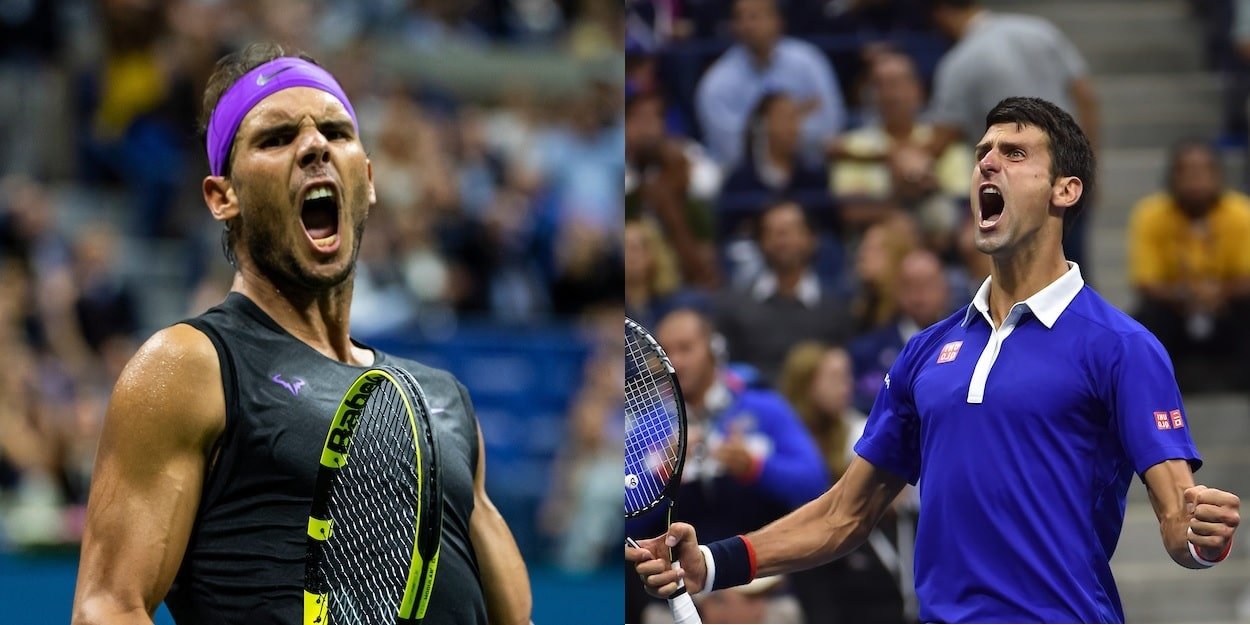 US Open Livestream Preview: Djokovic v Nadal, 2011 final
In lieu of any live tennis to watch at the moment, the US Open have begun sharing classic, full-length matches on their Facebook and YouTube channels. This Saturday at 9pm (BST) they are premiering the 2011 final between Novak Djokovic and Rafael Nadal. Here we take a look at the build up to that match and see exactly what was at stake.
2011 had been Djokovic's year. He began it with a 43-match win streak that encompassed seven title runs, including victory at the Australian Open (d. Murray), which was the Serbian's second title in Melbourne yet also only his second Grand Slam win overall. Four of the seven titles were at Masters 1000 level, all of which came with wins over Nadal in the final. The streak finally came to an end against Federer in the French Open semi-finals, but Djokovic soon bounced back by picking up his first Wimbledon title, defeating Nadal in a final for the fifth time that season, and in doing so he replaced Nadal at the top of the rankings, reaching that milestone for the first time in his career. By the time the US Open arrived, Djokovic already had nine titles for the year, including two Slams and five Masters 1000s.
**Sorry to interrupt but we wanted to inform you that the latest 164 page, print issue of tennishead magazine is now FREE for everyone to order (It normally costs $25/£12). There is a small shipping cost but we'll deliver anywhere in the world. Or you can order a copy for yourself and a free copy for a friend.**
Whilst Djokovic had dominated, Nadal had been there to pick up the not insignificant scraps. He won a 7th consecutive title in Monte Carlo, won for the 6th time in Barcelona, and a 6th time in Paris, defeating Federer in the Roland Garros final. He also reached a further five finals, but lost them all to Djokovic.
Heading into the US Open, Djokovic of course had the momentum but Nadal still had history on his side. Their head-to-head at the start of the year was 16-7 in Nadal's favour, and even with Djokovic's five wins in 2011 it was still 16-12 to the Spaniard. Djokovic had just the three career Grand Slam titles compared to Nadal's ten, and in the one match they had played against each other in New York – in the previous year's final – Nadal had come out on top.
Both players came through the early rounds with ease. Djokovic did not lose a set until the quarter-finals when he overcame his countryman Tipsarevic in four. Nadal went one better by not losing his first set until the semi-finals, where he beat Murray, also in four. In the other semi-final, Djokovic beat Federer in a classic, coming back from two sets down to beat the Swiss, and, just as he had in 2010, he saved two match points along the way.
For the sixth time in 2011, Djokovic and Nadal would meet in the final. Would Djokovic recover from his mentally and physically draining semi-final win, make it six wins in a row against Nadal, and claim his first US Open title? Or could Nadal salvage some pride, defend his US title, and tie the year's Grand Slam haul at two a piece?