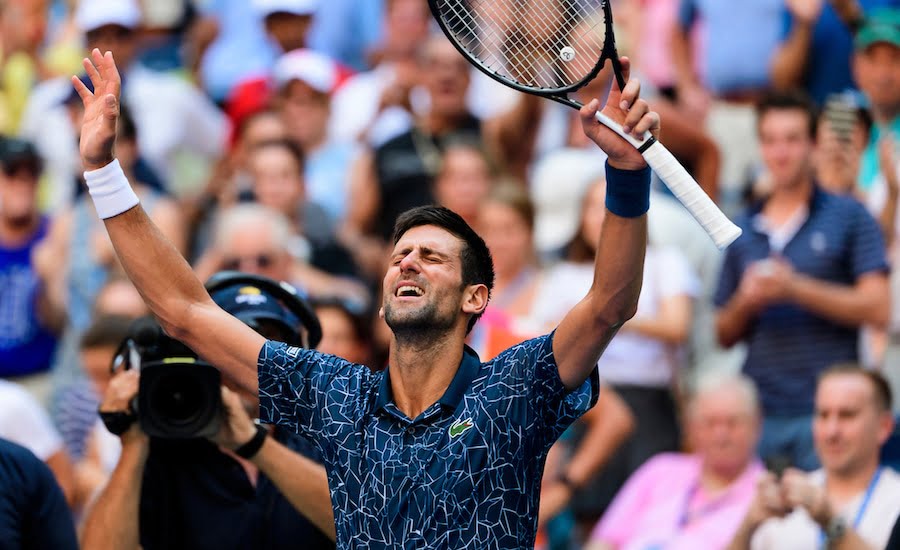 US Open 2019 preview
The US Open joined the professional game of tennis back in 1968 when Arthur Ashe beat Tom Okker in 5 sets. Before then, amateur players had competed for a version of this great tournament since 1881. This year's 4th major will see players competing for the richest prize purse in the history of the game. Here, tennishead previews the 2019 US Open
The list of past champions at the US Open reads like a 'who's who' of the greatest tennis players of all time. Legendary names like Rod Laver, Billie Jean King, Andre Agassi, Martina Navratilova and Pete Sampras have all won this great tournament. Will 2019 live up to these great expectations?
Don't miss our incredible 164 page US Open issue of tennishead magazine now available in a digital format. You can buy it and read it within seconds
Originally played at the Newport Casino in Rhode Island, the tournament then moved to the West Side Tennis Club in Forest Hills from 1915 to 1977. The court surface was actually grass until 1974 when it then had two years of being played on clay before moving to the now familiar hard courts in 1978.
The tournament has been disrupted by wet weather for a number of recent years and so in 2016 a lightweight retractable roof was completed on the main Arthur Ashe stadium court and is now the largest tennis stadium in the world holding a total of 23,771 spectators.
In recent years the mens singles has been almost completely dominated by three players. Roger Federer has 5 wins, Rafa Nadal has 3 wins and Novak Djokovic has 3. This year sees all three of these great players competing again in what looks like being a classic year for mens tennis at the US Open.
The Ladies singles has seen more different individual players win the trophy but no-one has got close to matching Serena Williams six trophies since her first in 1999.
2019 Preview
Men's singles
Following his victory at Wimbledon and record of winning 4 of the past 5 Grand slam titles, the favourite for this year;s US Open will undoubtedly be Novak Djokovic.
The Serb is in the middle of another dominant run in the men's game to match his feats of 2011. New York generally suits his style of play where he can soak up pressure on the fast hard courts and then utilise his often superior athleticism to counter punch his way to victory. However, some surprising losses in 2019 will have given Djokovic food for thought and his opponents a small glimmer of hope that he is fallible. But Djokovic is always at his best during the Slams where he tends to bring a higher level of intensity to his tennis and supreme fitness over 2 weeks and seven five-set matches.
Roger Federer reached the final of Wimbledon beating Nadal along the way and was within one point of capturing the title in an epic final against Djokovic. Few will doubt that the great Swiss has the class to win the US Open but will his 38 year old body allow him to last the distance in the brutal heat and humidity that is expected for New York?
Rafa Nadal has struggled to stay fit during hard court tournaments of late and that will be his main concern at this year's US Open. No-one will doubt his ability to win if he's fit having claimed the Montreal Open on ah rad court in the past few weeks and with 3 US Open titles already under his belt. But can he avoid injury for a full two weeks and 7 potential 5 set matches? Last year Nadal had to retire during the second set of his semi-final at the US open against Juan Martin del Potro. Having to play a tough 5 set match against Dominic Thiem in the quarter finals took it toll.
As for the 'Next Gen' and other contenders for this years US Open.
Daniil Medvedev is the most obvious in-from player having won in Cincinnati beating Novak Djokovic along the way. But he's yet to prove himself over the Grand slam length of tournament and is likely to have to beat two of the 'big three' to claim his first Grand Slam title.
Dominic Thiem, Alexander Zverev, Stefanos Tsitsipas and Karen Khachanov are all deservedly top 10 players based on their results in ATP Tournaments but can they bring that form to a Grand Slam. Wimbledon was a shock to the system for all of them so the US open provides another chance to prove that they have what it takes to challenge the Big Three
Kei Nishikori is also worthy of a mention as his form has been gradually improving of late and his record at the US Open will make him a dangerous opponent.
Ladies Singles
Reigning champion Naomi Osaka has struggled to maintain the form that saw her thrash Serena Williams in the controversial final of 2018 and then go on to lift the Australian Open trophy. However she has regained her world no.1 ranking and will go into the tournament as No.1 seed.
Ashleigh Barty, thew world no.2, won her fist Grand slam title on the clay at the French Open but then struggled at Wimbledon when many thought she would romp to victory.
The big stories will focus on two American players at very different stages of their careers. Serena Williams, now a mother and veteran of the tour, will be hoping she can win once more at her home championships and go someway to erasing the controversy that surrounded the final at the 2018 US Open. Williams has won 6 titles in New York and, if fit and motivated, will be hard to beat.
The other focus of attention will be on 15 year old Cori Gauff. After an incredible run at Wimbledon where she managed to win through qualifying, then upset Venus Williams on centre court before losing to eventual champion Simona Halep, many believe she is the future of the game and the next woman to take over the mantle from Serena Williams. But the pressure will be huge this year after she's been awarded a main draw wildcard by the USTA.
Karolina Pliskova, Simona Halep and Elina Svitolina could all easily spoil the party and carry the trophy back to Eastern Europe. In fact Svitolina is some commentators favourite this year after a semi final appearance at Wimbledon and quarter final at the Australian Open. But having never gone beyond the last 16 at the US Open taking the title this year could be a step to far.
Where is the tournament held?
The US Open is competed for every year at the USTA Billie Jean King National Tennis Center located at Flushing Meadows in New York, USA
What dates does the tournament run?
August 26th to 8th September, 2019
What court surface is the tournament played on?
The surface is outdoor hard courts with one court having retractable roof that is used in case of rain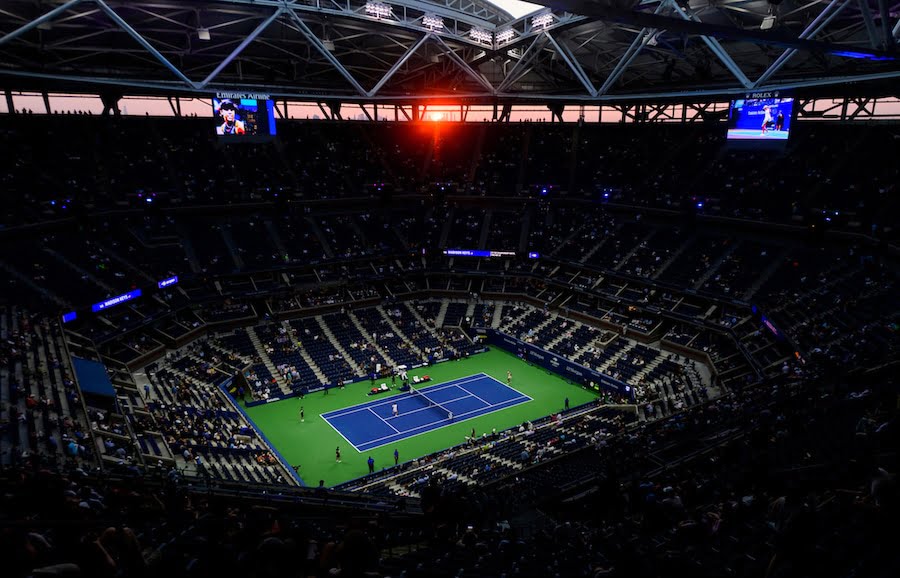 How many players and how many seeds are in the tournament?
There are a total of 128 men and 128 women in the singles and there will be 32 seeded players in the Men's draw and the Women's draw
What is the prize money and how many ATP & WTA ranking points are available?
The tournament is a Grand Slam which means that the winner receives 2000 ATP or WTA World Ranking points, with the complete breakdown of points and prize money awarded as follows:
Men's and Women's singles ($US)
Winner – $3,850,000
Runner-Up – $1,900,000
Semifinalists – $960,000
Quarterfinalists – $500,000
Round of 16 – $280,000
Round of 32 – $163,000
Round of 64 – $100,000
Round of 128 – $58,000
ATP Ranking Points, Singles:
Winner – 2000 points
Runner up – 1200 points
Semi final – 720 points
Quarter final – 360 points
Last 16 – 180 points
Last 32 – 90 points
Last 64 – 45 points
Last 128 – 10 points
WTA Ranking Points, Singles:
Winner – 2000 points
Runner up – 1300 points
Semi final – 780 points
Quarter final – 430 points
Last 16 – 240 points
Last 32 – 130 points
Last 64 – 70 points
Last 128 – 10 points
Who are the reigning Champions?
In the 2018 Men's Singles, Novak Djokovic (SRB) defeated Juan Martin del Potro (ARG) 6-3, 7-6, 6-3
In the 2018 Ladies Singles, Naomi Osaka (JPN) defeated Serena William (USA) 6-2, 6-4
Where can I buy tickets for the tournament?
You can secure tickets for this years US Open from the USTA website
How can I follow the tournament without going there?
To watch the live scores of every match in this tournament as they happen you can use the Tennishead exclusive Live Scores service here.
You can also follow this tournament on their official Twitter here
Alternatively you can watch the tennis live on television and full details of how to do this can be found here
Past Champions – Men's Singles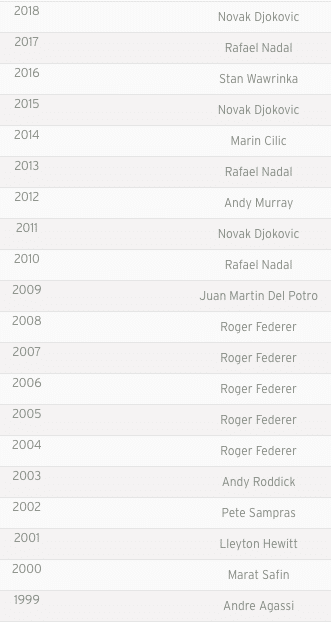 Past Champions – Ladies Singles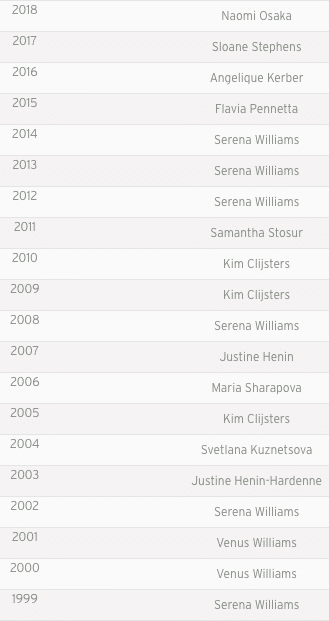 STOP! Don't miss our incredible 164 page US Open issue of tennishead magazine now available in a digital format. You can buy it and read it within seconds
For all the latest US Open news before, during and after the tournament make sure you bookmark our 'US Open News' section here
If you can't visit the tournament then do the next best thing and read our guide on how to watch the US Open on television