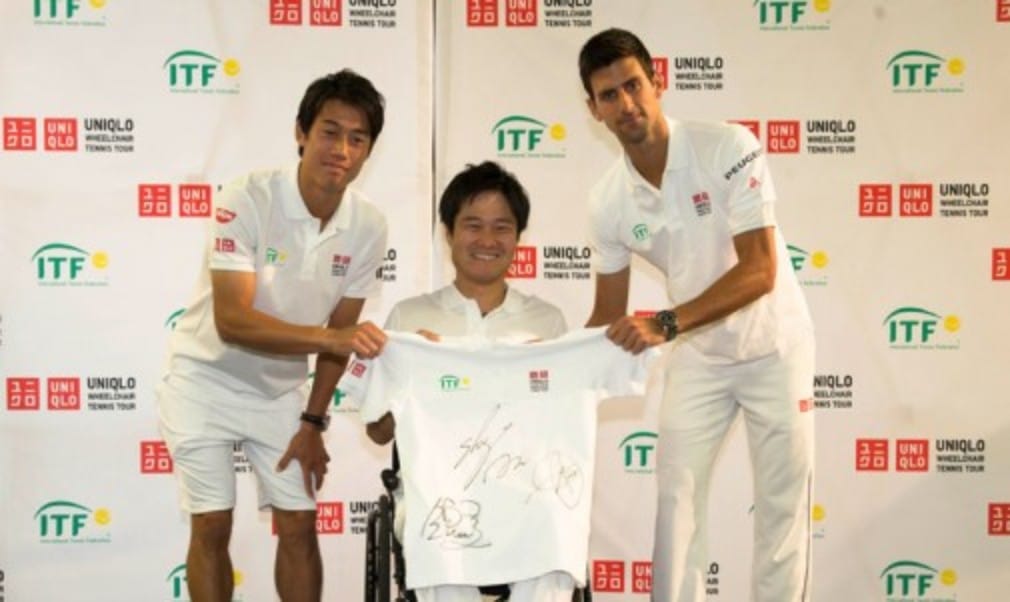 Uniqlo signs up as title sponsor of wheelchair tennis
Originally published on 19/06/14
Djokovic, Kei Nishikori and wheelchair tennis player No.1 in the world Shingo Kunieda are all sponsored by the leading Japanese retail holding company that designs, manufactures and sells men's womens' and children's clothing. In a landmark deal for the sport, Uniqlo became the sponsor of ITF Wheelchair Tennis Tour and Wheelchair Doubles Masters.
Also in attendance at Stoke Park were British wheelchair players Gordon Reid, Andy Lapthorne, Louise Hunt and Lauren Jones. The only time Djokovic has played wheelchair tennis was in Melbourne when he played with Lapthorne.
"Man it's difficult" he commented, "That's why I have such huge respect for them". The most difficult parts? "Co-ordination and braking" he said. "I had Andy help me with that. I had all my team members located in different corners so they could catch me if I didn't brake".
Speaking about his sponsorship by Uniqlo, Djokovic said they share the same vision "to change the world for a better place, through CSR programmes, a lot of things for kids".
"It is very inspiring to be sitting next to Shingo and to have such a high profile sponsor for wheelchair tennis," he commented. "I'm privileged to be sitting here, being part of this great event announcing a partnership that will hopefully bring a lot to the sport."
Uniqlo's first involvement with tennis was in 2008 when they sponsored Kunieda, now Japan's two-time Olympic champion and wheelchair No 1. Djokovic then became global brand ambassador in 2012. The three-year agreement between the ITF and Uniqlo marks a new stage in the sport's evolution.
Founded in 1976 wheelchair tennis quickly became one of the world's fastest growing wheelchair sports earning entry into the Paralympic games in 1992. The Wheelchair Tennis Tour has 160 tournaments in more than 40 countries and offers $1.5 million in prize money. ITF president Francesco Ritti Bitti commented: "It's great news for wheelchair tennis that a high profile brand like Uniqlo has become the title sponsor of the wheelchair tennis tour. We have been impressed with Uniqlo's enthusiasm, creativity and vision and we believe that they will be an outstanding partner for both the ITF and for wheelchair tennis. We welcome their involvement."