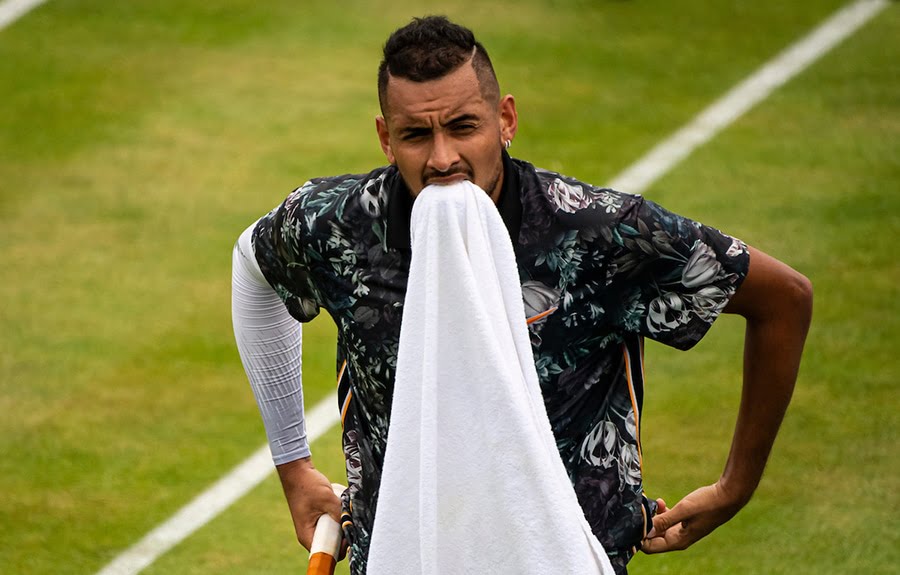 Unapologetic Nick Kyrgios hit with heavy fines for Queen's frustrations
Nick Kyrgios has paid a heavy price for his frustrations at Queen's, with the ATP hitting him with fines totaling almost £14,000.
The Australian had an eventful day on Thursday, first beating Roberto Carballes Baena before losing to Felix Auger-Aliassime.
However, it was his 'antics' and not his tennis that grabbed the headlines, with Kyrgios expressing his disdain for what he perceived as poor line-calls against him.
He received code violations in both matches as well, with the second for smacking a ball out of the court – and indeed the entire Queen's Club complex – in anger.
The behaviour has now hit him in the pocket, with him receiving two fines for unsportsmanlike conduct from his match against Carbelles Baena totaling $7,500, and a further $10,000 fine for a third charge of unsportsmanlike conduct against Auger-Aliassime.
After the match, Kyrgios was wholly apologetic, saying in his press conference: "I thought the calls were pretty ordinary all day, to be honest.
"That's what you get when you play on an outside-court without Hawk-Eye.
"I knew some of the calls weren't going to be great. I thought some of the calls were outrageous today.
A bit of pre-match audience participation with @NickKyrgios ?#QueensTennis pic.twitter.com/ANkOmh43bV

— Tennis TV (@TennisTV) June 20, 2019
"It shouldn't have to come down to me and Felix giving each other points. He gave me a point at a pretty crucial time, and I gave him a point at a pretty crucial time.
"I just don't think, at this level of sport, that we should have line judges and umpires that aren't making the right decisions.
"And I know what happens. Nothing happens. They get a little slap on the wrist. I had a conversation with them in Miami after I got fined again for their mistake.
"You know, they don't get any warning or fine or anything for their mistakes. So what's the difference?
"For me doing a code violation, why can't they get fined for having a terrible day in the chair?
"Like, there's hundreds of thousands of dollars on the line. It's not a joke.
"They just think it's a joke because nothing happens to them after the match. They don't get any investigation or anything.
"I think it's ridiculous. Like, why not have another umpire ready to come in if that guy's having a terrible day? I don't understand.
"I have to pay the fines for it. The calls are horrendous, but I get fined and he gets nothing. It's like a black star. I don't know what happens. It's rubbish."
The 164 page tennishead Wimbledon magazine is now available to order online with reduced postage costs here