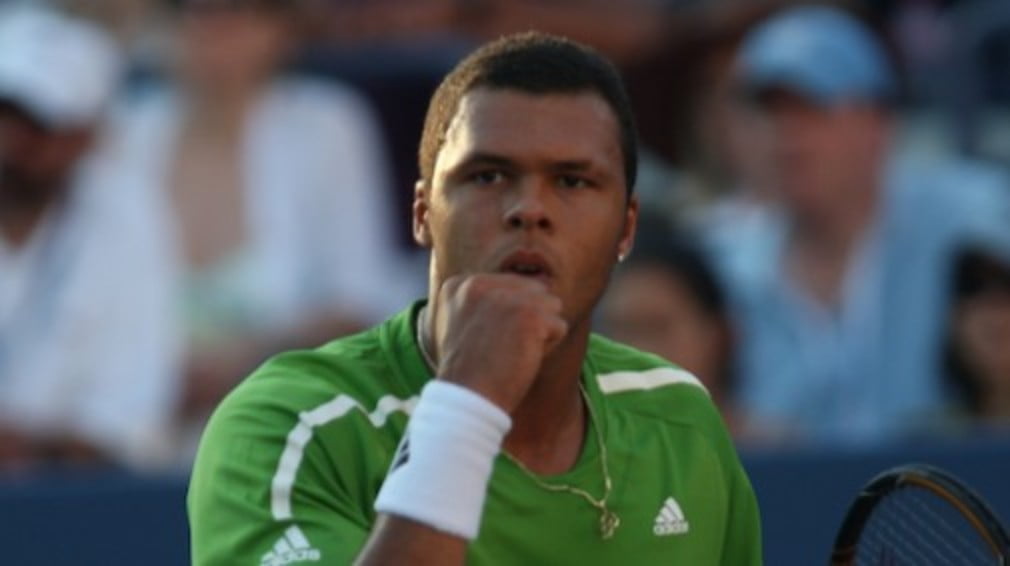 Tsonga faces date with destiny against Blake
Originally published on 26/02/10 11:18
Jo-Wilfried Tsonga boosted his chances of ending a rollercoaster season on a high with a 5-7 6-4 7-6(5) victory over Andy Roddick in the last of the Paris Masters quarter-finals.
The No.13 seed now faces fellow Shanghai hopeful James Blake in the semi-final, with the winner – temporarily at least – putting themselves into that final qualifying spot for the Masters Cup.
"I have my destiny in my hands"
However, Tsonga's victory on Friday has ended compatriot Gilles Simon's hopes of making the Shanghai event.
"I have my destiny in my hands," Tsonga told reporters after a thrilling encounter, in which he saved ten break points in the second set alone.
Roddick started brightly, forcing an early break before his opponent levelled at 4-4. Tsonga, though, was broken again in game 11 before Roddick served out to seal the first set.
But despite facing relentless pressure on his serve in the second set, it was Tsonga who broke Roddick's serve at 5-4 to make it one set apiece.
After an early exchange of breaks in the third, the Frenchman held on for a tIebreak – claiming the match 7-5.
Roddick was left to rue those missed chances in the second set. "I definitely had more than enough chances tonight so this one will probably stick with me for a little bit," he said.
"Credit to him, he came up with probably six or seven volleys that were pretty tough on break points. He played very well."
Shanghai hopefuls – who needs what:
With three of the semi-finalists in Paris biding for the two remaining qualifying spots for the Masters Cup, here's a breakdown of who needs what for the trip out east:
Paris Masters Series semi-final line-up:
Nikolay Davydenko vs David Nalbandian
Jo-Wilfried Tsonga vs James Blake
ATP Race rankings and points as of October 31 2008
7. Juan Martin Del Potro (369pts)
With his fate now out of his hands after losing to David Nalbandian in the third round, the Argentine will be sweating on results today – and perhaps tomorrow. Del Potro is guaranteed to qualify should Nalbandian or Blake lose their semi-finals. The only way the Argentine will drop out of the top eight of the ATP Race is if Nalbandian defends his title against Blake in the final.
8. Gilles Simon (356pts)
It's all over for the French No.1. Simon's fate was sealed when compatriot Tsonga battled his way into the semi-finals, guaranteeing that either Tsonga or Blake will overtake Simon after the Paris semi-final.
9. James Blake (355pts) – add 25pts should he win semi-final
Blake was gifted his semi-final spot when Roger Federer withdrew from their quarter-final match with a back strain. Now he will qualify for Shanghai with victory against Tsonga, edging one point ahead of Del Potro to guarantee his spot.
11. Jo-Wilfried Tsonga (335pts) – add 25pts should he win semi-final
Tsonga's fate is back in his own hands over the weekend, but he must beat Blake to keep his hopes of reaching Shanghai alive. Should Tsonga beat Blake, he will need to outperform Nalbandian – either by hoping the Argentine loses to Davydenko or by beating him in the final.
12. David Nalbandian 320pts) – add 25pts should he win semi-final
It's pretty simple for Nalbandian – he has to win the tournament. And as defending champion, that is far from out of the question.