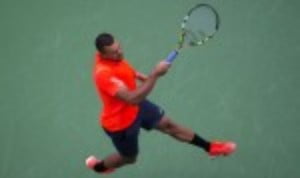 Tsonga boosts London hopes
Originally published on 19/10/15
Ferrer and Tsonga are Vienna for the Erste Bank Open while Gasquet is in action at the If Stockholm Open in Sweden, chasing valuable points with just two spots remaining at the eight-man season finale at the O2 Arena.
Rafael Nadal and Tomas Berdych both booked their place in London last week in Shanghai. Nadal reached the semi-finals at the ATP Masters 1000 event, while Berdych, a winner at the Shenzhen Open two weeks ago, sealed his qualification despite defeat in the quarter-finals to Andy Murray.
A beaten finalist in Shanghai, Tsonga has moved up to ninth in the Race to London, having been No.15 just a month ago. But after winning the Moselle Open in Metz and reaching the final in Shanghai, Tsonga is hoping a late season charge will see him qualify for a fourth time.
"I'm No. 9 in the Race," said Tsonga after his 6-2 6-4 defeat to world No.1 Djokovic. " I'm really happy with the week I had. Of course, I wanted to do better against Novak. But I'm really happy about this week. It gives me energy to continue to fight for London."
With Djokovic, Murray, Roger Federer and Stan Wawrinka having already secured qualification and Nadal and Berdych joining them last week, there are now just two places remaining at the final showdown.
Kei Nishikori and Ferrer are in pole position to qualify, but Tsonga, Gasquet and Anderson still hold hopes of booking their spot.