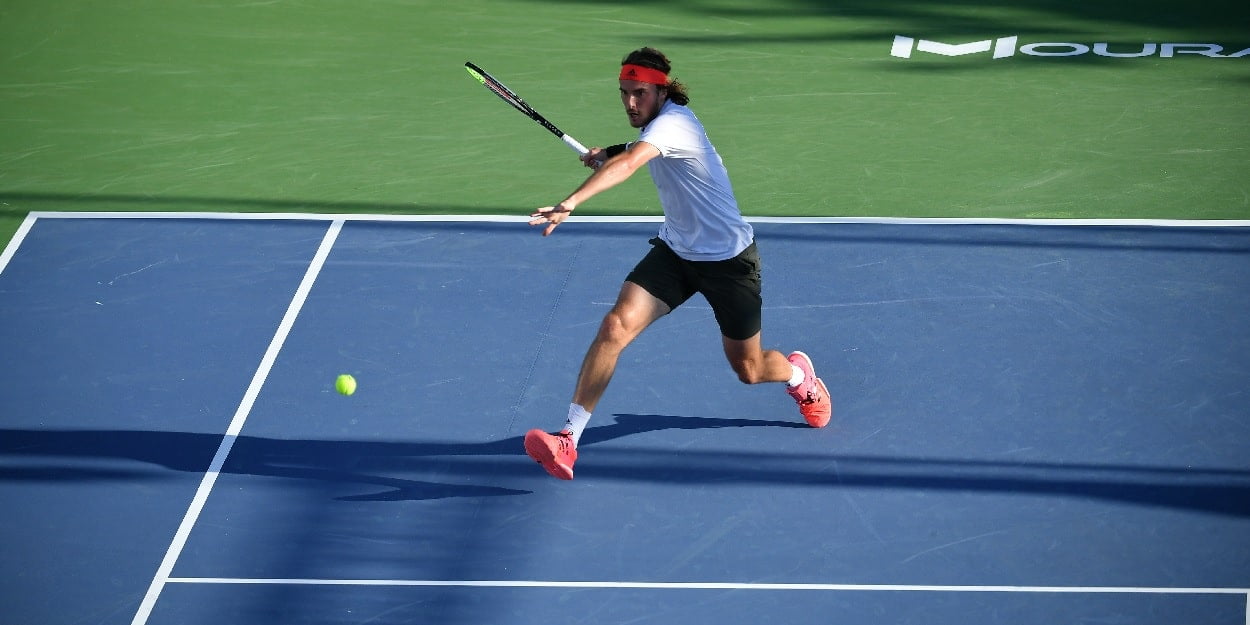 Tsitsipas continues his unbeaten streak at Ultimate Tennis Showdown
In the final match of the day session, Stefanos Tsitsipas (world #6) took on Dustin Brown (#239) in a battle between two players who had opposing fortunes over the opening weekend. Tsitsipas won more points than anyone during his first two matches, including 62 winners, whilst Brown, in line with his ATP ranking, found himself propping up the league table. Brown took the early lead but Tsitsipas, although he struggled to find any consistent form, came through the winner by three quarters to one.
The match went with serve until Tsitsipas dumped a forehand into the net when 3-2 up. This sparked a run of the next seven points all going against serve. Brown hit an incredible forehand winner to level at 5-5 before dampening his own momentum with a double fault. At 9-5 down, "The Artist" played his 'x3 Winner' card and struck at the first time of asking, but then again double faulted, bringing the score to 10-8 in the young Greek's favour.
Tsitsipas then used his own 'x3 Winner' card but the pressure told as his let Brown win the next two points to level the quarter.  In attempt to steady himself, "The Greek God" then opted to 'Steal Serve' and did what he needed to regain the two-point advantage. Brown, however, then won hi service points and played his own 'Steal Serve' card with just a minute left on the clock. He capitalised in style, hitting an unreturnable first serve to win the first quarter 14-12.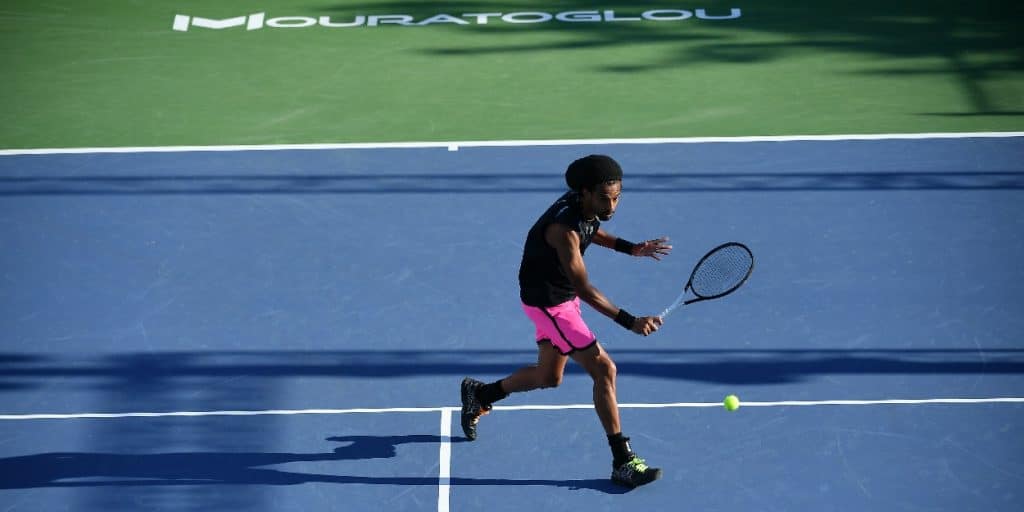 Tsitsipas started strongly in the second quarter, aided by some unforced errors from his opponent. He quickly raced to a 7-1 lead, at which point Brown played his 'x3 Winner' card. An ace down the 'T' was the perfect start but yet again he followed that up with a double fault, leaving himself 8-4 down. Tsitsipas forged ahead, using 'Steal Serve' to claim a 12-4 advantage with just over half the quarter left to play.
Brown's own 'Steal Serve' cut the deficit slightly but it was too little too late. Both players were interspersing bruising winners with an array of unforced errors but Tsitsipas' lead from earlier in the quarter proved to be too large to overturn. He took the quarter 18-13 to level the match.
Dustin Brown's frustrations continued at the start of the third quarter as he let the umpire know in no uncertain times that he was unhappy with a line call on the opening point that gifted his opponent the early lead. Tsitsipas carried this momentum forward to build a 6-2 lead before his father and coach, Apostolos Tsitsipas, called a timeout, urging his son to keep pressing. Tsitsipas Jr. responded well at first, forcing an 11-3 advantage but he then lost four on the bounce to let Brown back into the quarter.
Brown served to get himself back to within two points but Tsitsipas clung on, forging ahead once more and claiming a 14-9 lead with a well-timed overhead smash. Brown's coach called a damage-limiting time-out with less than minute to play but Tsitsipas took the quarter 16-11 without having played his 'x3 Winner' card.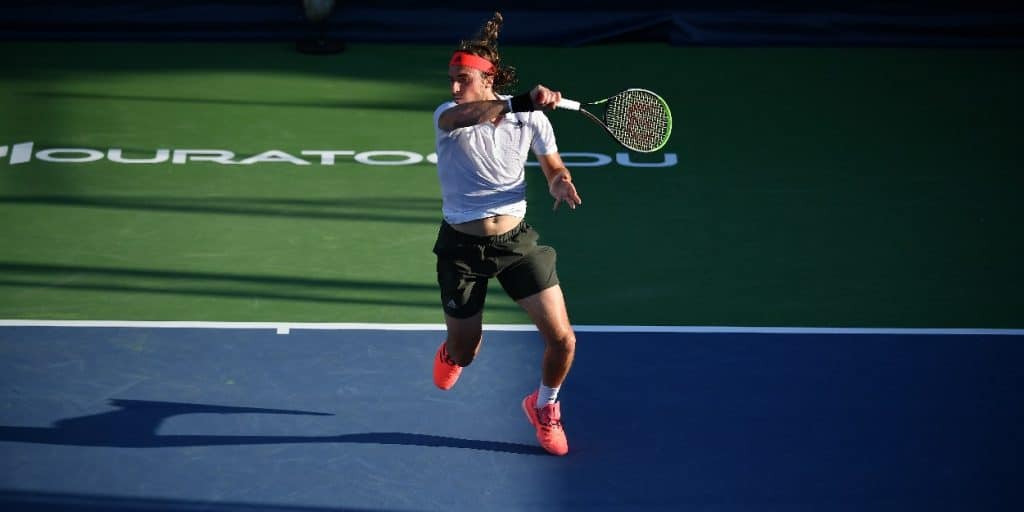 In spite of having the lead, Tsitsipas' body language suggested he was not happy with the way he was playing. His error count, particularly on the forehand side, was higher than he would like, but Brown was playing similarly erratically. At 4-4 Brown played his 'x3 Winner' card and almost struck gold on his first attempt but Tsitsipas just got his racquet to the ball in time.
Brown had a chance for an 8-4 lead but put a simple volley into the net, after which Tsitsipas played his own 'x3 Winner' card and all of a sudden it was the Greek leading, by a score of 8-7. The quarter stayed tight until the closing two minutes when Brown's error count mounted up further and Tsitsipas won 15-10, completing the comeback and winning his third match out of three at the tournament so far.
Earlier in the day, Benoit Paire also came from a quarter down to beat Corentin Moutet (standing in for Lucas Pouille) 3-1, and David Goffin became the first man to win a match 4-0 when he beat Alexei Popyrin to claim his first win of the tournament. The day three night session will see Feliciano Lopez take on Matteo Berrettini (20:00 BST), followed by Richard Gasquet squaring off against tournament debutant, Dominic Thiem (21:15 BST).