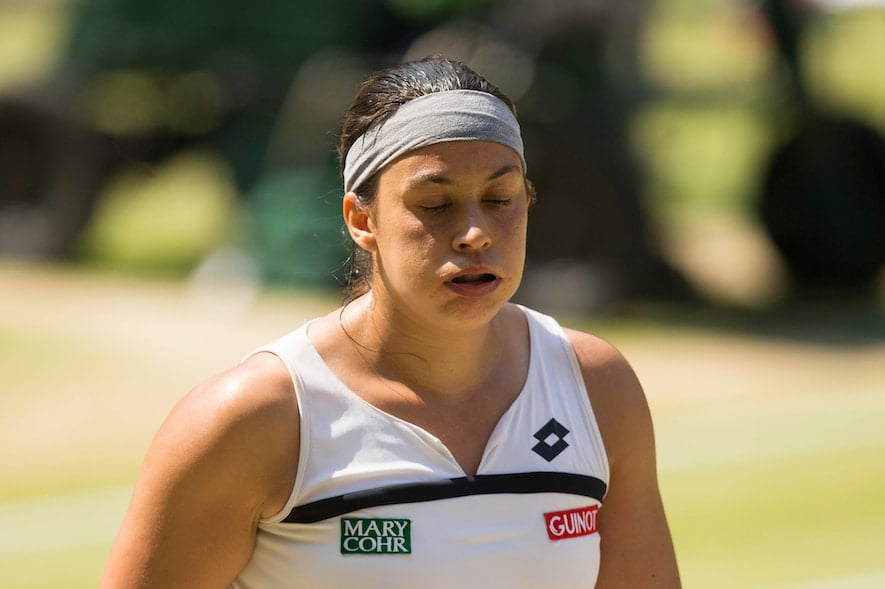 Top ten double (and triple) bagels!
It's the ultimate tennis embarrassment that no player wants on their record
Can there be anything more humiliating for a professional tennis player than to lose a match without even winning a single game? You'd think it never happened on the professional tour but you;d be wrong. Here tennishead highlights the most notable occurrences of a double or triple bagel
1. Juan Monaco bt Sergio Roitman (2009)
Argentinas Roitman wont be too chuffed to discover he's the first man not to win a game on the mens tour since April 2007 (see No.3). Fellow countryman Monaco thrashed Roitman in the first round of the ATP World Tour Copa Telmex event in Buenos Aires 6-0, 6-0 in an excruciatingly swift 58 minutes. Even Monacos stats weren't anything to shout about he finished with a first serve success rate of 33% and still Roitman was unable to break. We hope Roitman will last longer than an hour on his next tour outing. Mind you, it saves on re-stringing bills
2. Justin Henin bt Marion Bartoli (2007)
Belgian star Henin thumped Bartoli at the 2007 WTA Tour Championships in Madrid, Spain. It was the heaviest defeat in the tournament's history, and the only double bagel ever at the WTAs end-of-season jamboree. Perhaps Henin was intent on revenge after the Frenchwoman dumped her out of the Wimbledon semis earlier that year.
3. David Ferrer bt Paul Goldstein (2007)
American Paul Goldstein fell victim to Spaniard David Ferrer in just 44 minutes in the first round of the Barcelona ATP clay court event in April 2007. The American was probably already in retirement mode he hung up his rackets for good less than 12 months later.
4. Roger Federer bt Gaston Gaudio (2005)
Federer posted the first-ever 6-0, 6-0 score line in the history of the men's year-end championships in Shanghai, an event which goes back to the first Masters held in New York in 1970. It was also Feds first double bagel of his career. After the 50-minute mauling Gaudio said: "I think I was playing against a guy who's the best in history and on a surface that he's so much better than me. There's not much to say, sometimes this happens, and it happened to me today. It happens in life, but there are things a little bit worse than this." Yeah, like scraping about on the Challenger tour after youve won a Grand Slam title
5. Lindsay Davenport bt Maria Sharapova (2005)
At the 2005 Pacific Life Open in Indian Wells, Davenport inflicted a double bagel on the then world No.3 Maria Sharapova in the semi final thats right, its even happened to MaSha. We're feeling your pain, Maria. No, really we are…
6. Sergi Bruguera bt Thierry Champion (1993)
Bruguera walloped Frenchman Thierry Champion 6-0, 6-0, 6-0 in the second round at Roland Garros in 1993. The performance was a measure of Brugueras form at the time he went on to take the title, beating Jim Courier in the final. The championship decider was a slightly longer affair however, as the Spaniard needed five sets to see off Jimbo.
7. Steffi Graf bt Natalya Natasha Zvereva (1988)
In the 1988 French Open final, Zvereva was routed by Graf 6-0, 6-0, who went on to win all four Grand Slam singles titles and an Olympic gold medal that year. The match lasted a jaw-dropping 32 minutes and was only the second double bagel in a Grand Slam final, the other being back in 1911. Zvereva only won 13 points that day. Perhaps she wont be telling the grandchildren about the day she played in a Grand Slam final after all.
8. Stefan Edberg bt Stefan Eriksson (1987)
Leeds United fan Edberg smoked fellow Swede Stefan Eriksson 6-0, 6-0, 6-0 at the 1987 Wimbledon Championships. Stefan was asked after the match if he felt bad about the scoreline. The quiet Swede said he'd considered throwing Eriksson a bone, but then decided he wouldn't get many chances of bagging a coveted triple bagel at a grand slam event during his career so continued to put the boot in.
9. Chris Evert bt Martina Navratilova (1981)
Chris Evert, the then world No.1, beat world No.3 Martina Navratilova 6-0, 6-0 in the final of a clay court tournament in Amelia Island, Florida. Evert and Navratilova played one another a mind-boggling 80 times during their careers with mighty Martina finishing on top in their head-to-head record 43-37. Wouldn't mind betting which one of those 37 was Everts favourite though
10. Julie Ann Sampson Haywood and Maureen Connolly Brinker (1953)
American dream team Miss S.J. Fry and Miss D.J. Hart are the proud owners of the only double bagel in the history of Wimbledon ladies doubles finals after they trounced Julie Ann Sampson Haywood and Maureen Connolly Brinker.
Close but no cigar
Andy Murray bt Alberto Martin (2007)
We cant bring an end to this celebration of crushing defeats without mentioning our very own Andy Murray who came within a game of being only the sixth man in the open era to record a 'triple bagel' at a Grand Slam at the 2007 Aussie Open. Muzza came within four points of a whitewash when he led 6-0, 6-0, 5-0 before producing what he later described as a lazy game.
Look ahead to 2019 with our guide to every tournament on the ATP Tour, the WTA Tour and the ITF Tour
If you can't visit the tournaments you love then do the next best thing and read our guide on how to watch all the ATP Tour matches on television in 2019
To read more amazing articles like this you can explore Tennishead magazine here or you can subscribe for free to our email newsletter here