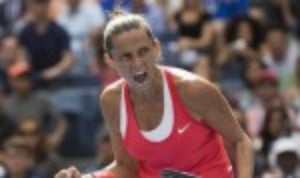 Top 10 debut for record-breaking Vinci
Originally published on 22/02/16 00:00
The Italian, who celebrated her 33rd birthday last week, won her tenth WTA title in St Petersburg earlier this month.
It has been a remarkable turnaround for Vinci, who was ranked outside the Top 50 last summer before her surprise run to the US Open final, stunning top seed and defending champion Serena Williams in the semi-finals.
At the end of last season she announced that 2016 would be her final year on tour, but in light of recent results, she admits may be tempted to postpone her retirement.
"It's a lot for me. It's an amazing moment. I'm not young," Vinci told the WTA Insider Podcast. "I'm almost done. I'm really happy. I always tried to my best. It's not easy to practise every single day.
"Of course I could change my mind. I don't want to play more than two or three years for sure. Š—åBut maybe this is nott my last year. We will see at the end of the season. If I can still motivate and I'm still [feeling] good, why not? But I don't want to think about it right now."