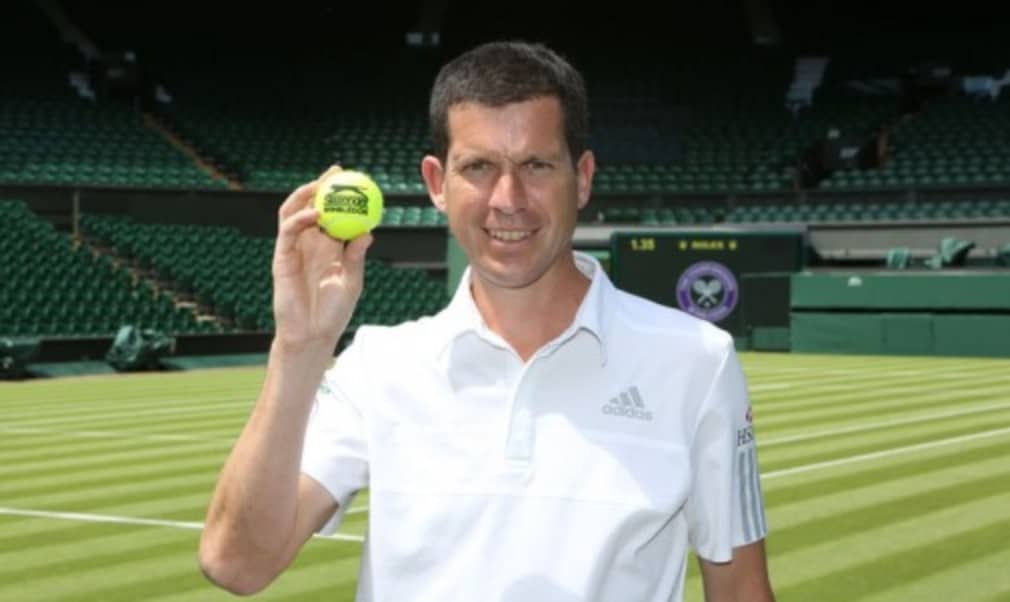 Tim Henman's top Wimbledon finals
Originally published on 12/07/15
2008 Roger Federer (SUI)(1) v Rafael Nadal (ESP)(2)
Nadal d. Federer 6-4 6-4 6-7(5) 6-7(8) 9-7
"That year was the first time I commentated on a Wimbledon final and I remember being absolutely petrified. I really didn't say much because I was too nervous to ruin everyone's viewing of such an incredible match. The quality of the tennis, the rivalry, the sportsmanship… Nadal takes the first two sets, Federer wins the third and fourth on tiebreaks, there was a rain delay and it was virtually dark at the end and Nadal winning his first Wimbledon, that was very special.
2013 Novak Djokovic (SRB)(1) v Andy Murray (GBR)(2)
Murray d. Djokovic 6-4 7-5 6-4
"Andy Murray's Wimbledon victory, it was all about the atmosphere. The day was so hot, the tension was incredible, and the history with 77 years since we had a men's singles champion. It was very special to be in the commentary box present for that."
1988 Boris Becker (GER)(6) v Stefan Edberg (SWE)(3)
Edberg d. Becker 4-6 7-6(2) 6-4 6-2
"I was always a huge fan of Stefan Edberg, he was going for his first title and I can remember where I was at home watching that so that was a special match."
1980 Bjorn Borg (SWE)(1) v John McEnroe (USA)(2)
Borg d. McEnroe 1-6 7-5 6-3 6-7(16) 8-6
"Borg v McEnroe was an iconic match, 18-16 in the fourth set tiebreak. I was always a huge Borg fan. I don't remember that match but I have watched it enough times back. To have the resolve to have match points in the fourth and still come and win it 8-6 in the fifth that was special."
2009 Andy Roddick (USA)(6) v Roger Federer (SUI)(2)
Federer d. Roddick 5-7 7-6(6) 7-6(5) 3-6 16-14
"I am great friends with Federer and Roddick and to see the way that they played and to see Roddick's how hard he tried and how well he played and to lose 16-14 in the fifth that was tough one. He only lost his serve once in the last game."
Slazenger has been the official tennis ball supplier to The Championships, Wimbledon for 113 years; the longest sporting partnership in history. You can purchase the Official Wimbledon Tennis Ball from www.slazenger.com