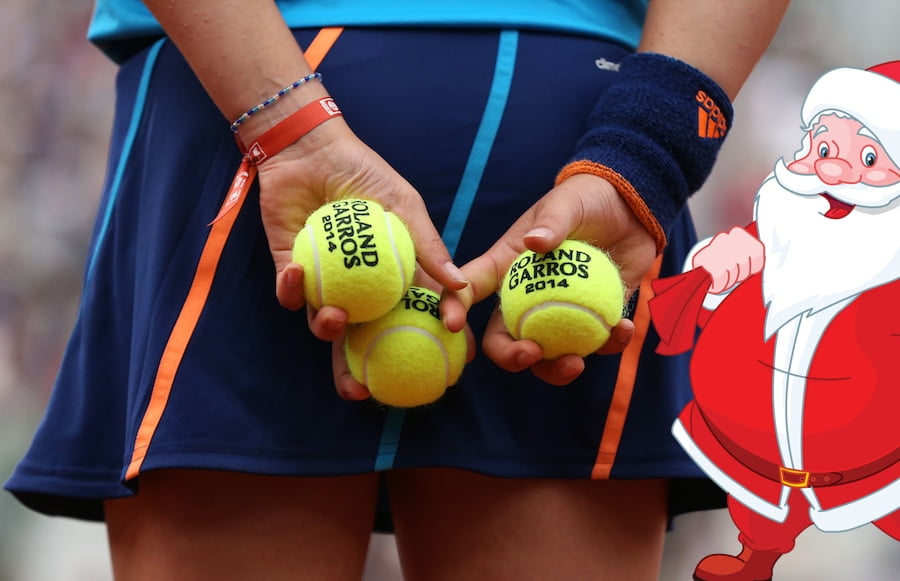 The ultimate 2019 Christmas tennis gift guide
Stuck for a Christmas tennis gift to give your tennis-mad loved ones this year? Then look no further as tennishead brings you the best tennis Christmas gifts for 2019
Most professional tennis players take a break at Christmas but that doesn't stop millions of amateurs enjoying the game over the Christmas holiday. But what do you buy your tennis loving family and friends this year to put a smile on their face as they venture onto the courts to work off all that excess turkey and chocolate?
Here, tennishead has done the hard work to bring you some brilliant tennis related Christmas gift ideas for all those tennis nutters on your Christmas list.
We've selected a wide range of products to suit all budgets. Just click the links to purchase
---
Roger Federer, Phenomenon. Enthusiast. Philanthropist.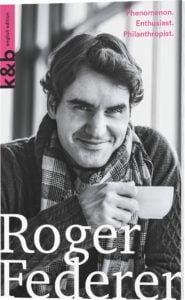 Roger Federer is the global star who emerged from our very midst. Mad about ball sports from a young age, his playfulness and passion pushed him further and further – and on to dizzying heights. His sporting exploits are well-known, but who is the man behind them? For the last twenty years, Zurich-based journalist Simon Graf has followed Federer's triumphant journey through the great tennis arenas of the world for the Swiss press. Here, he answers the key questions: how did a hot-tempered teenager become a Zen master on the courts? What part did his parents and his wife Mirka have to play? How did he maintain his joy for all these years? Why does he owe eternal thanks to his rival, Rafael Nadal? Why did he stay so normal? And what can we learn from him?
Over the years, the author held countless interviews with Federer and people from his family and sporting life and now shows him from all of his many sides – as a hot-headed teenager, a tennis genius, son, husband and father, an inspiration, strategist, manager of his own talent, victor and loser, businessman, exceptional athlete, philanthropist and more. The Federer phenomenon is captured over fifteen thematically arranged chapters. And there's no shortage of anecdotes: the book is as entertaining as Federer's game.
---
'Triniti' recyclable tennis balls from Wilson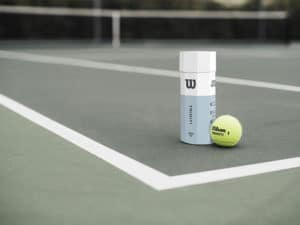 The first performance tennis ball designed with fully recyclable packaging, Triniti pushes the limits of sustainable performance. Featuring a unique octagonal paper container, the Triniti sleeve is fully recyclable after use.The ball core integrates a unique plastomer material that impressively extends fresh ball feel, while STR Felt provides enhanced durability and is 50% more flexible than the standard ball for better feel at contact. This blend of new core material and flexible felt allows this ball to maintain enough liveliness to exist outside of a pressurized can.
Between a combination of innovative ball technology and unique sustainable packaging, Triniti ushers in a new era for performance tennis balls both on and off the court.
---
Head Womens Revolt Pro 3.0 tennis shoes in pink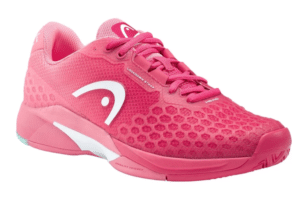 The HEAD REVOLT PRO 3.0, a premium all-court performance shoe for baseline grinders, has never been lighter and still perfectly combines the often-opposing combination of comfort and stability.
Hybrid outsole profile for all tennis surfaces

Special durability zones for hardcourt users

Open tread zones for best grip on clay

Durable non-marking rubber

Lateral forefoot trigger

Ventilation holes
---
Monogrammed tennis balls from Price of Bath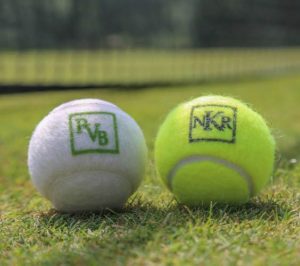 A set of three or four, hand finished tennis balls, monogrammed with initials of your choice is a perfect gift for all tennis lovers.
The balls are the real deal, an excellent quality that any tennis player would be pleased to play with. Everything is made the good old-fashioned way. The rubber is milled, the half shells are moulded and joined. The balls are covered with cloth by hand.
There is a choice of colours – white with green print or yellow with black print. You will then be able to personalise the balls with any initials up to three characters in length. Once the balls are printed they are then tubed and a personalised label is added, heat shrunk to look just like a professional tube of tennis balls.
There is a limited space to type in the initials you would like printed on the balls and a larger text area to type in the text you would like printed on the tube label. Some examples of tube labels would be 'Sam's Tennis Balls' or 'Dear Sam, Happy Birthday! Love Mum & Dad'
---
Giant inflatable tennis ball from Head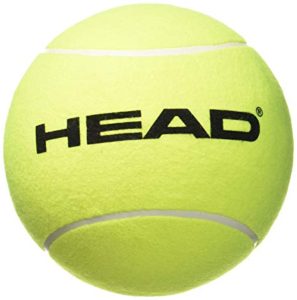 An Inflatable novelty giant tennis ball, covered with authentic felt and Head logo. Perfect for those tennis mad kids in your family.
Ideal for autographs or just for fun, this giant inflatable ball has all the attributes and qualities of a normal Inflatable ball.
---
Babolat Uptake grip jar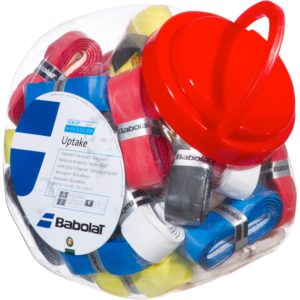 The Babolat Uptake Replacement Grip gives an even tacky feel around the racket for a good firm hold for greater control. Highly absorbent properties provide greater comfort.
Even, nice and tacky feel ensuring a good hold of the racket
Highly absorbent
16.7g weight and 1.9mm thickness
Pack of 30 grips
Assorted colours
---
Dunlop CX 200 Tour 18×20 tennis racket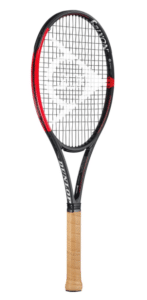 Endorsed by Kevin Anderson, Dunlop-Srixon CX200 Tour provides ultimate control for players that love to feel every detail of every shot. Designed to give you unrivalled power and clinical precision thanks to a unique, modern 'box' style frame, the CX200 Tour combines the very latest in tennis technology and design to give you a brilliantly versatile racket that allows you focus on producing more spin, more power and increased speed all at once.
Designed to help produce more spin, the new CX200 Tour uses Dunlop-Srixon's new PowerGrid StringTech. This gives you a 30% larger sweetspot compared to other tour-level rackets, allowing to get more control, power, spin and consistency than before as your power is evenly distributed across the string bed. The main and cross strings towards the edge of the frame are spaced wider apart to give you more power and more spin, while the denser cross strings in the middle of the racket provide more control, giving you a racket that offers reliability, consistency and versatility.
Complimenting the new string-bed technology is the new Aero-Box frame design. By using a new type of frame geometry, the CX200 Tour allows to hit shots with more power, control and comfort thanks to the recognisable thinner front edge. This enables more frame compression, which in turn enhances your sweet spot further, while the aerodynamic frame shape features sharper angles and cuts through the air to let you play faster, cleaner shots.
---
Tennis pointer from Functional Tennis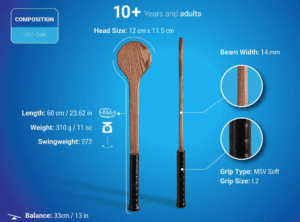 The Tennis Pointer or simply the Wooden Spoon is a great tool for tennis players of any age that will help you fine tune your strokes so you can hit the sweet spot more and more and cut out on your shanks.The idea for the tennis pointer came to Czech coach Jiri Bartos in 2011 while hitting a lot of shanks. He worked with a local company to develop the concept and soon his students were benefitting. It can be used for all your strokes. It will also help fine tune your service toss which will result in improvements in your serve by teaching a more consistent toss.
It comes in 2 sizes which replicate adult and kids rackets.
---
Portable 'Mini Mouse' target trainer from Zsig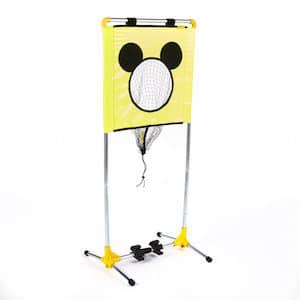 This little Early Years target trainer mouse has a catching net, and two sticky velcro 'ears' which will trap an on-target tennis ball.
It's an ideal teaching tool for early aiming and throwing practice, with lots of scope for fun ball games, before moving on to using it with a racket and ball as skills develop.
The target itself is designed to be used at any height on the frame, so it can be lowered for very young children – and lowering it gives you an additional target space, too, between 'net' and frame.
Suggested age range is children over 3 years, Tennis Tots and above. But younger children in nursery classes who can throw a ball will find it fun, too.
Folds down and sets up in minutes.The folded frame is held securely in place by an elastic and velcro strap, and fits neatly into a carry bag.
---
Rapid dry Khaki t-shirt from WRA Custom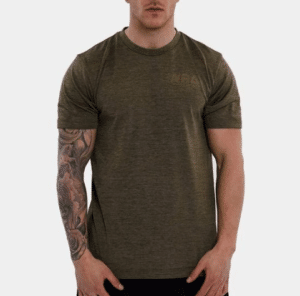 WRA Customs are made with rapid dry technology, scientifically proven 5 times faster drying than any other product on the market. The sweat is literally pulled from your body and to the outside of the anti-bacterial t-shirt.
Rapid Dry Technology

Anti-bacterial and anti-odour technology

Cool breathable mesh on back and arms

Tagless for added comfort

High performance slim t-shirts for all active lifestyles

100% cutting edge polyester
---
Novak Djokovic ASICS Court FF tennis shoe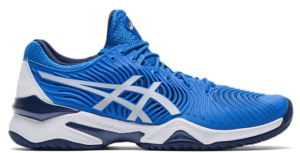 Power your clay court game in the men's COURT F tennis shoe by ASICS that is packed full of technical features to help you twist and jump for each ball.
The shoe's FLYTEFOAM midsole will help put a spring in your run – it's an advanced formulation that responds to the energy of your jumps. There's also GEL technology in the front and back of the shoe, cushioning your landings so you can reach up for that killer smash with confidence. The SOLYTE insole also improves your bounce-back, as well as helping the shoe last well. And because comfort is key, they've fitted the COURT FF model with a MONO-SOCK fit that makes it easy to put on and wear.
You want your feet to say fresh and cool, so they've added a removeable ORTHOLITE sockliner, which helps with bounce and moisture management, while the TRUSSTIC SYSTEM technology under the mid-foot makes the shoe nice and stable too.
---
Solinco Hyper G tennis string reel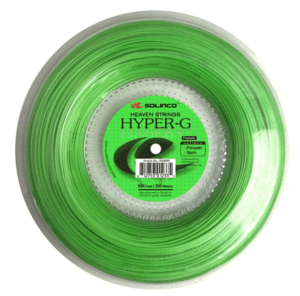 This high performance, versatile co-poly string, offers playability and control whilst still generating extreme power and incredible spin and bite. Using a newly developed chemical formula, this string has the great crisp feel of Tour Bite, whilst still remaining comfortable. A great all-rounder that will suit a large range of players.
---
Tennis break with free coaching at Manor House Hotel in Devon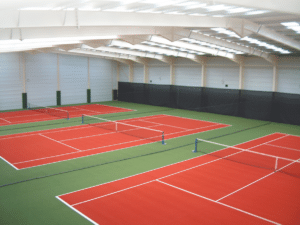 Like finding the formula for perpetual motion or the calculation for the winning lottery numbers, devising a perfect family break is a nigh on impossible task. Whatever keeps the kids happy is not likely to entertain the adults, while anything that keeps the grown-ups occupied is guaranteed to bore the kids. 'Twas ever thus.
The Manor House Hotel in Devon, though, has come up with the solution. Be you a lone tennis player looking to improve your service return, a family of six desperate for a way to keep everyone happy on a much needed get-away or a large group of like-minded enthusiasts looking for a centre to practise or compete in anything from tennis to golf to curling, the Manor House Hotel is the place for you.
These great value breaks include an impressive host of complimentary extras. Guests will be entitled to:
FREE Golf

1/2 Price Buggies

FREE Group Tennis Tuition

FREE Group Photographs

10% OFF Health & Beauty Treatments
---
Family tennis holiday in Portugal with Annabel Croft Holidays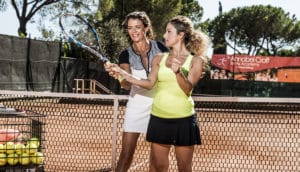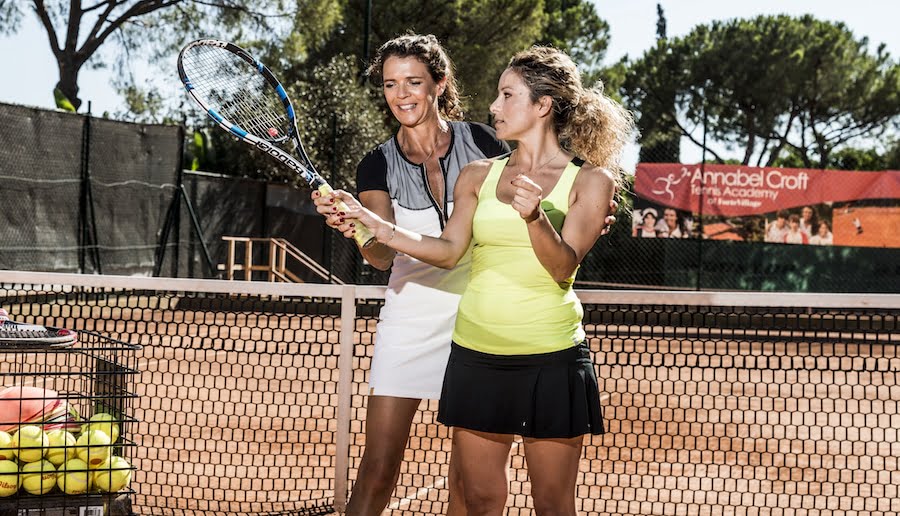 Britain's former No.1 is one of nature's livewires and no matter whether you want to become the next Rafa Nadal or simply work off a few extra pounds while easing the kinks out of your game in preparation for the club mixed doubles, she has the holiday package for you.
Hosted in Pine Cliffs in Portugal, Annabel Croft Tennis is, as the name suggests, tennis-centric. With coaching courses ranging from group sessions of a couple of hours a day to one-to-one sessions (and a Dynamic Duo package for couples or a friends) via junior and teenage programmes, this is the way to improve.
EASTER FAMILY OFFER 2020 (Based on 2 adults + 2 children)
Arrival – 11 April 2020, Departure – 18 April 2020
Package includes 7 nights' accommodation based on 4 people sharing a Two Bedroom Townhouse on a room-only basis, return scheduled flights with British Airways, private airport transfers, UK airport lounge and a 10 hour – 5 day coaching course per person
---
Weekend intensive tennis camp in south of France at Patrick Mouratoglou's Academy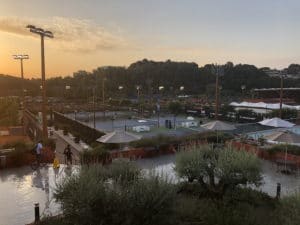 As every player is unique, they each deserve a personalised coaching methodology tailored to their needs. The Mouratoglou Academies job is to get to know the players, and put themselves in their shoes to understand how they think and feel. In doing so, their goal is to piece together all the different parts of the player puzzle, then use this information to make the right decisions.
They try new things every day and make sure the get the small details right because they truly believe that the little things can make a big difference.
There is no "Mouratoglou Method". Instead, they've developed a different methodology for each player which is used by the Academy's 26 coaches, 8 fitness trainers and 2 sports psychologists, all of whom are meticulous and passionate about their work.
Located a stones throw from Nice airport, this place really is the height of tennis excellence.
---
Subscription to tennishead, the world's best tennis magazine, in print or digital format, with free tennis ball gift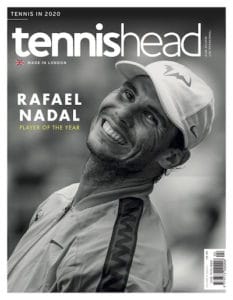 Stuffed full of exclusive player interviews, features from the heart of the sport written by some of the best tennis writers, stunning photos, expert kit reviews, including our annual racket reviews, coaching advice and insight from some of the best support teams in the world.
In the latest issue…
With one the best ever season's of tennis now behind us, tennishead looks ahead in detail to 2020 plus we have an exclusive extract from the revealing new Roger Federer book and exclusive interviews with Ash Barty and Kim Clijsters.
Inside the magazine you'll also find:
Patrick Mouratoglou's exclusive column on Serena Williams

Andy Murray on his comeback year

The key matches that made Wimbledon, Roland Garros and the US Open

The tennishead awards for 2019

Review of Steafnos Tsitsipas's stunning victory at the ATP Finals

A preview to the 2020 season focussing on January's Australian Open

An in-depth look at the team behind Rafa Nadal's continued success

Exclusive columns from Annabel Croft and Jez Green

Two new competitions
Click here to purchase a print subscription and receive a free tube of Dunlop tennis balls
Click here to purchase a digital subscription
---
Learn to play Padel at the Quinta do Lago resort in Portugal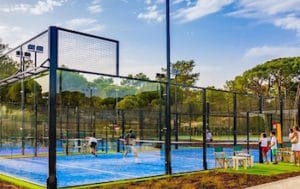 The Campus is one of Europe's newest state-of-the-art multi- sports venues, created for elite athletes, teams and families. It is already becoming popular with Premier League football and rugby teams, Olympic and Para-Olympic squads, performance athletes and coaches taking advantage of the perfect training climate and using The Campus as their winter training base.
The recently opened High Performance Centre has cemented The Campus' reputation as the outstanding location for holidaymakers looking for the ultimate sporting break, with dance classes, yoga, swimming and state-of-the-art saunas, steam rooms and wellness areas adding to the appeal.
The Campus provides a range of Tennis and Padel courts suited to all levels of player. Their courts consist of four acrylic tournament tennis courts, two synthetic clay tennis courts and four Padel courts equipped with the latest carpet technology, special shock-pad features and court floodlights. All the courts are created with the best playing surface in mind to enhance athlete performance to a wide range of skill sets and comply with the world governing body standards.
---
Look ahead to the rest of the tennis year with our guides to every tournament on the ATP Tour and WTA Tour. Can't visit the tournaments you love? Read our guide on how to watch all the ATP Tour matches on TV. For more news, explore Tennishead magazine here or subscribe to our free email newsletter here.