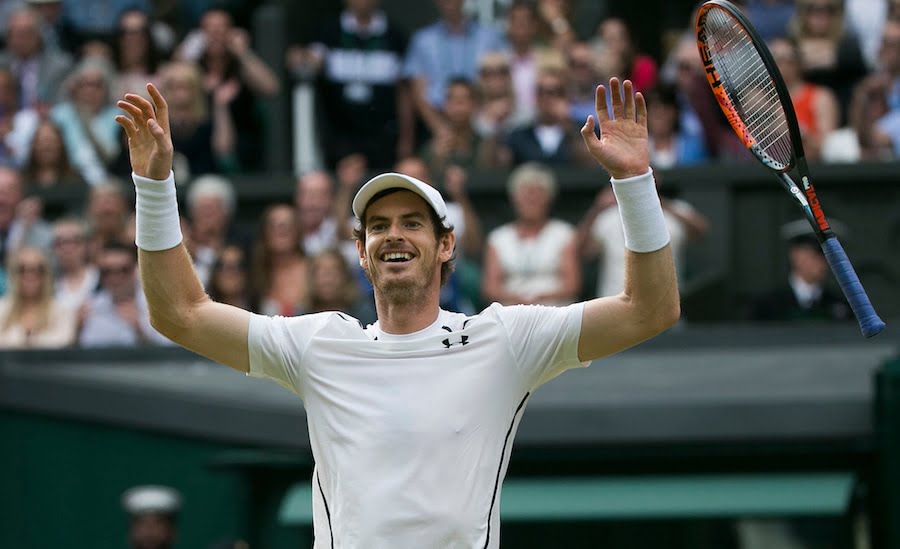 The top 10 greatest Andy Murray Wimbledon performances: Part 2, 2013 to 2017
Andy Murray has triumphed twice at his home Grand Slam and the greatest tennis tournament of all, Wimbledon. During that time he's produced many of the most spellbinding tennis performances you are ever likely to witness on a grass court.
Here, tennishead takes a look at his best matches since he started playing at Wimbledon as a scrawny lad from Dunblane. In part 2 we recall five matches that cover the period from 2013 to 2017
Wimbledon 2013 quarter-finals
Murray beat Fernando Verdasco 4-6 3-6 6-1 6-4 7-5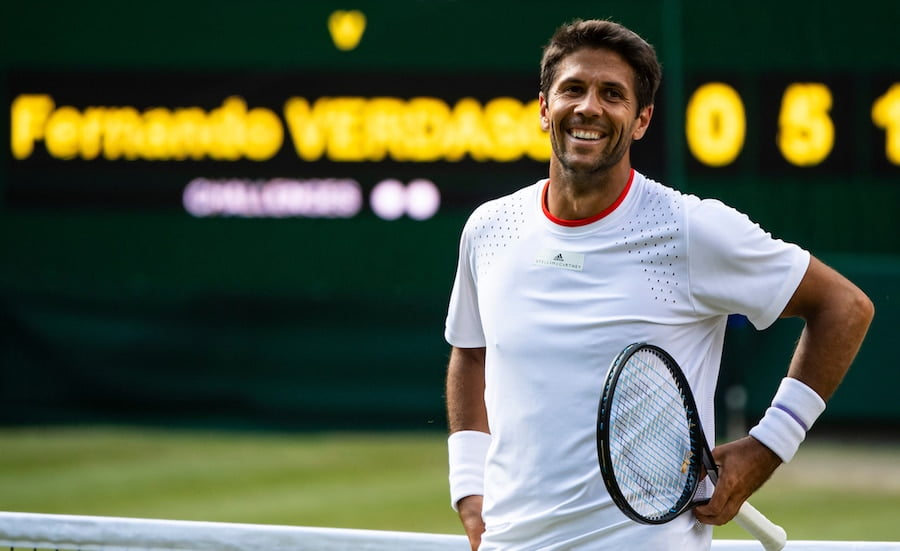 Murray won a match from two sets down for the seventh time as Fernando Verdasco rolled back the years. The world No 54, going for his shots, struck the ball with enormous power in the first two sets. Murray started too cautiously and after the second set cried out in anguish: "What are you doing?"
A more aggressive approach paid dividends in the third and fourth sets but Verdasco fought back in the fifth. Murray served his way out of trouble from 3-4 and 0-30 down and eventually made the decisive break of serve at 5-5. Afterwards Murray said the Centre Court crowd's support had been crucial. "When I went behind the crowd definitely got right behind me and made a huge, huge difference," he said.
Wimbledon 2013 final
Murray beat Novak Djokovic 6-4 7-5 6-4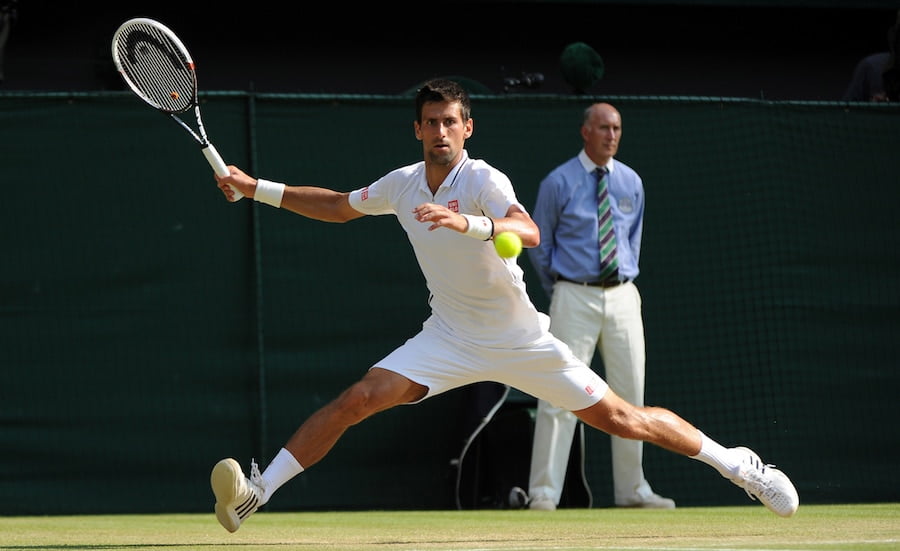 Seventy-seven years after Fred Perry won the last of his three Wimbledon titles, a jubilant Centre Crowd finally celebrated another British men's singles champion at the All England Club. Murray, going on the attack from the start, outplayed his long-time rival, though he needed more than three hours to claim victory. Djokovic prolonged the drama by saving three Championship points when Murray served for the title in the final game. The Scot later described that game as "mentally the toughest I'll ever play in my career".
When Murray went to celebrate with his family and entourage, Ivan Lendl, his coach, was the first person he embraced. Lendl had helped turn him into a Grand Slam champion after he had lost his first four finals.
Wimbledon 2016 quarter-finals
Murray beat Jo-Wilfried Tsonga 7-6(10) 6-1 3-6 4-6 6-1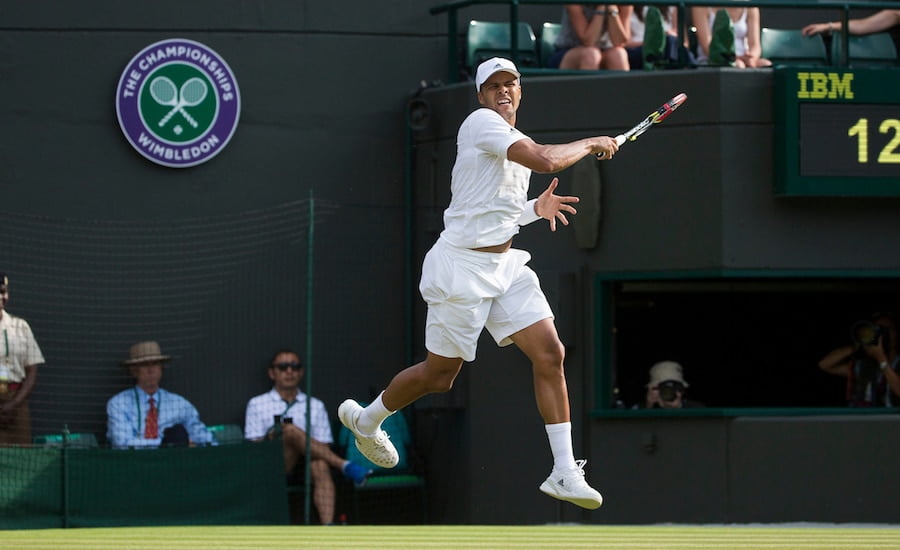 After Roger Federer had fought back from two sets down to beat Marin Cilic in the first quarter-final on Centre Court, Murray and Jo-Wilfried Tsonga provided some more spectacular drama. Murray had won his first four matches in straight sets, but Tsonga, striking the ball with enormous power and volleying superbly, took him into a deciding set, at the start of which the Scot shouted to his entourage: "I'm not going to lose this match."
Murray's fightback recalled a similar recovery when he won his first Grand Slam title at the US Open in 2012. "I tried to use all of my energy at the beginning of the fifth set to try and get myself up and try and get the crowd pumped up," Murray said afterwards.
Wimbledon 2016 final
Murray beat Milos Raonic 6-4 7-6(3) 7-6(2)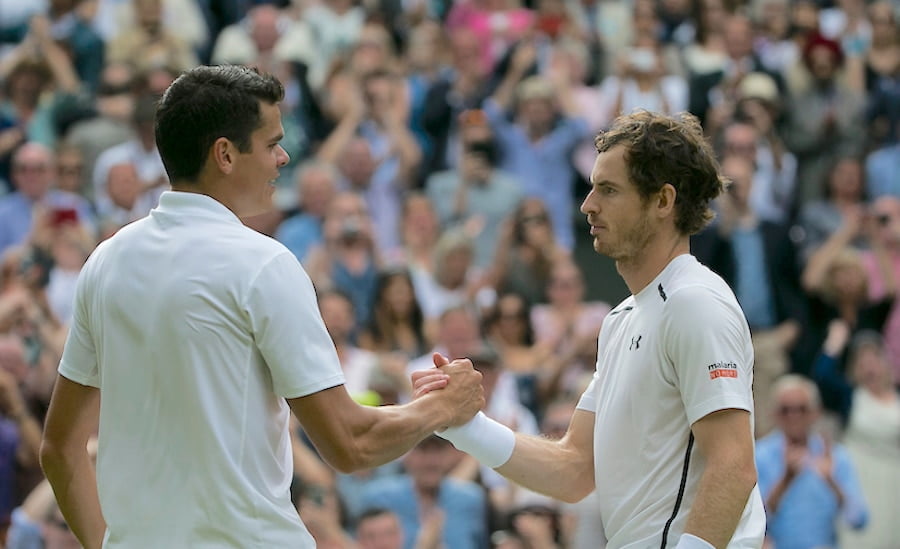 Novak Djokovic had beaten Murray in the year's first two Grand Slam finals, but the Scot looked all but invincible from the start of the grass-court season. Having beaten Milos Raonic to win the title at Queen's Club, Murray was even more dominant in the Wimbledon final than the scoreline suggested. The Scot made only 12 unforced errors in the match, returned Raonic's thunderbolt serves superbly and held his own serve throughout. The Canadian kept coming forward but was outsmarted by Murray, whose clever mixture of passing shots and changes of pace proved decisive.
"I'm just really proud that I managed to do it again after a lot of tough losses in the latter stages of the Slams over the last couple of years," Murray said.
Wimbledon 2017 quarter-finals
Sam Querrey beat Murray 3-6 6-4 6-7(4) 6-1 6-1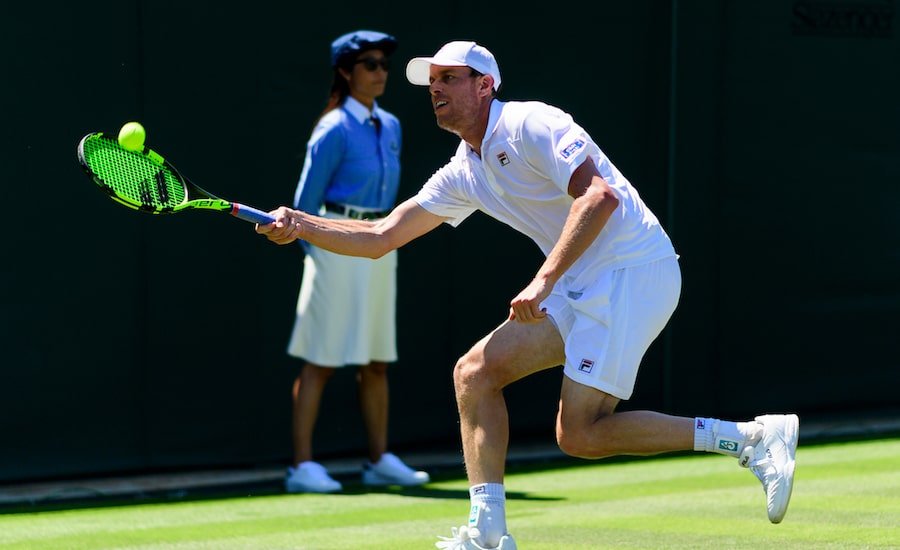 Murray had been troubled by a hip injury ever since his loss in the French Open semi-finals, but at the time the extent of the problem was unclear. Looking back, it was an extraordinary performance to progress as far as he did given the pain he was suffering. By the end of his 10th consecutive Wimbledon quarter-final the Scot was struggling with his movement and his grimaces were evidence of his physical distress.
After the match, nevertheless, Murray said only that he had been "a little bit sore" during the tournament and insisted: "I'm sure moving forward I'll be able to get through it."
Now click here to read Part 1 of this amazing story
To read every issue ever published of the world's best tennis magazine, tennishead, visit our 'Magazine Archive' and you can buy a copy of the latest issue here.To win incredible tennis prizes for free, enter our latest 'Competitions'. For all the breaking tennis news and exclusive player interviews, visit our 'News' section. For the latest racket, ball, shoe and clothing buyers guides plus video play tests, visit our 'Gear' section