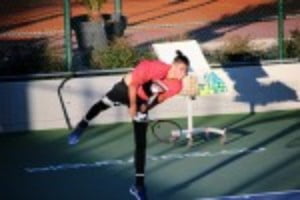 The next step
Originally published on 08/03/18 00:00
Making the transition from juniors to seniors is one of the biggest challenges in tennis. Just coping physically can be really tough. The game has become very physical and it can be hard for an 18-year-old or 19-year-old to match the strengths of all those older players still excelling at the highest level.
That's why I've created what I call "Team Mouratoglou" at my academy in Sophia Antipolis, just 15 kilometres from Nice on the French Riviera. The idea is to help our academy players who did well as juniors and are now trying to find their way on the professional tour.
At the moment the team comprises of Stefanos Tsitsipas and Alexei Popyrin, but given the number of outstanding junior players we have coming through, I'm sure the number will rise very fast.
We want to give the players more individualised support as they find their feet in the senior game. A tennis and fitness coach will travel with the players at tournaments all year round. I will be in regular touch with the coaches to supervise and follow their progress.
It's working well.
Tsitsipas, a 19-year-old from Greece, took big strides forward in 2017, climbing 118 places in the world rankings to finish the year at No 91. Denis Shapovalov was the only player younger than him in the world's Top 100 at the start of this year. Tsitsipas beat David Goffin to reach the semi-finals in Antwerp at the end of 2017 and started 2018 by beating Richard Gasquet to make the quarter-finals in Doha.
Alexei Popyrin, an 18-year-old Australian, won the French Open boys' title last summer and in January of this year he reached the main draw of an ATP tour event for the first time when he beat Federico Delbonis and Nicolas Mahut in qualifying in Sydney.
This is a short extract from the spring 2018 edition of tennishead print magazine. To read more from Patrick Mouratoglou and lots of other great features, either subscribe to the magazine or head to your newsagent to buy a copy of tennishead magazine.