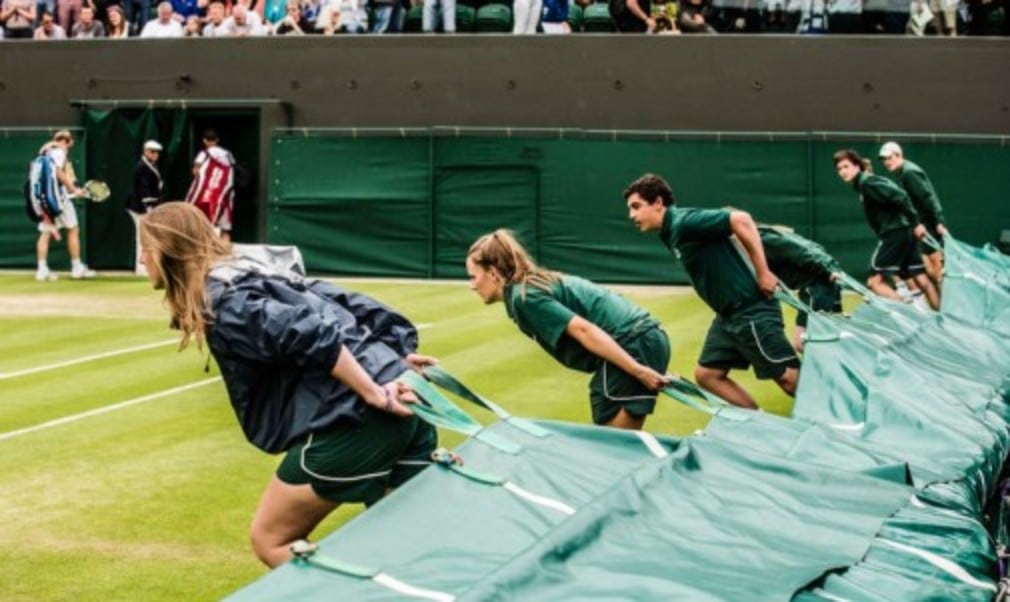 The challenge of being the Wimbledon referee
Originally published on 29/06/14
When Grigor Dimitrov walked triumphantly off Centre Court for the first time after his second-round win over Luke Saville, the face there to greet him was Wimbledon referee Andrew Jarrett.
"Are the courts ok? Are there any problems?" he asked the 23-year-old Bulgarian, who had just beaten Australian Saville in straight sets. "Yes, yes, ok," replied Dimitrov with a smile. Of course, he probably had nothing to complain about – having won his debut match on the most prestigious stage in tennis – but Jarrett said he liked to make absolutely sure. And, no sooner had he chatted to one player, he was leading the next two out on to Centre Court – this time, Novak Djokovic and Radek Stepanek.
"It's a good opportunity to find out if there are any issues, anything we could be doing differently," said Jarrett, 56, afterwards. "I've already asked Rafael Nadal, Andy Murray and Novak Djokovic how the court is playing – and everything seems to be good so far. Whether I'm talking to them at the end of the match or the beginning, I think it's nice for them to see my face. It's also good to get out of my office once in a while – I do spend most of my time there!"
Jarrett does not welcome every single pair of players to the Centre Court but he does get involved in the majority. In the meantime, you can usually find him in the referee's office, surrounded by screens and making decisions on when to move matches from court to court or if the light is bad enough to stop play. He can re-write the order of play at SW19 several times during the day, reprimand players for wearing the wrong colours on court and address any competitor's concerns – if, indeed, there are any.
As the first week of the tournament came to an end, the attention was on restrictions on players wearing coloured underwear beneath their white attire. But inside Jarrett's office is a big book of all those outfits which have been rejected over the years for being too colourful or approved for toeing the line – Wimbledon takes its traditions seriously. And Jarrett's efforts, along with those of others organising and putting together the tournament, are certainly acknowledged by the players themselves.
Dimitrov said: "What makes Wimbledon special is there's a lot of tradition. Coming on to that Centre Court was definitely something to remember. I don't know how many people can say they've walked on there and played a match. It was pretty awesome."
Five-time champion Venus Williams added: "What I like about Wimbledon is that they are really into the players' and the fans' experiences, especially recognising the needs of them more and more. They're also good at recognising those needs moving forward, to be progressive, getting with the future – I really appreciate that."
On those occasions when Jarrett – who is officiating at Wimbledon for the ninth year – can venture out of his office, he is always stopped by people wanting to say hello to him. And 90% of those people inevitably turned the conversation to the weather, which took a turn for the worst and stopped play for the first time on Thursday.
"It's the obvious thing to ask me about," says Jarrett. "And I pretty much answer the same things when people ask me about it. My favourite response to a weather question was one given by one of our former groundsmen. Somebody asked him what the long-term forecast was back in April before the tournament that year and he said: 'Well, there'll be snow in January'. I sometimes borrow that one – although I always credit him."
At the halfway stage in the tournament, Jarrett says they are keeping the schedule on track as much as they can – despite the turn in the weather towards the end of last week and two of the 19 courts being unavailable this year. He said: "Whenever the weather is good, we ride the wave for as long as we can. But, generally, it's going well and the journalists here are pretty much writing about who's winning and who's losing rather than anything else, so that's a good sign too."
But does Jarrett – who played in the men's singles at Wimbledon between 1977 and 1983 – enjoy his role at SW19? He said: "I don't think enjoy is the word I'd use – it's a challenge and I relish that challenge. But, afterwards when I look back on the tournament, I usually go: 'Yes, that went well – I really enjoyed that'."