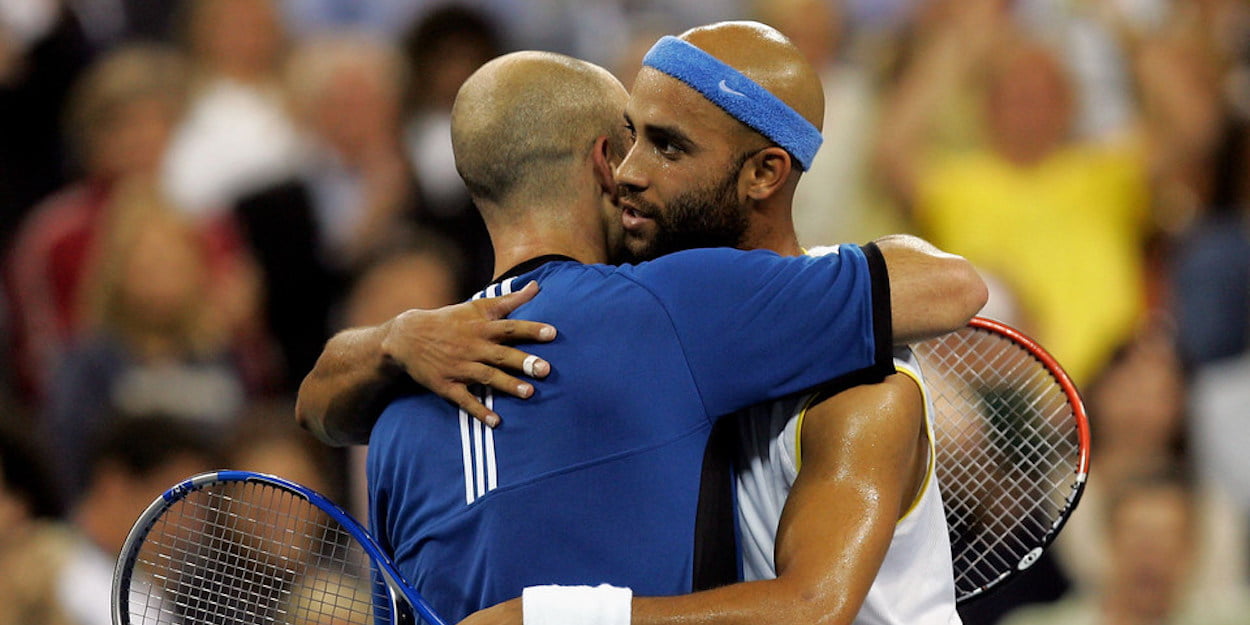 The 10 best U.S. Open men's matches this century: Agassi vs Blake, quarterfinal, 2005
The U.S. Open has been the stage for some of the best men's singles matches ever seen, and with the dawn of a new decade, now seems like a good time to cast our gaze back and review the best encounters in recent memory.
Here tennishead relives a classic men's U.S. Open match from the 21st century.
Andre Agassi vs James Blake, quarterfinal, 2005
No player delivered fireworks at the U.S. Open with the consistency of Andre Agassi. The dogfight vs Connors in '89. The Chang marathon in '94. Nail-biters against Todd Martin and Sampras in '99 and '01. Tussles with young gunslingers Hewitt and Federer in '02 and '04. When the 2005 quarters rolled around, Agassi was a 35-year-old veteran 19 years removed from his maiden Flushing Meadows appearance, up against a guy ten years his junior. Did the eight-time Grand Slam champ still have it in him? Of course he did.
Wildcard Blake brought out the best in Agassi during a pulsating night match that finished after 1am, featured over 100 winners and became one of the tournament's greatest ever comebacks. The Speedy New Yorker had ousted second seed Rafael Nadal in the third round and played some wonderful stuff here on Arthur Ashe, using his mobility, energy and one-handed backhand to unsettle the crowd favourite and race to a two-set lead within an hour. As is so often the case when things seem a little too easy on a tennis court, Blake then struggled to finish his man off despite breaking for a fifth time to lead 3-2. Divine inspiration fell into Andre's clutches and, structuring points like a wise old master, he heaped pressure on his compatriot by reeling off four games in a row. In the fourth set, Blake's serve continued to desert him as Agassi's pair of breaks trumped his one. Even as fortunes flipped, with Blake at times looking dejected, the match was of such sublime quality and drama that you couldn't help but be spellbound.
A fifth set would tease them apart and it was anyone's game. Would Blake's youth prove the decisive factor or Agassi's experience? Fittingly, it went right to the wire as both guys raised their level amid thunderous eruptions from the crowd. Recovering some momentum, Blake broke for 3-2 before serving for the match at 5-4 – only for Agassi to nervelessly peg him back. In the ensuing tie break, Blake again secured a mini-break to lead 3-0 before Agassi regrouped, sealing the match-winner with a scorching forehand return down the line.
Agassi said it best in the aftermath: "I wasn't the winner; tennis was."