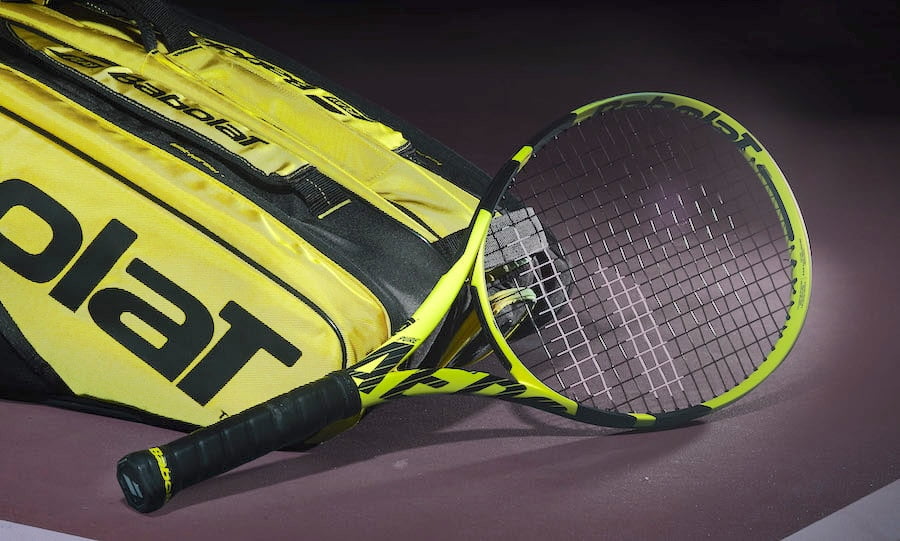 Tennishead tennis racket reviews: Babolat Pure Aero
When an iconic player and renowned perfectionist such as Rafael Nadal is involved with the development of a new racket, you know it's going to be special. The relaunch of the Babolat Pure Aero is one of those rackets that Tennishead just had to try for ourselves.
Since bursting onto our screens and into our hearts in April 2002 at the tender age of just 15, when he won his first ATP Tour match, Rafael Nadal has always done things differently. His clothing, his mannerisms, the way he practises but most obviously, the way he hits a tennis ball. No-one before him had ever hit the ball with such power, height above the net and spin.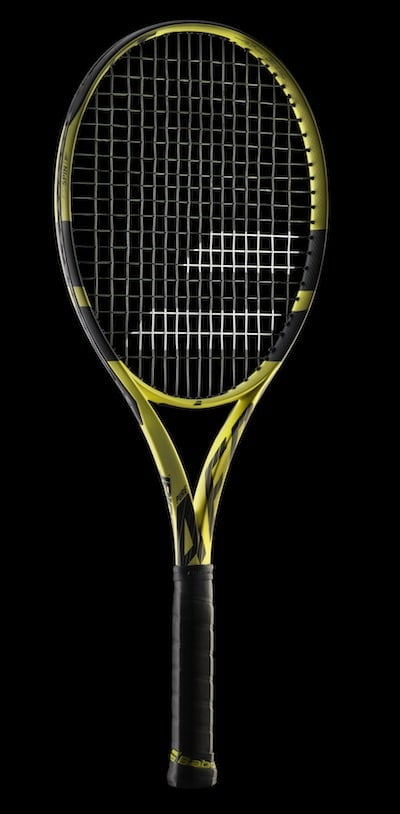 To play this way requires a particular type of racket that allows him to swing faster than most with a more extreme grip than most and so he plays with the Babolat Pure Aero.
It's no surprise that the clever techy people at Babolat are as obsessed with attention to detail as the great Nadal. They probably don't spend as long rearranging their cups of coffee as he does with his water bottles, but they definitely put as much effort into developing ground-breaking technology for tennis rackets (and strings and balls).
Take the 'Woofer System' for example. When developed in 2003 it was the first ever frame-to-string link system utilised in a tennis racket. Babolat realised that the length of time the ball stays on the strings is crucial to generating spin and controlling it, which is why the Woofer System was developed to allow for greater control and a sensation of comfort. This original Woofer technology has been evolved and is now found in the Pure Aero as a part of the new multi-part tech "FSI Spin".
Or their 'Aero Modular' frame shape that allows the racket to penetrate the air more easily for optimal power and spin. It makes sense when you think about it – swing faster and you'll get more spin.
Or the 'Carbon Ply Stabiliser'. A new generation of high performance carbon fibres for more control and stability on every shot.
In fact, it seems that Babolat have thought about literally every aspect of what a tennis player wants from a racket and then gone to immense depths to develop technology that improves each aspect of the racket to create a better experience for the player. Job done!
---
Click here to buy tennis rackets, balls, clothes, strings and shoes with a 5% DISCOUNT on the lowest internet price PLUS a free string upgrade (worth £30) from our trusted retail partner All Things Tennis
---
The Play Test
"Wow! It's like being at the casino playing the slot machines and winning loads of extra free spins!"
Babolat have always been proud of the Pure Aero's ability to help all standards of player to generate more spin, and this was another ringing endorsement from our play tester of the new Babolat Pure Aero. But the clever people at Babolat had hinted that the biggest difference in this new version of their classic racket was the ability to control that spin even more so than before. Have they achieved what they wanted?
Power
"Easy power. It feels like no effort to generate the power and the racket feels light in my hands" said Owen our tester today.
This easy power comes from the fact that this highly aerodynamic racket moves through the air with little resistance therefore creating faster racket head speed with less effort. Owen has quite a short & fast swing which means this ability to swing slower but still generate power is a real bonus for him.
Control
"I can go hard at the ball and still control my shots". Owen wants to hit the ball hard, it's his style of play. He's quite an aggressive player therefore the new Pure Aero really ticks a box for him with it's heightened feeling of control under the pressure of a hard swing.
Balance
"It's obviously a head heavy racket but in a balanced way". In fact nearly every modern tennis racket is head heavy due to the materials we now use in our rackets and the increased size of the heads. The balance is the key which Owen felt that Babolat have got right here.
Flexibility
"It feels more flexible than the usual racket I use". When talking about flexibility in a modern racket it can be difficult to judge because the strings have such an impact on this sensation. Owen's Pure Aero was strung reasonably tightly at around 55 lbs which leads us to deduce that the feeling of flexibility he was experiencing would be coming from the Pure Aero's frame itself.
Overall
The play test was very positive. This is obviously a high quality racket that has evolved over the years and been improved many times. The feeling now is that Babolat are polishing a diamond by introducing this completely updated range, and when you polish a diamond it shines even more!
The Pure Aero range
Babolat understand that not everyone can or wants to play like Nadal so they've made sure that there is a Pure Aero to suit every style of player. Each racket in the range features different specifications covering weight, balance, flexibility and length. In fact there are 6 full versions of the racket to choose from all at different price points depending on your budget.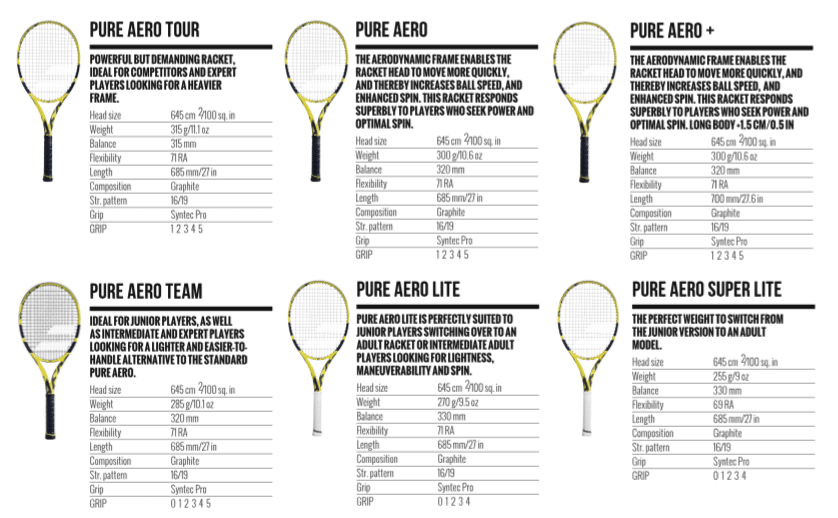 What do Babolat have to say about this important new racket launch?
"The Babolat Pure Aero is for players who use spin as the ultimate weapon to dominate competition. Based off feedback from players around the world, we reengineered the racket to add more control and increase feel.The aerodynamic frame enables the racket head to move more quickly, and thereby increases ball speed, and enhanced spin. This racket responds superbly to players who seek power and optimal spin."
The Pure Aero at a glance
Power: ✓✓

Spin: ✓✓✓

Control: ✓✓✓

Player ability: Beginner, Intermediate & Advanced

Price range: £170 – £230 
If you've made up your mind and want to get your hands on the Pure Aero then either visit your local tennis store or you can buy it online here. And don't forget our incredible competition to win a free Pure Aero simply by entering here.
For a complete buyers guide on how to choose your next tennis racket click here.
Click here to buy tennis rackets, balls, clothes, strings and shoes with a 5% DISCOUNT on the lowest internet price PLUS a free string upgrade (worth £30) from our trusted retail partner All Things Tennis