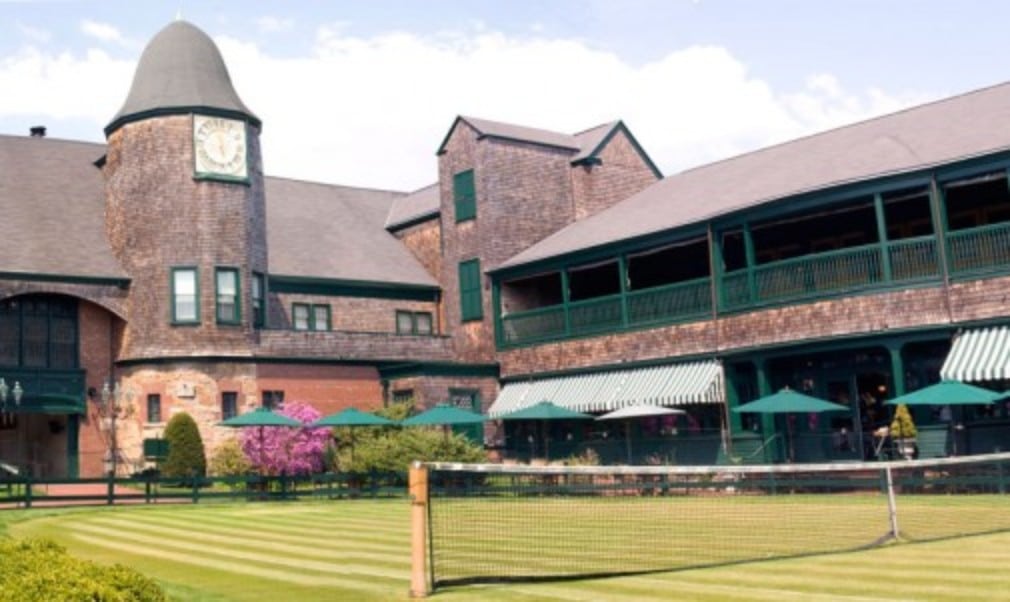 Tennis Tourist: International Hall of Fame
Originally published on 04/12/14
The glitz and glamour of the US Open and the hustle and bustle of New York may seem a million miles from Wimbledon, but just a few hours' drive away, in a little corner of New England is a tennis haven steeped in tradition and tennis history.
The grass courts at the International Tennis Hall of Fame in Newport, Rhode Island, a short drive from towns called Bristol, Warwick and Coventry, have a distinctly British flavour.
"This is New England," says Mark Stenning, chief executive of the International Hall of Fame. "I grew up in Portsmouth, which is next to Tiverton, Swansea and Somerset. Any Brit would feel very much at home in Newport – we fly the Union Jack every day, our main street is called Thames Street and you hear a lot of British accents, particularly in the summertime."
Home to the only professional grass-court tournament outside of Europe, Newport is the original home of the US Open, originally known as the US National Lawn Tennis Championships, before it moved to Forest Hills in 1915 and its current home at Flushing Meadows in 1978.
Built in 1880, the Newport Casino (never a gaming house – the word comes from the Italian for little summer house) hosts a museum devoted to tennis history, as well as being the home of the International Hall of Fame, where legends of the sport are recognised during an annual ceremony every July. Taking place on semi-finals day of the ATP 250 event, former players, broadcasters, journalists and administrators are recognised for their contribution to the sport.
"The year that Chris Evert was inducted in 1995 was particularly memorable because she was presented for her induction by George Bush Snr," says Stenning. "The other year I will never forget is when John McEnroe made his acceptance speech in 1999. We give our inductees five minutes and he spoke for 47 minutes! We were on live TV – my phone was ringing, they were telling me I had to make him stop. I said, 'What would you like me to do? Tackle him?'"
This year's ceremony saw former British player, broadcaster and historian John Barrett join his wife Angela Mortimer Barrett in the Hall of Fame, as well as former world No.1 Lindsay Davenport, 83-year-old coach Nick Bollettieri, wheelchair tennis player Chantal Vandierendonck and former IHOF chief executive Jane Brown Grimes.
With a replica statue of Fred Perry, the first non-American to be enshrined in 1975, the parallels with the All England Club are clear. And like the ambitious Wimbledon Masterplan that has seen a roof installed on Centre Court, the International Hall of Fame has embarked on an ambitious $16 million renovation project.
After acquiring land to expand the initial six-acre plot, the project began in earnest in May when four buildings on Memorial Boulevard were demolished and a fifth relocated to make way for a new tennis complex that will include indoor and outdoor courts, a fitness centre and locker room as well as offices and retail outlets.
"We acquired a building which was built in 1857 which by US standards is old," explains Stenning. "So instead of knocking it down, we moved it 850 yards. It was quite a spectacle – on one of the biggest streets in Newport there is a 250,000lb house coming down the road."
As part of the renovation project the Center Court will be upgraded, while around $3 million will be poured into refurbishing the museum and bringing it into the 21st century. "The stands on Center Court have been there since about 1977 and they're kinda scary – you really don't want to walk up them," says Stenning. "So we'll bring those up to code and also give people the opportunity to buy seats, like the debentures at Wimbledon.
"The rest of the money will be invested in the museum, which gets around 40,000 visitors a year. It will be a lot more child-friendly – right now a lot of it is static; where someone my age will enjoy looking at images, the kids want to go in and touch stuff, play with stuff."
This article originally featured in Volume 5 Issue 4. Subscribe to the magazine today or download tennishead on iTunes.