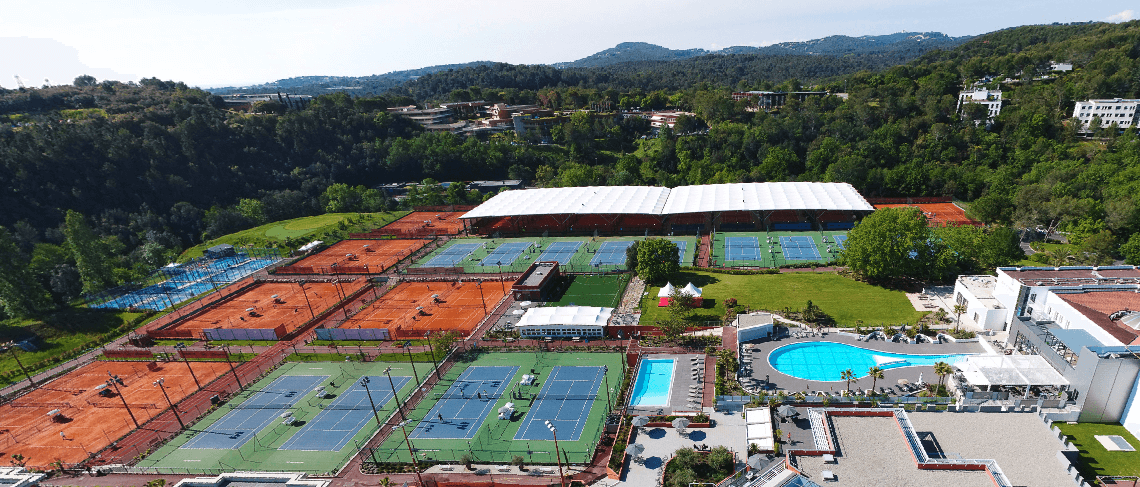 Tennis and School
Originally published on 29/06/18 00:00
Among the many world-class programmes on offer at The Mouratoglou Tennis Academy is the opportunity to combine a high level of athletic training with an academic programme.
Graduates from the tennis and school programme at The Mouratoglou Tennis Academy have progressed to British and American universities and some go on to the ITF, WTA and ATP tours.
One of the students who recently graduated was 18-year-old Andreas Whelan Merediz. The Londoner who attended the programme from September 2016 and graduated in June 2018 will take his place this autumn at the University of California, Riverside.
Just before he graduated, Tennishead talked to him about what it is like to combine school and tennis in the beautiful surroundings of the Mouratoglou Tennis Academy in the French Riviera.
What made you choose the Mouratoglou Tennis and School programme?
I chose the Mouratoglou Tennis and School programme because I was looking for a programme which would give me the best opportunity to play and train like a professional tennis player and finish my studies at the same time.
What stage of your education/tennis are you currently at?
I am currently in grade 12 and have a French ranking of 2/6.
What do you enjoy the most about the programme?
I am playing tennis every day, which is what I love to do, so I cannot ask for much more.
Do you find it quite challenging to both study and play tennis?
Of course it is challenging to keep both at a high level, but I enjoy the challenge and it is what makes me grow as a student-athlete and a person.
In what way has your tennis improved since being at the academy?
My tennis has improved drastically, not only have I become a much stronger player, but the biggest difference has been my maturity and mental strength on and off the court.
Can you describe a typical day at the academy?
School starts at 8 a.m. every day and finishes at 12:30, which is when everybody goes straight to lunch. Until 13:45, we have time to rest and prepare ourselves for training which finishes at 18:00 after two hours of tennis and an hour and half of fitness. After an intense training, we have until 19:45 to rest and have dinner before we study for an hour and a half in the classrooms beneath the dorms. Finally, curfew is at 21:45, so we are free to sleep, work or relax with our roommates.
Can you describe your living accommodation; do you have your own room?
This year I have been living in a triple room with two of my good friends that I met last year. Although we are three boys in one room, it is spacious enough to keep the room clean and tidy enough to work and rest well.
Do you spend most of your time on campus or do you like to go anywhere else while you are there – e.g. boating, beach?
I do enjoy staying on campus a lot, as it is basically paradise for me because there are 32 courts next to my room; however, I do enjoy going out into Cannes or to the beach with my friends.
What is the food like?
Honestly, the food is not like a five star restaurant and at times is repetitive, yet it is still ideal for us athletes. We need to eat well to recover for the next training session or tennis match.
Do you use the other facilities like sports medicine and physios?
Yes, the facilities are extremely useful here. Whenever I am injured or feel a bit tired, there are physios available and there are ice baths to ensure perfect recovery.
What countries do the friends you have made come from?
There is so much diversity in this academy, I could not even list all the countries, but it is great to see the different cultures.
What are your plans after graduation from the academy?
The academy has helped me find my university which I will be attending this autumn in California.
Would you recommend the academy to someone similar?
If you are looking for a place to fulfil your academic and tennis goals, this academy is the perfect option.
(Pictured above) Andreas Whelan Merediz on Graduation Day, June 2018 
To find out more about the Mouratoglou School and Tennis programme contact Alexis Catillon [email protected]
Tel + 33 6 02 05 13 84