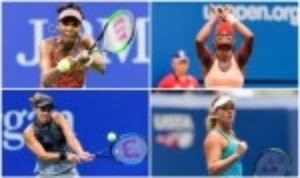 Team America
Originally published on 07/09/17 00:00
One thing that is certain, though, is that on Saturday evening, an American woman will be crowned singles champion.
For the first time since 1981, the semi-finals will be an all-American affair. Venus Williams, Sloane Stephens, Madison Keys and Coco Vandeweghe are the remaining four and it's far from clear who will emerge as the winner.
Venus Williams (USA) [9] v Sloane Stephens (USA)
Despite not entering the winners circle in 2017, it's been an extraordinary season for Williams. The evergreen 37-year-old is bidding to reach her third Grand Slam final this year and move a significant step closer to an eighth major title.
Williams has accumulated 76 match wins at Flushing Meadows in her career – which is more than all her fellow semi-finalists combined. She has impressed en route through to the last four and her victory over Petra Kvitova in a dramatic third set tiebreak is undoubtedly a match of the tournament contender.
Stephens, in her first Grand Slam semi-final, has competed with a smile on her face and she is clearly thrilled to be back competing after a year out with injury. The 24-year-old's talent has never been in question, but she has returned to match action with renewed enthusiasm.
Before the US Open series commenced, Stephens was ranked No.957 in the world and she will break into the top 35 when the rankings are updated in Monday. It's been a remarkable comeback from the American and there could still be more to come.
Williams and Stephens, both outstanding athletes, have met just once before, at Roland Garros in 2015 and it was the youngster who upset the veteran on that occasion.
Both will look to play on the front foot and it may be in Stephens' interest to turn the match into a physical battle. The 24-year-old, 13 years younger than her next opponent, will fancy her chances if the contest become prolonged.
Williams faded badly in the Wimbledon final and she was taken the distance by Kvitova in the quarter-finals. It will be fascinating to see if she has recovered well enough to go again.
Prediction: Stephens in three
CoCo Vandeweghe (USA) [20] v Madison Keys (USA) [15]
The pair have met twice before and it was Keys who claimed both – on the hard-courts of Stanford and Cincinnati earlier this summer.
Vandeweghe, under the tutelage of Pat Cash, has made great progress in recent months and she is into her second major semi-final of the year. Her booming serve provides her with a solid foundation and her meaty forehand has been the source of much encouragement throughout her stay in the Big Apple.
Victory over the world No.1, Karolina Pliskova, in the quarters-finals will certainly not have harmed her confidence as she prepares to face an opponent with even greater attacking arsenal.
Keys had endured a torrid time with wrist issues, but after numerous operations, she is back on track and challenging for the biggest titles around. The 22-year-old has thumped 186 winners in the tournament so far and she is a force to be reckoned with when in full flight.
With so much firepower at her disposal, Keys can be reckless at times. The 22-year-old has been more measured in her approach recently and she will expect to prevail if she can keep the unforced-errors to a minimum.
Prediction: Keys in three