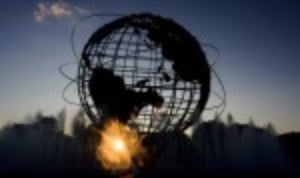 Tales from the City
Originally published on 11/09/17 00:00
What price a roof?
Arthur Ashe Stadium was built in 1997, and this year it celebrated its 20th anniversary. When it opened it became the world's largest tennis-only venue.
The retractable roof, constructed at a cost of $150 million, earned its keep this year. It was used on 5 different days, for 14 full matches and 3 partial matches. 23,711 people made a lot of noise under the Teflon roof during the 1910 minutes of play.
Play to Win
No player wants to start an event that they don't think they can't win. Andy Murray tried as hard as possible to be fit for the start, but was forced to withdraw with a hip injury. "It's too sore for me to win the tournament and ultimately that's what I was here to try and do," he said.
Murray subsequently announced that he might miss the rest of the season, officially pulling out of Beijing and Shanghai. The World No.3 says he will start his 2018 season at the Brisbane International in Australia.
Roger, Rafa and Juan Martin
As soon as the draw was completed, the clamour for men's semi-finals tickets commenced. Roger Federer was scheduled to take on Rafael Nadal for the first time in New York at the last four stage however a certain Argentine intervened.
Juan Martin del Potro became the pantomime villain as he took out Federer in the last eight. As a consequence, the price of re-sale tickets for men's semi finals day plummeted.
There's more than hockey
Denis Shapovalov not only helped us all to pronounce his name (chapeau – valov) but he also impressed with his flashy gamestyle.
After battling through qualifying, the Canadian embarked on a run to the quarter-finals where he came unstuck against Pablo Carreno Busta
After his defeat to the tenacious Spaniard, the teenager stated his desire to see tennis become a prominent sport in his homeland. "Canada hasn't been able to come up with a bunch of athletes because there are so many kids going into hockey instead of other sports like tennis," he said. "They just don't have that belief that they can make it as a tennis player."
Michael Downey, the-soon-to-be Chief Executive of Tennis Canada, will have plenty of work to do.
Stone is King
It's always a pretty special occasion to have the legendary Billie Jean King in the press-room, but seated next to academy-award winning actress Emma Stone, well you could probably have sold tickets for that.
The reason for the star-studded press conference was the launch of the movie about the 1973 match between Billie Jean King and Bobby Riggs. Battle of the Sexes' is the name of the picture.
Stone, who played the role of Billie Jean King, said: "I knew I could never live up to Billie Jean King. I had to take that off the table. I knew the best I could do was to study her as much as possible and to try to capture her essence."
The movie will be released in the USA at the end of September and it will be out in UK from the 20th of October.
Tennis Legend
This year, is the 50th anniversary of African-American Althea Gibson's historic US Open triumph.
The documentary, originally released two years ago, is directed by Rex Miller, a visual story-teller who got interested in Althea's story after he found a photo of his mother with Gibson.
It was aired in Flushing Meadows and it not only contains wonderful footage of Gibson, but it also includes some insightful comments from Britain's Angela Buxton, who was Althea's friend and doubles partner.
it also serves as a reminder of how the tennis world turned its back on one of the most influential players in the history of the sport.
Shot Clocks
Maybe it will soon be time to stop talking about shot clocks – those pesky countdown timers that inform players how long they are taking between points. Introduced during qualifying, this attempt to speed up the game was not favoured by everyone. No surprises for guessing which side of the debate Nadal was on.
Hingis still hunting
Martina Hingis, who played Venus Williams 20 years ago when Arthur Ashe Stadium opened, added two more titles to her Grand Slam haul. She romped to victory in the mixed-doubles with Jamie Murray and enjoyed success in the women's doubles with Yung-Jan Chan.
At 36 years old, will the Swiss carry on playing, or will she hang up her racket in the near future? "If I play, then definitely we will.' she said in answer to a question about the future of her partnership with Chan.
Don't ask me
Serena Williams gave birth to a baby girl on day five of the US Open (September 1st).
Auntie Venus had nothing to say publicly on the matter, and dodged every attempt from the press to find out how her sister was faring after the birth, even recruiting the interview moderator to close down queries. "I'm definitely available to answer questions about tennis," she said.
How much?
So, the whole world knows how much Sloane Stephens earned this fortnight ($3.7 million or £2.8 million) but spare a thought for the (relatively) poor relations. The doubles champions shared $675 000 (£512 000) per team and the mixed-doubles champions shared $150 000 (£114 000)