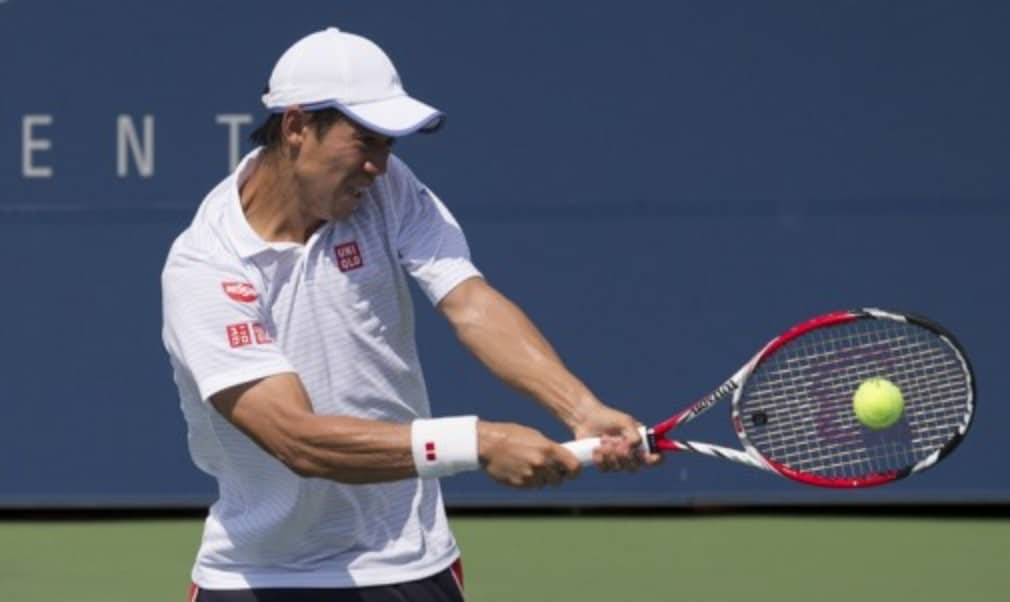 Tale of the tape: US Open menŠ—Ès final
Originally published on 08/09/14
Kei Nishikori v Marin Cilic
5pm EST / 10pm UK; Nishikori leads the head-to-head 5-2
You have to go back almost a decade, to the 2005 Australian Open, to find a Grand Slam final did not feature either Roger Federer, Novak Djokovic or Rafael Nadal. Yet here we are, with the two players who ended that sequence in the semi-finals.
Marin Cilic will face Kei Nishikori in the first grand slam final to feature two debutants since Rafael Nadal beat Mariano Puerta to win his maiden French Open title in 2005.
Neither man is there by chance. In the second week of the US Open Nishikori has downed No.5 seed Milos Raonic, No.3 seed Stan Wawrinka and on Saturday denied world No.1 Novak Djokovic his shot at a fifth consecutive final with a hugely impressive four-set win.
Cilic's route was hardly a cakewalk either. After dismissing a wayward Tomas Berdych in the quarters, he blasted his way past five-time champion Roger Federer in straight sets in the semis. Between them, the Japanese and the Croatian have accounted for the tournament's top two seeds, and in some style.
On to Monday's final. The pair have met twice at the US Open, with a win apiece – Cilic winning in four sets back in 2012, Nishikori in five in 2010. Since that meeting two years ago, however, it's been the all-Kei show. Three wins in succession, two this season in Brisbane and Barcelona, will provide a huge boost to his confidence on Monday night.
Whether that record will matter is open to debate. Cilic beat Federer with what he rightly described as the best performance of his career, bludgeoning returns to the feet of the 17-time Grand Slam champion and proving all but unplayable off his first serve. There were shades of Soderling and Rosol in Cilic's display, but with a more complete feel to the performance that, if he can replicate it again in the final, will take some beating.
But Nishikori has shown already this week that hard-hitters don't scare him. He's taken down two of the most fearsome shots in the game right now – the Raonic serve and the Wawrinka backhand – both in four-hour epics. Then Djokovic, in spite of all that court time.
Off-court, there's the battle of the old boys once more. Goran Ivanisevic has been credited with toughening up Cilic – not just on serve, but all aspects of his game – while Chang has added a mental steeliness and tactical acumen to Nishikori's all-court style. Both deserve huge credit for the charges' success.
In their playing days, Chang and Ivanisevic never met at a Grand Slam, but they had a few epics of their own – and French Open winner Chang walked away with a 6-5 record against the wildcard Wimbledon champion. Who is going to grab one last notch for old time's sake?
Routes to the final
Kei Nishikori [10]
R1: d. Wayne Odesnik 6-2 6-4 6-2
R2: d. Pablo Andujar 6-4- 6-1 ret
R3: d. Leonardo Mayer 6-4 6-2 6-3
R4: d. Milos Raonic 4-6 7-6(4) 6-7(6) 7-5 6-4
QF: d. Stan Wawrinka 3-6 7-5 7-6(7) 6-7(5) 6-4
SF: d. Novak Djokovic 6-4 1-6 7-6(4) 6-3
Marin Cilic [14]
R1: d. Marcos Baghdatis 6-3 3-1 ret
R2: d. Ilya Marchenko 7-6(2) 6-2 6-4
R3: d. Kevin Anderson 6-3 3-6 6-3 6-4
R4: d. Gilles Simon 5-7 7-6(3) 6-4 3-6 6-3
QF: d. Tomas Berdych 6-2 6-4 7-6(4)
SF: d. Roger Federer 6-3 6-4 6-4