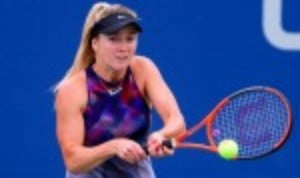 Svitolina ready to play
Originally published on 29/08/17 00:00
The Ukrainian loves most sports but she has a particularly strong interest in boxing. Before the US Open began, Svitolina enjoyed a boxing lesson in a Brooklyn Gym with a world champion female boxer, Alicia Ashley. The two chatted and shared information about their respective sports.
"There are so many things in common, particularly the mental part," explained Svitolina. "Both tennis and boxing are not just about power, it's sometimes about mentality. It was very interesting to hear what she said to me. I found it very helpful.
"You need to find a way to win, the same in tennis. You need to find a way, where to place the ball, what strategy to use and it's the same in boxing. You need to find openings and do what you need to do to win."
Svitolina showed some real talent in the ring. "She has a real connection with her body and was able to pack a punch," remarked Ashley. "In boxing it goes by rounds, same as sets, and if you are down by one round it doesn't matter, you can always come back."
The Ukrainian has the potential to become the world No.1 at the end of the US Open for the first time.
You know, it's not my main goal for this tournament. I want to win as many matches as I can," she said. "It's also very important to stay injury free and to be mentally fresh, because a Grand Slam takes a lot of energy."
Given the choice, would she rather be world No 1 or a Grand Slam champion?
"That's a very tough question," she said. "For my country, to become No.1 is probably better, but a Grand Slam is good for history as well. It's very tough, you cannot really choose. I think if you become a Grand Slam champion, then it's just a matter of time until you become No. 1."
If Svitolina is to have a chance to achieve either, she must win her first round match against her Czech opponent. The 22-year-old, who bagged the first set, will resume at 1-2 down in the second set tiebreak.
This story is brought to you by Wilson, the global leader in performance tennis