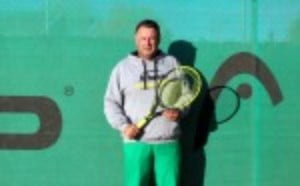 Summer training in Spain
Originally published on 01/04/18 00:00
The J-C Ferrero–Equelite Sport Academy is conveniently located 30 minutes' drive from Alicante airport and opens its doors every summer to a variety of players who enjoy the facilities and some high-level training.
Carmelo Albentosa, who has spent more than 20 years working at the Academy, is the Sport Director of the summer programmes. His focus is on enabling young players aged between eight and 16 to achieve their potential and move on to a higher level of play.
However, the "Summer Stage", as they call it at the Academy, is open to players of many levels, with the training adjusted to suit everyone's level. Albentosa said: "With this programme we can guarantee a professional tennis training adapted to all levels. The beginners will learn how to play, the amateurs will hit with players of similar level and the high-quality players that are young can develop and keep improving their game.
"The objective of the Summer Stage is to allow players and tennis lovers from all over the world to come and practise, by hitting with players of their level."
Players who participate are expected to work hard during the day but are offered activities to relax after training. "That´s the important point: to learn to disconnect and to work hard all in its proper time," Albentosa said.
Ultimately a player attending a camp would expect to see not only improvement in their game, but also to have had the experience of what it is like to train as a professional player.
"Of course they also expect to meet a former world number one as Juan-Carlos Ferrero lives at the same facilities," Albentosa said. "They will follow the same training structure that Juan-Carlos Ferrero followed to become number one. Professional players like Pablo Carreño-Busta follow the same structure today."
Players come to the Academy from all over the world. Albentosa recalls helping a group of players from Singapore to improve their game. "One of them had awesome technical shots but wasn't able to compete properly," he said. "We made him play tournaments and worked a lot with him on mentality, activation and routines."
Oliver Jevtovic, an 18 year-old from New York, first attended Summer Stage at the Equelite Sport Academy when he was aged 14.
"It was my first time alone far away from home" he said. "When I arrived I was comfortable in my level but I needed better fitness and technical improvements. Right now my level is high enough to compete in ITF junior tournaments where I have a ranking. I am also ready to start competing on the Futures circuit.'
The first camp Jevtovic attended lasted two weeks and the second time he stayed for a month. After that he decided to sign up for the annual programme. He enjoyed the fact that he trained on court with a maximum of four other players. On the annual programme there is sometimes only one other player with him or even just him and the coach.
"They really take care of you and not just during your training," Jevtovic said. "It's an awesome environment."
Jevtovic describes a typical day at the Sports Academy. "It is a very intense day. We start the training in the mornings, but first there is some fitness to stretch and warm up. After that we have a break to have lunch, rest or just swim in the swimming pool. Later in the afternoon we come back on the courts with the second turn of tennis and fitness."
Does he find it physically demanding? " Yes, it is, but I liked to feel fulfilled," he said, before adding with a laugh: "And I know I am a beast."
On his first visit 14 year-old Jevtovic stayed in a double room. "They are like small cabins, surrounding a pool, with games such as table football and table tennis," he said, "Now as an annual player I've got my own room with TV, a table to study and Wi-Fi."
Would he recommend the experience to other players? "Yes, I invite all tennis players to at least come and train" he said. "They can decide and see for themselves that it is worth it."
There are still dates available for the 2018 Summer Stage. Albentosa said: "There´s still time. We normally have enrolments even when the summer has started, but I strongly recommend making a reservation as soon as possible. This year we already have a lot of bookings."
To find out more go to equelite.com or e-mail [email protected] or call +34 965 34 00 13