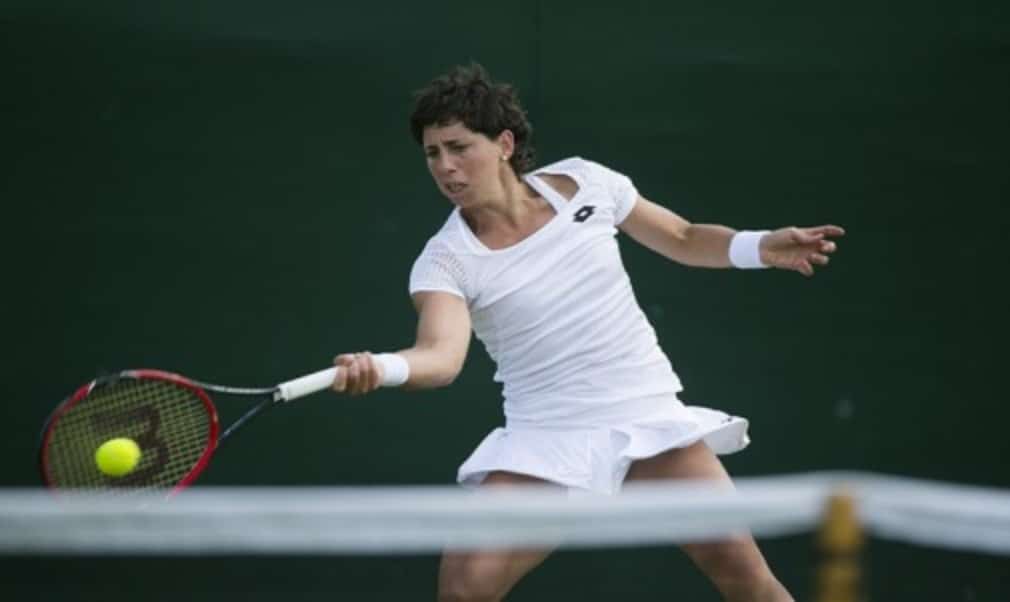 Suarez Navarro relaxed on the grass
Originally published on 01/07/16 00:00
Venus Williams and Daria Kasatkina were delayed by rain at match point while the Spaniard was in the bowels of the media centre.
This is Suarez Navarro's seventh Wimbledon and in reaching the fourth round it equals her best performance at the All England Club, where she lost to Petra Kvitova at the same stage in 2013. Last year however she lost to Jelena Ostapenko in the first round.
"Last year was really bad," she said, "I lost confidence after that match and this year was different. From the first week I started to play well."
She believes her run to the semi-finals at the Aegon Classic in Birmingham has served her well. "I spent a lot of time on court because I played four three-set matches and all the final sets were long and close, so it was a good tournament for me before the Slam.
"When you win matches the weeks before you feel good. I come here with confidence. Or not really confidence but just more relaxed."
The 27 year-old feels more comfortable on clay but her game style is suited to grass. The one-handed backhand which she has had since she was ten years old can be potent on the grass. It was a backhand down the line that gave her the opportunity to finish a 6-2 6-2 victory against Marina Erakovic on Court 11. "I can play more with my slice and my serve helps me," she said, "so it is different".
The first time she ever played on grass was when she took a wildcard at Wimbledon in 2008 and played Jelena Jankovic in the second round. "I remember the match, Jelena was No.2 in the world then and I really enjoyed it," she reflects. "When you play for the first time on grass and against a really top player you enjoy the moment."
She also likes the Wimbledon experience: "I love seeing all the players in white, the green grass with the white clothes. I think it is different," she said, "It is special and it is beautiful." The Spaniard enjoyed a career high ranking of No.6 in February, having reached the quarter-finals of the Australian Open. She then won in Doha beating Agnieszka Radwanska in the semi-finals and Jelena Ostapenko in the final.
Currently ranked No.12, her quarter of the draw could have thrown up a match against her doubles partner and compatriot Garbine Muguruza, but Jana Cepelova defeated the French Open champion in the second round.
"You never know what is going to happen. Every match we go on court and I don't think about that," she said when asked if she looks at potential match ups further into the draw.
In her fourth round match she will play five-time champion Williams, who she has played six times before, and they have won three times each. Williams won their most recent meeting in Wuhan and also won back in 2009 when they played on the grass at Wimbledon.
"It is special when you play against Venus, more here a she plays really well here, she has won a lot of times," said Suarez Navarro. "It will be a really special match. I have played against her a lot of times and I always enjoy it. Venus is a story of our sport. We really respect her."
This story is brought to you by Wilson, the global leader in performance tennis